Dramas currently on hold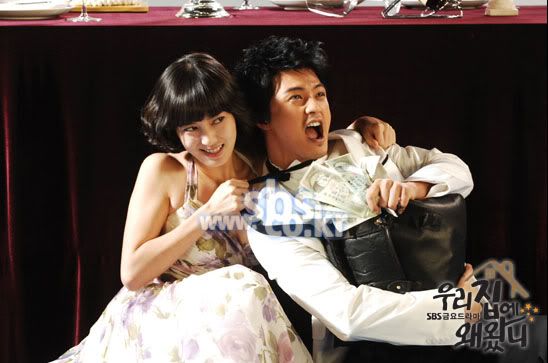 I think I'm pretty fair with drama ratings, in that I don't add anything to my Ratings Chart that I have not watched in its entirety. If I have not seen every single episode of a drama, I don't think I'm qualified to give a totally objective opinion on it, so I refrain. That's why there are a lot of series missing from that list, although I HAVE seen many, many more series than those named; I just haven't finished them and therefore won't grade them.
Fair enough, yeah?
Of course, that doesn't mean I won't ever weigh in with my opinions on a drama at any given point in its run — I just won't couch it as a comprehensive review. For instance? I still hate On Air. I still think Three Dads, One Mom is benign but dumbed-down. And I still am totally comfortable skipping shows that are supposedly good that don't somehow grab me on a more gut level. Because enjoying something with my brain is only fun when I'm also enjoying with my emotions. (The converse = also true.)
Here are a few shows I've started but have, for one reason or another, put on the back burner. Think I should continue? (Or drop?) Let me have it.
SONG OF THE DAY
Why Did You Come To Our House OST – "다시 시작해" (Start Over) [ Download ]
Audio clip: Adobe Flash Player (version 9 or above) is required to play this audio clip. Download the latest version here. You also need to have JavaScript enabled in your browser.
WHY DID YOU COME TO OUR HOUSE?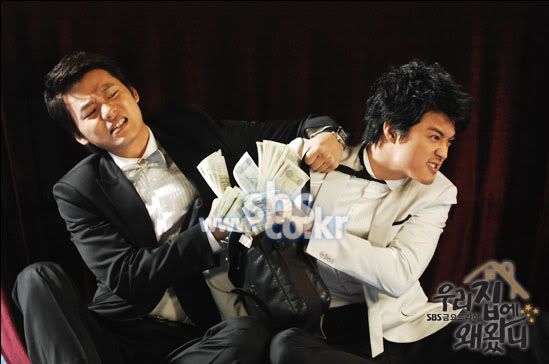 A rich businessman sick of his spoiled daughters living frivolous lives is diagnosed with Alzheimer's. Immediately, he decides to marry off his most worrisome daughter, 31-year-old Mi Soo (Lee So Yeon), embittered by an old failed love, and sets up an application process to screen prospective sons-in-law. Only he does it extremely publicly, and the fact that the "winning" suitor will be accepted into the wealthy family causes a surge of male applicants. She's horrified and humiliated, but her wily father outsmarts her at every turn. Enter Gi Dong (Kim Ji Hoon), the poor guy in debt who enters on a whim and finds himself unexpectedly selected amidst a pool of sharp businessmen and professionals.
I don't usually enjoy Friday dramas, as they're often the soapy, overly melodramatic type, but Why Did You Come To Our House? is surprisingly comedic. It has hints of The Drama, but the first several episodes are lighthearted and amusing, pitting Gi Dong and Mi Soo against each other as opposites who do not (as yet) attract. I liked this series better than I thought I would (considering I had no expectations despite digging Kim Ji Hoon); it took a back seat to other dramas, however, and didn't quite make it back on the playlist. I may end up catching some of the later episodes to see how well its initial premise wound up, and see if the chemistry bears out between the bickering couple (which is another oft-used kdrama cliché, yes, but one I always enjoy).
I LOVE YOU
Seo Ji Hye is a fresh young talent who will hopefully continue to act well and choose good projects. Ahn Jae Wook is a kdrama star whom I've never quite understood the fuss over (remember when he shot to heartthrob status in Star in My Heart? I was rooting wholeheartedly for Cha In Pyo, and I know I can't be the only one) — but I've never disliked him. And I find Gong Hyung Jin a pretty reliably funny sideman.
I Love You struck me as a warm, well-written, soft romantic drama, and its quality is probably due in large part to the fact that it's the rare example of the drama that's completed its production entirely before the first airing. You don't get the desperate grabs for attention (*cough* On Air) that other series constantly trot out to raise their ratings when your episodes have all been filmed and edited in advance.
Alas, despite I Love You's pleasant start, I was never compelled to continue with it. The instant my attention was diverted, there wasn't enough pulling me back to the series. Perhaps it's one of those dramas that takes a few weeks to kick in, but I didn't have the patience.
SPOTLIGHT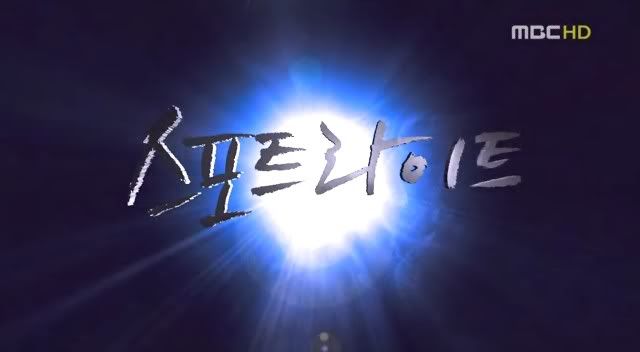 Aie, what a boring start to what should have been a more interesting drama. The thing about Spotlight (and please won't the On Air comparisons stop? It's nothing like it) is that it touts itself as "80% realistic" or some other such arbitrary figure. In its focus on "realism" — and therefore eschewing of "unrealistic" plot twists — it achieves a weirdly dry effect. In Episode 1, a news anchor is dumped by her cheating husband (also her news producer!) just before she goes on air for the 9 o'clock evening news. She's doing fine until her co-anchor unknowingly goes off on a rant on adultery, which reduces her to tears with only a minute or so left till she's due back on air.
The Network Suits sweat backstage and bark orders, reconfiguring airtimes and telling their green field reporter (Sohn Ye Jin) to stall, which panics her and results in a botched attempt to interview hysterical victims and family members. Meanwhile, hair and makeup swoop in, and Ms. Anchor pulls it together — she's a pro! — just in time to make the jump back to the studio with aplomb.
The thing is, everything's treated with the utmost gravity but no sense of humor, and while I'm sure the professional demands of the job ARE very stressful, I'm left thinking, "Dude, it's just the news. It happens every day." If every routine broadcast were always treated with such severity, we'd get mighty tired of it — and bored — before long. As I was, long before the end of Episode 1.
LA DOLCE VITA / THE SWEET LIFE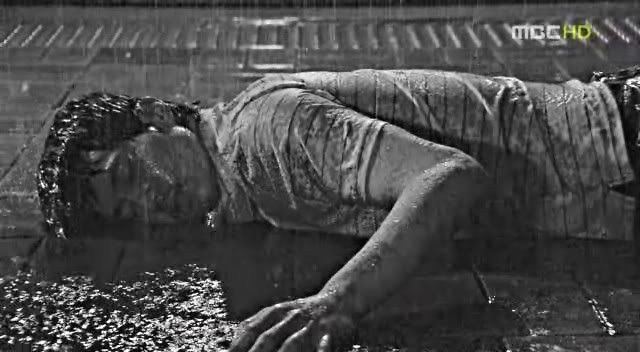 Intriguing start: Our hero lies dead on the pavement within the first ten minutes, captured in a grainy black-and-white shot meant to evoke (I assume?) such noir predecessors as William Holden in Sunset Boulevard. Same dark-light contrast, same facedown pose, same moral ambiguity. (Kinda.)
Then we wind backward in what I call the hated Alias jumpback, because no one has abused this time-skip opening more than J.J. Abrams. Now we're back to when Lee Dong Wook was alive and suave and first met Oh Yeon Soo in Fukuoka, Japan, and they embarked on an adulterous affair.
The Dolce Vita quickly amassed enough of a core fanbase to merit "mania drama" status as a cult favorite, and perhaps it's well-earned. It's dark, it's moody, and it shows hints of being a great show. But make that a great show that doesn't speak to me. I have a healthy appreciation of noir films, but I actually wanted them to push the stark, noir ambiance further. (Or at least further than I saw in the first two episodes.) If you're doing noir, do it all the way. (Dude, a full-on kdrama noir in black-and-white would be awesome.) I may go back to the series, but while I could appreciate it for its quality, I didn't actually have much fun watching it. And I have too little time to be watching shows that aren't fun. (Note: My meaning of "fun" doesn't have to indicate light or funny.)

Disagree? (I'm sure ya do 😉 ) Let me know.
RELATED POSTS
Tags: 1 show to rule them all, I Love You, La Dolce Vita, Spotlight, Why Did You Come To Our House