Artist profile and free giveaway: OLDFISH
All right, new Dramabeans game! Based on several suggestions made in my recent song repost thread, I'm trying out the idea of profiling some indie/underrated Korean musicians outside the sphere of general kpop music, with songs and background information and such as. I don't know how often I'll do these, but hopefully I can manage a semi-regular system.
But how to make it more fun? Add FREE STUFF, of course.
So today I'm picking one of my favorite indie artists, Oldfish, and throwing in a FREE GIVEAWAY. I'm giving away FOUR FREE CDs of the Acoustic Movement album. You can listen to a few tracks below the cut.
The rules?
Leave a comment. Be sure to leave your email address (won't be visible to the public) so I can contact winners. You can comment as many times as you like, but you'll only be entered once to win.
I'll post up the winners next Friday (is a week too long?), and keep an easy-peasy link/notice up at the right sidebar.
SONG OF THE DAY
Oldfish – "뚜뚜뚜" (Dot dot dot) [ Download ]
Audio clip: Adobe Flash Player (version 9 or above) is required to play this audio clip. Download the latest version here. You also need to have JavaScript enabled in your browser.
WHO IS OLDFISH?
Oldfish is the name of a one-man band, at whose helm is Soda, the man behind the vocals, keyboards, producing, lyrics, mixing, and pretty much everything else.
Currently signed with indie label Pastel Music, Oldfish got his start on the Seoul music scene by performing live regularly. He gained notice starting in 2003 from his live club shows in the Hongdae neighborhood, and released four mini-albums before his first full-length was released.

Website: www.oldfish.net
Fan café: http://cafe.daum.net/oldfish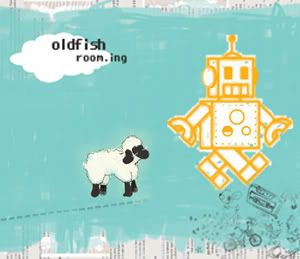 Oldfish – "A Day" [ Download ]
Audio clip: Adobe Flash Player (version 9 or above) is required to play this audio clip. Download the latest version here. You also need to have JavaScript enabled in your browser.
Oldfish – "Movement" [ Download ] (repost)
Audio clip: Adobe Flash Player (version 9 or above) is required to play this audio clip. Download the latest version here. You also need to have JavaScript enabled in your browser.
SOUNDS LIKE
The music spans several different genres, self-described as similar to Shibuya-kei and electronic lounge music, but also incorporating elements of modern rock and folk. Call it indietronica, folktronica, folk rock — what it amounts to is warm, soothing melodies mixed with a hint of fancy.
Soda explains his musical tastes and appreciates the comparison he receives to Norwegian band Kings of Convenience, of whom he is a fan: "I listen to a variety of music genres. Shoegazer, guitar pop, folk, world, everything except heavy metal. In the early days of Oldfish I wanted to create a new kind of music with folk and electronic sounds. Personally, I really enjoy Kings of Convenience a lot."
Also sounds like: The Postal Service, The Notwist, Fortune Cookie, Roller Coaster.
Several images that Oldfish has adopted as its icons are the paper robot, sheep, and clouds, as seen on the album covers, as well as a flashing lightbulb. One could say that the whimsy in the imagery associated with the band translates into the gentle, comfortable sounds of the music — not particularly provocative, perhaps, yet showcasing its own brand of diversity: Its placid indie-folk surface belies its energetic undercurrent. The sound is anchored by light electronic beats that keep the pace lively without dragging down the atmospheric, spare quality of the music.
Oldfish – "같이가자" (let's go together) [ Download ] (repost)
Audio clip: Adobe Flash Player (version 9 or above) is required to play this audio clip. Download the latest version here. You also need to have JavaScript enabled in your browser.
Oldfish – "산들바람을 타고" (Riding on the wind) [ Download ]
Audio clip: Adobe Flash Player (version 9 or above) is required to play this audio clip. Download the latest version here. You also need to have JavaScript enabled in your browser.
DISCOGRAPHY:
March 2003: The Oldfish mini-album
August 2003: 귀를 기울이는건 달님입니다 [The Moon Listens Intently] mini-album
February 2004: Fairy Tale mini-album
December 2004: 1-3 mini-album
September 2005: room.ing, first full-length album, 2-CD
January 2007: Acoustic Movement, second full album
The mini-albums were sold throughout 2003 and 2004 mainly at live shows and over the internet. Unavailable now, Soda would like to re-release them at some point. There's apparently also an omnibus album with an English band released in England in 2006.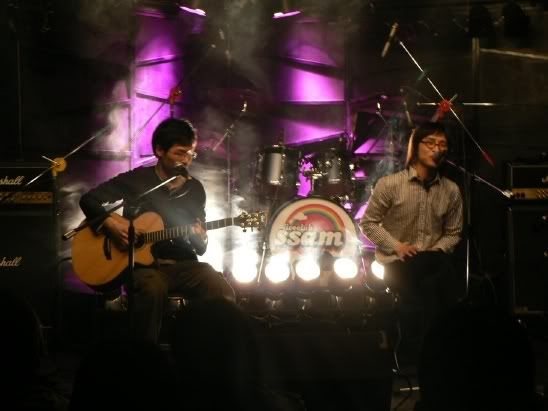 Oldfish – "Way to Home" [ Download ] (repost)
Audio clip: Adobe Flash Player (version 9 or above) is required to play this audio clip. Download the latest version here. You also need to have JavaScript enabled in your browser.
ORIGIN OF OLDFISH
The name: "Consider evolution, which is described as the advancement of new things due to curiosity and scientific progress. However, can you call it true evolution when humans give in to their own desires and become cruel? Rather than heading in that direction, could we consider a fish with the mere memory capacity of three seconds who'd given up on that kind of evolution to be a more evolved organism than a human? It was out of those kinds of musings that the name arose."
Soda initially got his start in music in a school band during his high school days, acting as its vocalist. He'd cultivated his musical sensibilities in a "small but pretty town" in Gyeongsangnam-do called Jinju. Though smaller than Seoul or Busan, the area was host to many fans of rock music — they even held a Rock and Roll Korea festival — and he'd had many musician friends there. After he began performing as Oldfish in 2003, his main stomping grounds became the Hongdae area.

THE FUTURE
Soda: "I don't want to stay only in Korea, but would love to perform all over the world. I think it would be a shame if Korea didn't produce the kinds of bands that can perform and sell albums in many other countries."

Music video for "Dot dot dot":

And there you have it: Oldfish. Stay tuned for the announcement of the winners — or if you don't want to wait, go ahead and buy Oldfish's second album "Acoustic Movement" at YesAsia.
OTHER MUSIC POSTS