Just why is Mighty Mouth such a star magnet?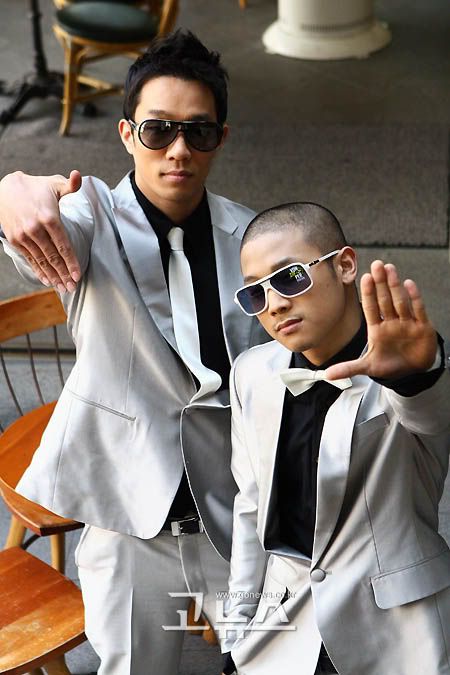 Here's what I wanna know: Which industry bigwig is brand-new rap duo Mighty Mouth servicing sexually? Or bribing? Or blackmailing?
First, Yoon Eun Hye lent her vocals to their debut single, "I Love You," and her high-profile collaboration helped the track shoot to the top of music charts with stunning speed. The song was then performed live by JOO, and then actress Han Ga In.
Now the rest of their first full-length album is poised for success; the current song gaining traction is "Energy," which features the Wonder Girls' Sun Ye. But that's not all — the album features performances by Solbi, Yuri, DJ DOC's Kim Chang Ryeol, and even Horan. (Horan?? That sure caught my eye.)
Sure, kpop is a relatively small pool, and singers and groups do tend to work together frequently — but not usually with such a high density of high-profile names in a brand-spankin'-new artist's debut album. Big producers require big money, which a new group wouldn't have. And as far as I can tell, Mighty Mouth aren't themselves a hotbed of genius musical talent — the album is half-decent, I'll agree (though also half-meh), but not extraordinary. I don't see how this rap duo attracted such big names from the get-go without some major behind-the-scenes maneuvering going on. Until that reason becomes clear, I consider myself at leisure to conjure up plausible explanations myself. Right now I'm going with servicing sexually.
Via International Business Times
SONG OF THE DAY
Mighty Mouth featuring Horan – "Cry" [ Download ]
Audio clip: Adobe Flash Player (version 9 or above) is required to play this audio clip. Download the latest version here. You also need to have JavaScript enabled in your browser.
RELATED POSTS
Tags: Horan, Mighty Mouth, Wonder Girls, Yoon Eun-hye