My Sweet Seoul: Episode 3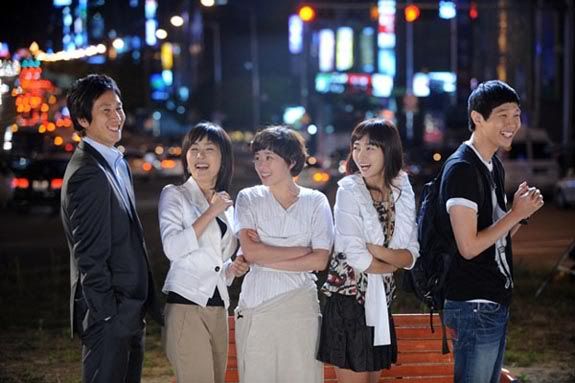 I still like My Sweet Seoul, but I'm still not entirely sold on it, one reason being a lack of connection with Choi Kang Hee's character (I'll explain the other reasons later).
It's not her acting, because she's a pretty good actress. And it's not necessarily her character's personality — I'm willing to buy that she's being drawn as an everywoman character to whom many should be able to relate — although I don't find Eun-soo particularly engaging. I think it's that X-factor, that charisma issue, that's lacking for me. In contrast, Lee Seon Kyun is equally mild-mannered but he's got a quiet authority to him that I really respond to. He's the only actor in the cast that I'm drawn to, and it isn't merely because I think he's smexy as all get-out (honest!).
But the drama is still a fluffy sweet confection, even if I'm starting to tire of the excess of sweetness (and I've got an unreasonably high tolerance for sap).
SONG OF THE DAY
My Sweet Seoul OST – "Moonlight" by EZ Hyung [ Download ]
Audio clip: Adobe Flash Player (version 9 or above) is required to play this audio clip. Download the latest version here. You also need to have JavaScript enabled in your browser.
EPISODE 3 RECAP
Eun-soo's relationship with Tae-oh is still going strong, both of them completely into each other. In a flashback, we see Eun-soo in high school drawing an island onto a world map and marking it "Eun-soo's Island." Now she narrates that her island has a visitor.
Audio clip: Adobe Flash Player (version 9 or above) is required to play this audio clip. Download the latest version here. You also need to have JavaScript enabled in your browser.
Pudding's "A Little Girl Dreaming" plays in the following restaurant scene; it's not a big moment, but it's a song I'd already uploaded on this site, so here it is again. [ Download ]
Her friends don't know about Tae-oh, and she doesn't bring him up when they convene to meet Jane's fiancé, although he backs out because he's too busy. Friction between Jane and Yoo-hee flares into annoyance, with Eun-soo playing peacekeeper, and we see a little bit of the underlying dynamics of their threeway relationship in a flashback to high school. Eun-soo recalls the moment that Yoo-hee realized just how rich Jane was, and had started crying unexpectedly (feeling the unfairness of their disparity). That explains why Yoo-hee has so little patience for Jane's frivolity and materialism now.
Eun-soo brings the conversation back to happy topics by mentioning her date with Young-soo, the very good-looking CEO with whom she had no chemistry. Her friends note, however, that despite her insistence that she wasn't attracted to him, Eun-soo seems to be bragging about him in uncharacteristic fashion.
Alas, the night ends on a sour note when it slips out that Yoo-hee quit her job and hadn't told Jane. Jane feels hurt at always being left out — a recurring issue between them, it seems — and walks off upset.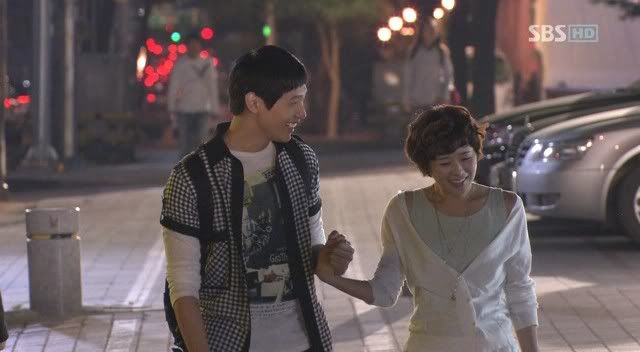 Eun-soo and Tae-oh continue to go on dates, all giddy in the early stages of romance. They're open with their affection now, and Eun-soo thinks to herself how much she likes him. They've got an easy connection, and they're so crazy about the other that everything the other person does is cute and endearing to the other. I can relate to that, actually, so their dynamic doesn't ring false for me — sometimes you just mesh really well with a person right away.
In any case, Eun-soo suggests that they refrain from sleeping together tonight. Tae-oh doesn't mind agreeing but is curious about her reason, and she answers, "Because it scares me" (as in, she's afraid because their relationship has progressed so smoothly and swiftly that a little distance can be comforting). Arriving at Eun-soo's apartment intent on keeping their promise to spend the night separately, they're so reluctant to part ways that they take a detour and walk some more to prolong their time together.
After a movie date, Eun-soo and Tae-oh walk along as she asks how many relationships Tae-oh's had, and he answers two. When she asks what the two girlfriends were like, he answers that they were both good people and doesn't elaborate. Although he can tell her if she really wants to know, he'd like to "respect their time together," which is a phrase that strikes Eun-soo as particularly meaningful.
In something of a surprise, Young-soo comes to Eun-soo's company as a client, where her matchmaking boss is eager to throw the two of them together. This time, Young-soo is more relaxed than at their first encounter, but it isn't until she visits his (gorgeous) office that she starts changing her mind about him. She'd told her friends earlier that she didn't like his awkward half-smile; now she notices how calm and relaxed (and smiling) he is in his photos.
Her growing interest is briefly quashed when Young-soo is critical of her firm's work — he finds the literature on "well-being" to be insincere and slick. His company is about health and quality of life; he'd rather focus on farming and products than buzzwords like weight-loss and diet tips.
Eun-soo deflates at Young-soo's response (and here's where I dislike her for being a bad stereotype of a petty-minded woman, wanting praise and taking his words personally when he's just being fervent about his work). But the feeling doesn't last long; he excuses himself for getting worked up, and she agrees he's right.
Young-soo takes her to lunch, where Eun-soo practically squeals to see real, honest-to-goodness rice on the table. She explains (to us, not to Young-soo) that she and Tae-oh have been keeping their dates low-budget, which means lots of snack foods and hamburgers. Young-soo watches her attacking her bowl of rice with amusement. He may be quiet and unexpressive, but he does seem interested in her.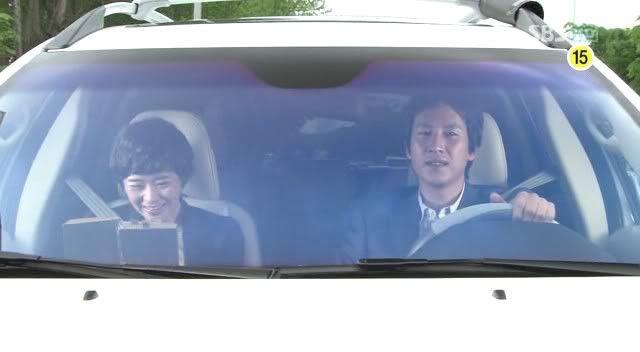 He drives her back after lunch, once again quiet and thoughtful, leaving lulls in the conversation. Eun-soo notices an old, worn book on his dashboard and asks to take a look; there's a line written inside the cover that reads, "Every living thing lives with some danger." (Erm, if you can translate that line better, by all means.) It comes from a poem, he explains, and the book was given to him by someone very important to him.
Young-soo doesn't elaborate further, so we're left to wonder what kind of complex emotional issues decorate his past.
And finally, Yoo-hee. She's still unable to tell her mother that she's quit her job; when she tries, we see that her mother is able to endure being badly treated by others (such as a sister-in-law) because of her pride in her daughter, who's doing so well in her career. That reminder keeps Yoo-hee from confiding the truth, and she proceeds on her own with a training course for other musical-actor hopefuls.
At 31, Yoo-hee's the oldest in the crop, with most of the others in their early twenties. She doesn't take to the training as easily as she'd like, but she soldiers on despite feeling the burden of her age.
So, she calls Eun-soo to an emergency "rehearsal" session at a karaoke room. There, Eun-soo and her "soulmate" Yoo-joon provide moral support (Jane is noticeably absent), even though they obviously find it tedious to sit all night, listening to Yoo-hee sing.
So finally, after a while, the other two join in.

Additionally…
As I said, My Sweet Seoul is sweet. And while I have no problem with sweet (obviously, since I'm an unabashed fan of romantic comedies), I do have issues with constant sweetness without conflict. That's the reason I don't really care about Eun-soo's relationship with Tae-oh — because while I find myself smiling at their cute, lovebirdy interactions, their relationship has so little conflict that it feels too easily achieved to be invested in. I don't need big grandiose melodrama, either, but three episodes with no relationship issues does result in a dearth of dramatic tension.
Perhaps that's why, oddly enough, Yoo-hee's situation strikes me as the most interesting. She's got deep-seated issues about money and family (doing the latter proud by way of the former), a conflicted friendship with Jane, and insecurities about pursuing her dream. Even without a romantic love interest, I'm still finding her most compelling. (I am interested in Young-soo too, but I'll be honest and admit that at least half of that is an overflow from admiration of the actor.)
Now that I've picked apart My Sweet Seoul, I will say: It's still cute, still very watchable, still well-directed, and still entertaining. It's just not one of those gets-you-hooked dramas (for me, at least).
RELATED POSTS
Tags: Choi Kang-hee, Lee Seon-kyun, My Sweet Seoul