Shin Dong Wook tracks down your ex-boyfriend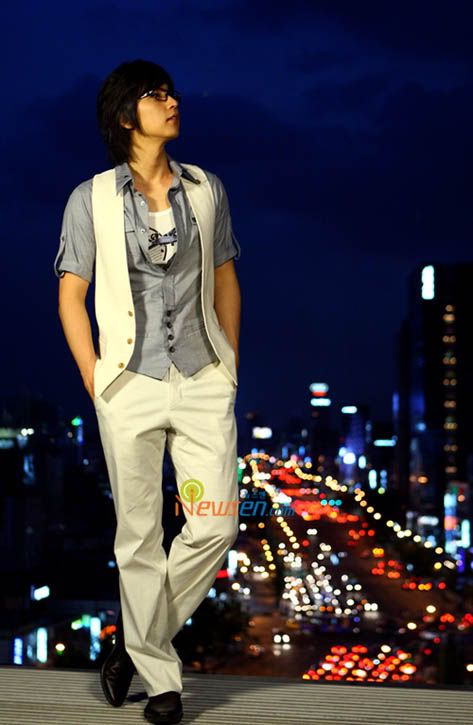 Have you missed Shin Dong Wook (Soulmate, War of Money)?
He recently shot these promo pictures on a Seoul rooftop for his upcoming job as the new MC of cable reality show [Chasing Your] X-Boyfriend (on Mnet). He'll be the third host following fellow actors Jae Hee and Jang Geun Seok for the show that tries to reunite men and women with their exes.
I've seen a few episodes of the show (it airs, subtitled, on the cable channel Imaginasian) and find it both oddly compelling and vaguely creepy — often the production team employs methods that might be considered illegal here in their attempts to track down the ex based on whatever information the seeker provides. Usually they'll hide out in their production vehicle, stakeout-style, and film the target as "surveillance" for a bit before then trying to ambush the target for an introduction, and sometimes confrontation. Many times the ex doesn't want to be on television or reunite with their seeker, which makes for awkwardness (but good TV?), although I suppose it also lends it an air of realism that's missing in a lot of American "reality" shows. Something that painfully awkward — humiliating onscreen rejection! airing of embarrassing relationship dirt! — has got to be real, right?
In any case, I'd rather see Shin Dong Wook acting again, even if I haven't liked some of his roles recently. But hopefully the host gig works well for him.
Via Newsen
8eight – "In the Morning" [ Download ]
Audio clip: Adobe Flash Player (version 9 or above) is required to play this audio clip. Download the latest version here. You also need to have JavaScript enabled in your browser.
RELATED POSTS
Tags: reality shows, Shin Dong-wook