Strongest Chil Woo: Episode 13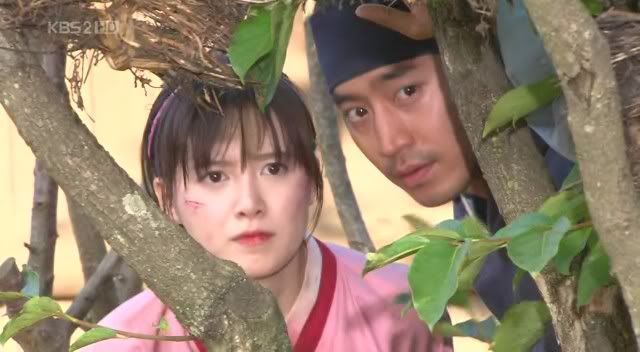 Some pretty good acting all around today. (Not from our series leads. But that's to be expected?) Well, Yoo Ah-in (Orroz) is actually pretty good, doing a good job depicting repressed and intense. His scenes with Gu Hye-sun are solid, particularly when he's acting injured — he gets the pained shudders and labored breathing down really well. The guest actors are also strong, which means today's episode is heavier on the dramatic side, lighter on the goofiness. But that's what Tuesdays are for.
SONG OF THE DAY
Wow – "나눠요" (Share) [ Download ]
Audio clip: Adobe Flash Player (version 9 or above) is required to play this audio clip. Download the latest version here. You also need to have JavaScript enabled in your browser.

EPISODE 13 RECAP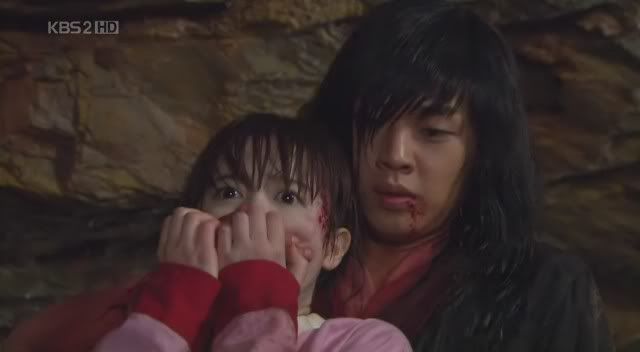 A search party comes looking for Heuk San. So Yoon hears them outside the cave and starts to shout for help, but he grabs her and prevents her from drawing their notice, because they'll kill her. He also warns her that in sparing her life previously, he'd told his men to find and kill Chul Seok.
With that, Heuk San sends So Yoon away with one last explanation — that back in the Jeju Island massacre, he'd seen something in her expression that he'd never seen in any of the numerous people he'd killed. Her desperation to save the boy reminded him of the man his father had betrayed (Chil Woo's father), who had put his life on the line to save innocent children. That's the reason he spared her life, he says.
So Yoon is torn, because on one hand he HAS shown her mercy. But on the other hand, she doesn't condone his cold-blooded killing, and tells him fiercely that she doesn't pity him, nor does she sympathize with him. She refuses to assuage his guilt, refuses to let him off the hook as though sparing one person mitigates all the other lives he's taken.
She runs into the forest but is soon spotted by Heuk San's men, who chase her through the woods. It looks like her capture is imminent, but Chil Woo is also out searching for her and witnesses the chase. He whistles for his trusty horse — which miraculously appears out of nowhere (damn, that horse is really earning its keep) — and charges along on horseback, swooping by to rescue So Yoon and carry her to safety.
Initially, she eyes him distrustfully, demanding to know his identity because he's still wearing his Zorro mask. (I understand he's "in disguise," but come on, how can she be his One True Love and not recognize him?)
Chil Woo takes off his mask, revealing his identity and stunning her into silence. He tells her, "I thought I'd go crazy thinking I wouldn't be able to save you."
She tells him, "I knew you would come." (She wouldn't be a perpetual damsel in distress if her knight in black-colored armor weren't always around to save her, would she?)
However, she belatedly recalls Heuk San's warning about Chul Seok being in danger, and they rush back home. By the time the A-Team and So Yoon arrive at her house, Chul Seok is gone and the entire place has been ransacked.
They look through the village, but Chil Woo holds So Yoon back when he sees that Chul Seok is with another man, who happens to be one of Heuk San's minions. Smart boy, he's sensed something odd and pretends he's not Chul Seok, and tells the man that the Chul Seok kid is a knife-grinder at this location, and if the man waits, the boy is sure to turn up. He then walks off and is reunited with his sister, telling her that there was something about the stranger that made him suspicious, so he lied about his name.
A gruesomely wheezing Heuk San drags himself out of the cave and through the woods (Yoo Ah-in really is very good at looking — and sounding — horribly injured, almost to a grotesque degree), arriving at an abandoned settlement… which turns out to be the former home of that utopian society established by Chil Woo's father. He wanders through the empty buildings and into a shed, where he finds a wall housing a rack of swords. One sword in particular catches his eye, because it's engraved with a set of characters identifying the sword as his father's.
Heuk San wonders how it is possible that his father's sword is here, and then stumbles, gasping in pain. And stumbles some more, clutching his chest, wheezing and gurgling and staggering around, finally collapsing on the ground.
At home, Heuk San's father tells his men to continue searching for the missing Heuk San, but finds it odd that his son ordered Chul Seok killed. Sensing something fishy, he contradicts the order, telling his men to keep Chul Seok alive but bring him to him.
Back at Assassin Headquarters, where So Yoon and Chul Seok are brought for the night, So Yoon frustrates and infuriates the three men with her unwillingness to explain why Orroz and his men are after her. She asks them to quit their assassin activities and to stay out of her and Chul Seok's affairs, and insists that there's nothing further she can tell them.
Chil Woo speaks to her alone, but she's firm in her stance. She adds that she understands how he feels, having his sister murdered ("I understand that it must have felt unbearable not to do something to act in revenge"), but pleads for him to give up his secret identity while he can, saying that it's dangerous work. She continues, "I believe you were right in thinking it's more important to survive, rather than thinking as Woo Young did and wanting to reveal the truth."
Although he's at the center of all this activity, Chul Seok remains blissfully unaware of the details. Thus he doesn't understand So Yoon's insistence on leaving the headquarters without telling the assassins of their intent. She's dressed as a man to look less conspicuous and leads Chul Seok away, impatient to hurry off as quickly as possible. However, Chul Seok complains of hunger, so she leaves him for a few minutes in the village to go buy food. At just that moment, the man sent the previous day to kill Chul Seok discovers that he'd been fooled, and that the boy who'd led him to the village was actually the boy he was looking for. When So Yoon returns to retrieve Chul Seok, he's nowhere to be found.
In a worried panic, she rushes back to the assassins' headquarters to beg their help in finding him. However, Min sees this as an opening to demand information from her. He makes a few good points, telling her she must tell them what she knows, because it's unfair to ask for their help while sending them into unknown danger. She owes it to them to let them know who they're dealing with.
So reluctantly, So Yoon relates the story begun nine years ago:
Back in China, Prince So Hyun's inner circle consisted of himself, his wife, So Yoon as their devoted servant, and two loyal men. The prince had found books he deemed vital to the future of the Joseon nation, texts that outlined valuable information for improving trade and commerce, and for making tools and machinery. However, he didn't trust what would happen to the precious texts once returning to court, and so split the books among himself and his men, and devised a plan that would make it seem that he and his men had become enemies. In such a scenario, even if one group were to fail, the other would succeed.
His mistrust was well-founded, because his return to his home court was viewed with suspicion by even his own father, who still sits on the throne in the "present" era in this drama. The king had thought his son had spent too much time in barbaric lands and brought back radical ideas, dismissing the prince's earnest statements that the world is changing, and that they should be open to change as well.
The king and his ministers (led by Heuk San's father, Prime Minister Kim) devised a way to mitigate this danger by secretly killing the prince. Their first attempt failed, because the doctor they sent with "medicine" didn't fool the prince or his wife, and they were able to avoid taking the poisoned tonic. In response, Prime Minister Kim had encouraged a different tactic, which led to a second scheme. (The prince and princess were aware of the murder attempts, but being caught in a political game, they had to rely on their wits to escape harm.) Again, the doctor diagnosed the prince with a fake medical ailment (malaria) and suggested acupuncture treatment; however, the princess shrewdly was able to prevent the fatal needle from being administered.
However, it was only a matter of time before the assassination attempt would succeed, as it did when So Yoon had been accompanying the prince. A needle was shot out of a tube by an unseen assassin, and swiftly administered its poison.
Knowing he was dying, the prince used his final moments to tell So Yoon she must survive, that she must help fulfill his mission to change the Joseon nation. His last words were an entreaty that she take care of his children, which she tearfully promised to do before rushing off to get help. When she returned, his body was gone.
So Yoon had wanted to reveal the truth, to make it known that the prince had been assassinated, but the princess was aware of the political tangle and insisted that she say and do nothing. She had told So Yoon that she expected to be killed very soon as well, and begged the same promise as her husband had — that she take care of her sons. The princess had told So Yoon that she didn't care that the sons kept their royal claims or birthrights, just as long as they would live. She then gave So Yoon the musket she would later use against Orroz to defend the princess's son.
Back in the "present," the assassins realize the implications of So Yoon's story. Min — who must be having a scholastic hard-on at uncovering this bit of hidden history — asks her, "Did that child survive?"
So Yoon answers, "Yes, he's alive. It's Chul Seok."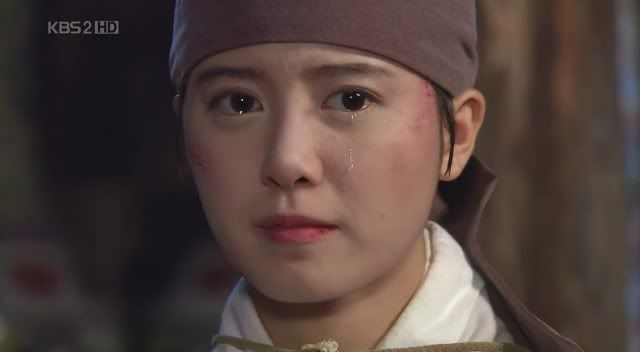 COMMENTS
Like I said, there's less lightheartedness in Episode 13 than usual, but at least the plot and mystery are finally out in the open (or starting to be, at least). The roles of the various different parties are starting to become clear, such as Heuk San's father and So Yoon's role in the conspiracy to kill the prince and cover up his murder.
They're also hinting at a return of Heuk San's biological father (I presume that's why he found his father's sword), which is the biggest mystery left unsolved (why he turned traitor). And with both Heuk San and Chil Woo becoming aware of each other's identities, a reunion can't be far off.

RELATED POSTS
Tags: Eric, Gu Hye-sun, Strongest Chil Woo