"Eden," "Marriage" off to shaky starts
With a special broadcast kicking off the East of Eden extravaganza, eyes have turned to the upcoming Monday-Tuesday ratings rivalry, although Tazza won't be making its debut until Gourmet ends in a few weeks.
Oddly enough, Eden chose to air a one-hour special on Monday, and plans to air both Episodes 1 & 2 on Tuesday, which they see as a method for grabbing viewers.
Thus it's probably premature to draw conclusions based on ratings data on Day 1, but no matter how you slice it, the numbers were a severe disappointment to the high-budget, way-overhyped East of Eden. Some have even gone so far as to call its 6.2% first-day ratings (the special, mind you, not Episode 1) a "crushing defeat." It came in last place, although just by a hair.
According to the numbers computed by ratings bureau TNS Media, the special broadcast for the new MBC Monday-Tuesday drama East of Eden that aired on the 25th came in with 6.2% ratings, last place in its time slot.

On the other hand, the first-place show was SBS's Monday-Tuesday drama Gourmet, coming in strong with 23.3%.
The special episode contained character introductions, behind-the-scenes clips, "making of" segments, the Hong Kong filming location, NG (outtake) clips, and other segments introducing the series. In-studio portions included appearances by Kim Bum, playing the younger role for star Song Seung-heon, as well as Seeya singer Nam Gyuri, who has a track on the OST.
However, the lead actors did not appear and the in-studio format with the hosts was not enough to capture viewer interest. … On the other hand, another show premiering its first episode was KBS2's Monday-Tuesday series Love & Marriage, which recorded a 6.4% ratings figure.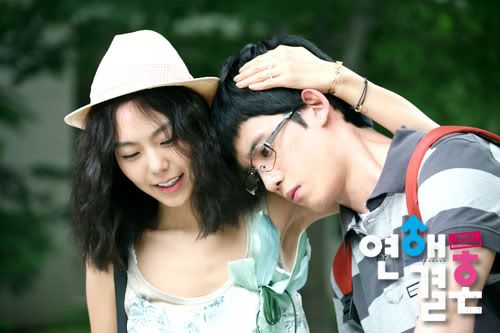 (Note on the Love & Marriage title: The term literally means "love marriage," and has no comma or punctuation separating the words, but the official posters bear the title "Love & Marriage," so I am adjusting accordingly despite how it pains my grammar-nazi heart.) This was considered the dark horse up against two potential heavy-hitters, so its Episode 1 rating of 6.4% wasn't much of a surprise (to me, at least).
I've seen the first episode of Love & Marriage and will talk about it in another post. I'm going to skip the Eden special, but want to check out how its first two episodes fare.
It's interesting that Eden is being treated much more harshly than Marriage, despite their nearly identical numbers. All about expectations, I presume. Still, if possible, I'd say the lukewarm response to the Eden special has only raised expectations for the series proper (if that's even possible). I'm not sure why they bothered with a special — were they trying to milk some extra ad revenue, and had that plan backfire? Legend did the same intro extravaganza with relative success, but an introductory special was actually helpful for that mythology-rich series.
We'll see how the axe falls tomorrow.
Via Asia Economy, Sports Chosun
RELATED POSTS
Tags: drama ratings, East of Eden, Gourmet, Love & Marriage, Tazza