Jecheon International Music & Film Festival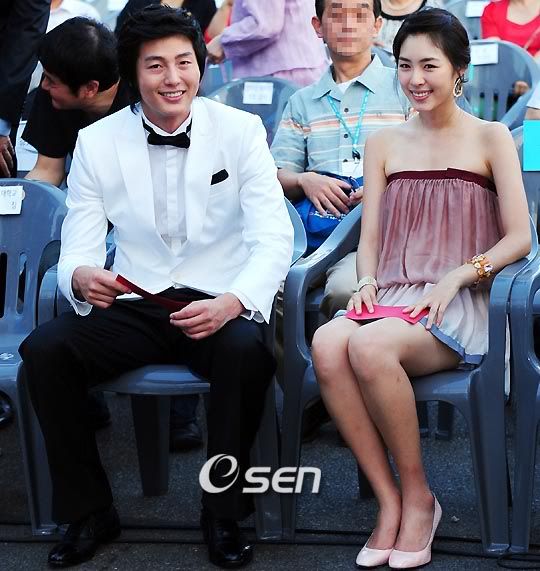 While I wouldn't call the 4th Jecheon International Music & Film Festival (JIMFF 2008) a star-studded event, it had its share of famous faces sprinkled in amongst the packed crowd of festival attendees, including promo reps Lee Jung-jin and Lee Yeon-hee, above, who hosted the opening ceremony on the evening of August 14.
Also attending the festival are Korean directors Lim Kwon-taek, Lee Joon-ik, Heo Jin-ho, Park Heung-shik, Kim Sang-woo and others. International guests include director Claire Pijman from the Netherlands (Talking Guitars), American animator Nina Paley (Sita Sings the Blues), German director Martin Walz (Melodies of Spring), Morocco's Ahmed El Maanouni (Burned Hearts), Hong Kong's Pang Ho-cheung, and more.
Following the opening ceremony, the festival kicked off with a screening of British filmmaker Stephen Walker's Young@Heart, the acclaimed documentary about senior citizens singing rock and pop songs as a part of the Young at Heart Chorus.
JIMFF will screen films from 30 countries — features, documentaries, shorts, animation, and others — including a new section on films featuring world music. The festival takes place over the next six days in the city of Jecheon in scenic Chungcheongbuk-do (North Chungcheong province), and closes on August 19.

Top row: Lee Jung-jin and Lee Yeon-hee
Middle row: Yoo Ji-tae, Lee Yeon-hee, Kim Tae-woo with Eom Ji-won, Eom Ji-won, Ahn Sung-ki with Kang Soo-yeon
Tags: film festivals, Lee Jung-jin, Lee Yeon-hee, Yoo Ji-tae