Ladies keep their cool with Samsung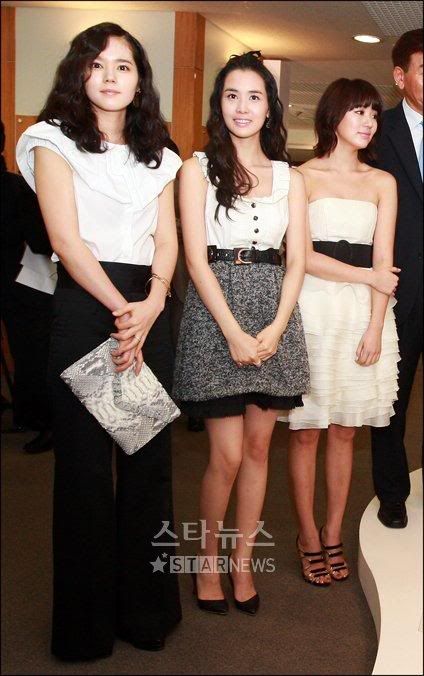 Samsung Electronics unveiled some new appliances at its new-product presentation on August 28 at its headquarters in Seoul. Some of the machines being launched include newfangled washing machines and kimchi refrigerators, which boast the ad-buzzwordy "3E" strategy — or emotion, ecology, and energy saving.
Sounds like pretty mundane business, if not for the appearances of Samsung's three high-profile brand models: actresses Han Ga-in (who has advertised for Samsung's kimchi refrigerator), Lee Da-hae (in her third year in the spokesperson gig), and Yoon Eun-hye (which explains the reason for her singing the "Salad song" recently).

The ladies look nice, if not their best (mostly I'm struck with how skinny and washed-out they seem). Kind of bland and muted, but this IS a product presentation, not a fashion show, I suppose.
Also, the length of Han Ga-in's hair reminds me how long it's been since we've seen her last, sporting the cute, sassy short 'do in Witch Amusement. I wonder if she's planning to extend her break now that her husband (Yeon Jung-hoon) is acting (with Lee Da-hae) in the new East of Eden.
Via Asia Economy
RELATED POSTS
Tags: CFs, Han Ga-in, Lee Da-hae, Yoon Eun-hye