Stars mourn Lee Eon
As previously reported, actor Lee Eon's sudden death early on the morning of August 21 has proved a shock to the entertainment community.
Celebrities came garbed in funeral blacks to pay their respects to their deceased colleague/co-star/friend at the mortuary area in the hospital where the deceased's body is being kept until the funeral service. Yoon Eun-hye arrived in tears at Seoul's Soon Chun Hyang University Hospital, as did fellow Coffee Prince co-star Kim Jae-wook, who appears to still be stunned, reportedly sobbing as he kept his face hidden behind his hair. (Pics of the stars, and in particular Kim Jae-wook, make me feel uncomfortably voyeuristic; I admit to an interest in seeing pics, but not when they are clearly intrusive in such a raw moment.)
His co-star from drama Strongest Chil Woo, actor Yoo Ah-in, also showed up, grim-faced. If you're wondering why certain people haven't yet paid their respects, I'm sure they'll be making their way to the funeral area as they learn about the accident today. I haven't seen pics of the rest of his Chil Woo castmates, but apparently they were among the earliest to receive word. Eric received the phone call at 3am and headed directly to the hospital, along with cast and crew members, including Gu Hye-sun and PD Park Man-young.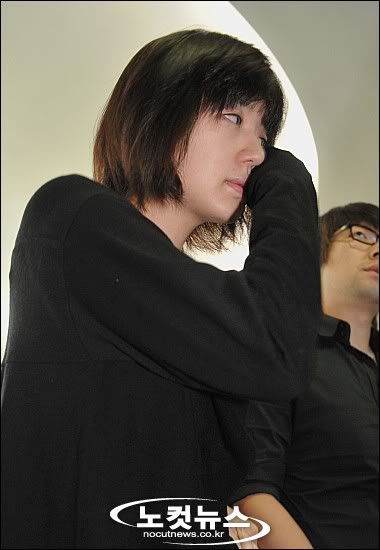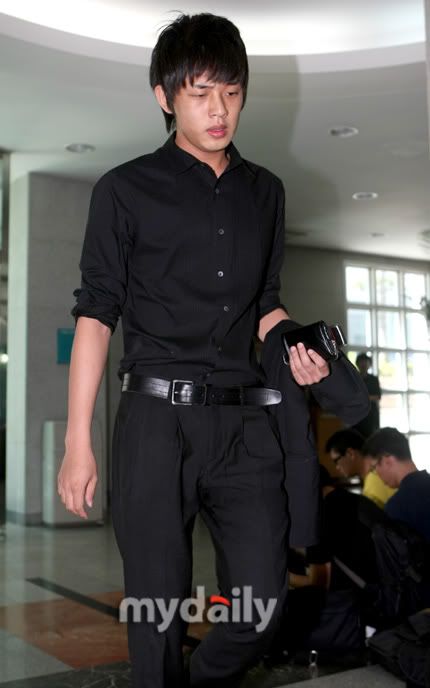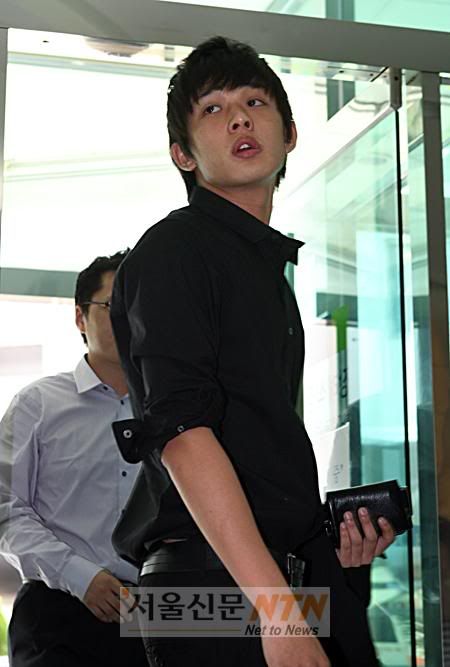 Yoon Eun-hye with her party; Yoo Ah-in

Others who came by were former co-star Ryu Deok-hwan, and supermodel Park Dool-seon. (She is one of the main stars of modeling reality show I Am a Model, which Lee Eon was involved with; he had also reportedly dated supermodel Jang Yoon-joo, one of Park Dool-seon's colleagues.)
His mother understandably was in a huge state of shock, and apparently still in denial; she resisted being led to the funeral room, wanting to go to a hospital room instead, as though unable to digest the truth.
Also, a report was issued contradicting early beliefs that the accident occurred on Lee Eon's way home after the Chil Woo wrap party. A new report suggests that Lee Eon had already arrived home, then left again, after which he was in the accident. Some sources speculate that he had been on the way to the club where he had worked as a DJ. I'm sure these details will be sorted out in due time.
As to questions of his sobriety at the time of his death, police have stated that tests will be conducted to determine whether he was drunk, but will not have the results for approximately a week. Lee Eon is, however, reported to not be much of a drinker.
PD Lee Yoon-jung, who'd directed Lee Eon in Coffee Prince, also shared her words of grief, saying, "I don't know what to say. I plan to pay my respects tonight. Lee Eon had a special passion for acting and was always a source of support for staff on the film set. He was a good person."
The funeral service is planned for August 23. Other details as yet unconfirmed.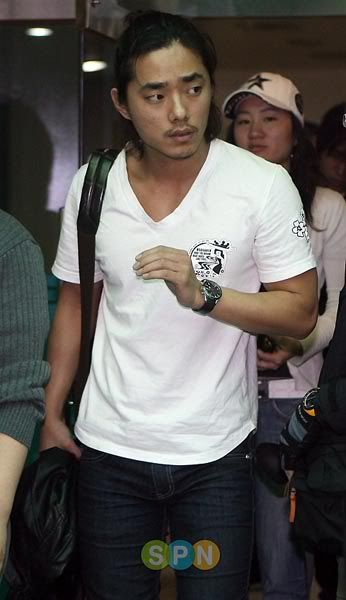 Kim Jae-wook, Park Dool-seon, Ilac
Via Yonhap News, Newsen
RELATED POSTS
Tags: deaths, Eric, Kim Jae-wook, Lee Eon, Lee Yoon-jung, star accidents, Yoo Ah-in, Yoon Eun-hye