Cast of "My Wife Got Married" walks down the aisle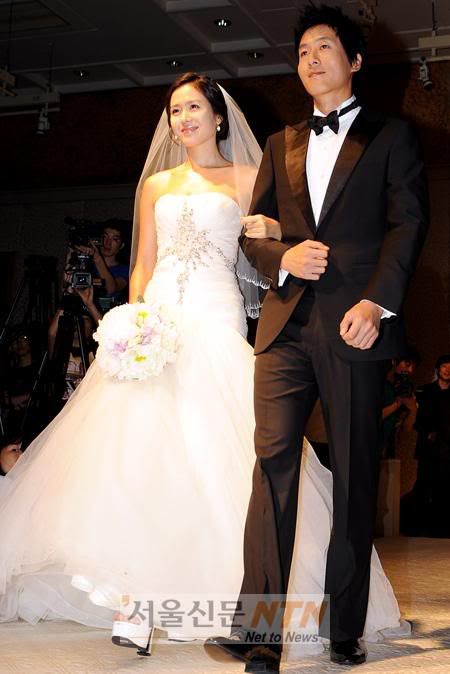 Getting in character for their upcoming film My Wife Got Married, stars Sohn Ye-jin and Kim Joo-hyuk dressed up as bride and groom for their movie press conference on September 23.
The movie is based on a novel of the same name, and centers around its pure-hearted romantist (Kim Joo-hyuk) and the free-love-espousing Sohn Ye-jin. Whereas the guy is just an average guy, he contrasts sharply with his "shocking" wife, who tells him, "I don't ask for the stars or moon, I just want one more husband."
Yes, maybe a little shocking. Co-star Kim Joo-hyuk even expressed his difficulty understanding her character at times.
Jung Yoon-soo (Are You Living With the One You Love?), who directed the film, explained, "Rather than explaining this difficult-to-understand Ju In-ah character [Sohn Ye-jin] like a teacher talking to a class, I tried to embrace her with love, and show her lovable side." Jung also spoke of swapping gender roles, showing a woman in the role formerly occupied by men, of having had many past lovers. It raises the issue of the discrimination that often gives men allowances for behaviors and traits that women aren't "allowed" to have.
Sohn is described as portraying her character with lively and cute charm, and the question will be whether audiences will embrace her — and the film — despite her nontraditional character.
My Wife Got Married opens on October 23.
Via Asia Economy
RELATED POSTS
Tags: Kim Joo-hyuk, Sohn Ye-jin