Iljimae: A review
[I'm happy to feature another review from guest blogger and kdrama watcher extraordinare, Dahee Fanel! Hope you enjoy as well. –javabeans]
Have you ever felt the urge to throw something at your T.V. screen? Something heavy, but that can still fit fairly comfortably in your hand? Something like, oh, say…A brick?
I have. Numerous times. In fact, I felt that urge just the other day, as I was watching Beethoven Virus (on my laptop though, as I unfortunately do not currently own a T.V.). Luckily, I stopped watching after about fifteen minutes, so that desire didn't manage to overwhelm me, not quite. I really do like my laptop, after all, and I'd prefer if it didn't get overly damaged.
But with some dramas, I manage to get hoodwinked long enough to sit through them until the bitter, bitter end. That metaphorical brick is always in my hand, mind you, scratching at my palm, but I've been blinded by something – an actor's admirably well-developed abs, per se, or some lovely cinematography – and it's that something that keeps my eyes focused. Well, focused enough, anyway.
Iljimae was a lot of things to a lot of different people. But to me, it was one of those dramas that conned me into watching it, and thus caused me an awful lot of (stomach) pain. Oh, and incidentally? I'm ready to throw that brick now.
SONG OF THE DAY
Iljimae OST – "hwa shin" by Park Hyo-shin [ Download ]
Audio clip: Adobe Flash Player (version 9 or above) is required to play this audio clip. Download the latest version here. You also need to have JavaScript enabled in your browser.
Iljimae was one of this year's three big "fusion sageuk" (it'll be four once MBC's version of Iljimae starring Jung Il Woo begins its run). There was KBS's Hong Gil Dong before it, and a little later, KBS's insanely insane (and strangely, inexplicably, very watchable) Strongest Chil Woo came along as well. Iljimae was SBS's shot at the trend, and while it turned out to be something that I would actually start watching (miracle!), there were so many problems with it, it was almost as mind-boggling to see as the fake horses in Strongest Chil Woo.
First of all, let's get this out into the open: I do not like this recent trend of "hero" fusion sageuk. Maybe if I hadn't seen the 2007-2008 sageuk The King and I (which starred Oh Man Seok and Goo Hye Sun), I wouldn't have minded as much. But as it is, for me personally, this was a bad time for them to come along. Because I've suddenly become a sageuk fan, and I do not enjoy seeing the genre being bastardized like this. I mean, what's the point in portraying a past if you're not going to say anything about it? Why not just move the time period to modern Seoul, for Pete's sake, if you're going to have the characters refrain from speaking in proper Joseon-era speech? What the hell makes a drama deserving of even distantly referring to the term "sageuk" if it doesn't even resemble sageuk's left butt cheek? If you're trying to do new things with the genre (like the heartbreaking Damo did back in 2003), fine. I don't mind that. But how can people like the Hong sisters, who obviously don't know the first thing about sageuk, even attempt to do new things with it? It's like watching Britney Spears trying to sing a traditional pansori song. It just doesn't work.
Still, I gave Iljimae a chance (or several). Mostly, I admit, because I really like some of the cast – Lee Jun Ki for one, and the ever-wonderful Lee Moon Shik for another. Yes, this was another case of fangirliness gone horribly wrong. I admit it: I'm warm for Junki's form. Not only is he a pretty good actor, especially for his age (and he's improving!), but he also possesses some rather delectable facial features that, I admit, I have swooned over in the past. Which may or may not have been all that long ago.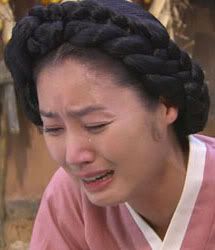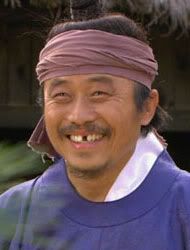 And really, the acting in Iljimae wasn't bad at all. In fact, it was rather on the good side. It had some great veterans who predictably pulled off lovely performances, such as the heart and soul of this show, Lee Moon Shik, or the tasty villain Kim Chang Wan, or scene-stealers Kim Sung Ryung, Lee Won Jong and my favourite gruffy bear-man, Ahn Gil Gang. Lee Young Ah continues to show her great potential as an actress (she certainly won over my approval), while Lee Jun Ki continued in the dual-personality character vein that he'd started with last year's super-addictive The Time Between Dog and Wolf. And he puts in a good performance, managing to pull off the dual nature of his character pretty successfully, despite the mess that the script made of it. And when the time came for some tortured-soul, emotional bawling, he certainly hit the nail on the head.
As for Park Shi Hoo and Han Hyo Joo… Well. Let's just say that the closest Park Shi Hoo ever got to dazzling me was whenever he took off his shirt. (Mmm…Bumpy.) Otherwise…All he ever did was look around with those gloomy eyes of his, and angst, angst, angst. Scene with Eun-chae? Angst. Scene with mother? Angst. Scene with him sitting alone? Angst. And whenever he had to change tack a little, and encountered some important moments that required more difficult acting, he was so awkward, it was laughable. I certainly laughed. Really, really hard.
Han Hyo Joo was a wee bit better, if you can even say that. She certainly had a moment or two that hinted at something a little more fiery hiding deep within, and I liked the way her character, Eun-chae, was portrayed as being something of a social activist. Still, when she was awkward, she was awkward like "Whoa there, is that stick of wood actually talking?". It brought back (bad) memories of watching Joo Ji Hoon creaking around the set of Goong.
But the really smelly part of Iljimae was not the acting of some of its stars. No, the real stinker was the script. That crazy, doesn't-know-where-the-hell-it's-going, just-shoot-me-in-the-head-instead script. When I heard that this was writer Choi Ran's first drama, I still felt pretty optimistic. I was willing to give her a chance. If you have no idea of the outcome, you might as well bet that the glass is half full, right? But unfortunately, there are times when the glass really is half empty, no matter what the optimists say. It's enough to make a girl despair over the state of the world today. Or, y'know, of just the K-drama world in particular.
A loosely scattered plot with episodic events that did nothing but drag out airtime and pile on one misery upon the characters after another; cliche upon cliche, complete with generic family secrets and "No, it's creepy, not romantic!" first love stories; unnecessary complications that were never fully resolved, and that never added anything to the show anyway; completely random leaps in logic and time; themes and ideas which were clearly there, but never formed or developed properly; a frantic and incredibly rushed finale, with one of the biggest K-drama ending cop-outs I've ever seen. Do I need to continue? As soon as I finished the twentieth and final episode, there was one thought really standing out in my brain: "I hope Choi Ran never writes another drama ever again."
All this is a shame, really, because, as previously mentioned, this show had some pretty good acting (better than it deserved, really), and its production values were good, too. The PD manages to pull off some rather incredible visuals, such as that early scene on the icy lake, and there's a rather unique and interesting atmosphere that pervades this show. It's romantic, and a bit like a fairy tale, which went a long way in persuading me to forgive many of this show's unrealistic elements. It's not meant to be a realistic show, and the audience is clearly watching an entirely different world altogether, one which does not belong to ours. The PD helped show all that, and thus was able to camouflage some of the writer's flaws, at least for the first couple of episodes. Too bad he couldn't camouflage them for long.
This drama's good points can be pretty much summed up in a short list:
1) The acting. For the most part. If you're going to watch this for anyone, watch it for Lee Moon Shik.
2) The directing/production.
3) Some of the relationships between characters are really quite touching and believable – mostly, I suspect, due to the acting. Of course, these relationships inevitably get butchered by the script, but still…
4) It was pretty fun to watch Lee Jun Ki sneaking around in all-black in the noblemen's houses (you get used to the weirdo mask eventually. Besides, he used a normal piece of black cloth for a good portion of the show). You can steal my heart anyday, mistah.
5) Park Shi Hoo has some really, really nice pecs. Which he shows off at pretty much any and every opportunity. Hey, I'm not complaining!
Iljimae is, in short, a drama that played with my last vestiges of hope and left it lying in tatters on the ground. Every time I raised that brick in my hand, poised to throw it at last, it would suddenly switch to a decent, sometimes even good, scene. And the brick would fall slowly to my side again. Some dramas I watch without even thinking about bricks, so busy am I in blessing the stars for the quality I am viewing. Some dramas I can't watch for even ten minutes before that brick is hurtling through the air. Iljimae, unfortunately, wound up being one of those rare dramas in between, the kind that chafe at me the most: The brick is always there, waiting. But it refuses to give me a solid enough target to aim for. It's only after the drama has ended that I'm able to look back objectively, and wonder to myself: "What exactly was ze point?"
If I could go back in time and take back all the hours I wasted watching this drama, I would. Now all I have to do is wait for some kind soul to invent a time machine for me…
Rating: 5 stars (out of ten)
RELATED POSTS
Tags: Han Hyo-joo, Iljimae, Lee Jun-ki, Lee Young-ah, Park Shi-hoo