Kim Min-joon gets a leg up on Jang Hyuk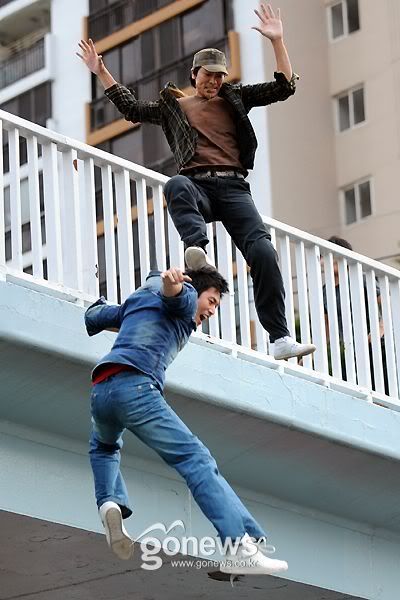 Stars Jang Hyuk and Kim Min-joon of new drama Tazza take a leap of faith (har, har) from a bridge in Busan in recent shoots for the series.
This particular scene takes place when the two hoodlums are chased to the bridge and escape by jumping the railing and landing on a speeding truck. To get the shot just right, Jang Hyuk and Kim Min-joon filmed the bridge sequence approximately ten times with the help of stunt wires, in spite of the muggy summer heat. Also present at the shoot were residents of the city of Busan, who'll be able to see the finished product in the September 16 airing of the SBS drama.
(Not to belabor Tazza's comparison to its direct competitor East of Eden, but doesn't this seem a teeny bit similar to EOE's dramatic balcony jump> scene?)
Via Go News
RELATED POSTS
Tags: Jang Hyuk, Kim Min-joon, Tazza