Press day for The Painter of Wind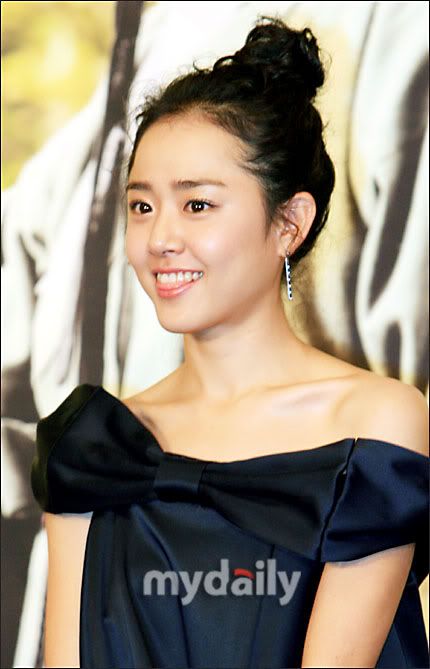 The last of the new Wednesday-Thursday dramas premieres next week, when SBS's historical drama The Painter of Wind joins The Kingdom of Wind and Beethoven Virus
The two headliners, Moon Geun-young and Park Shin-yang, commanded the attention at the September 17 production press conference. They star as painters in this painting-centric story, with Moon dressing as a man to be able to learn the art, which was not available to women. The series has prompted considerable buzz with its high-profile casting — Moon makes her return to television after five years (as more of a movie star, her last drama was 2003's Wife) — in conjunction with its star PD (War of Money) and its already popular source material, a best-selling novel.
The Painter of Wind replaces Working Mom.
I love Moon Geun-young's dress and her look; I think it makes her look youthful, fun, and cute. Plus she looks happy. Park Shin-yang, on the other hand… erm… The suit is nice. It's a snazzy color, I like the three-piece look on him, and even the bowtie is all right. But! The! Hair! It's like Mom pulled decided to save a few bucks in between haircuts and pulled out the Flowbee (google it), and now he's growing a shaggy rug on his head. A shaggy '70s rug.
Here's Park with his lookalike, PD Jang Tae-yoo.
I know we've run this whole "He's way too old for her!" argument into the ground, but honestly — doesn't he look like a dad leading his little girl to the first father-daughter dance at her debutante ball? Well, they're both good actors, so we'll have to see how they play their dynamics.
The two Moons: Geun-young with Chae-won; Ryu Seung-ryong; Lee Joon
Via Star News
RELATED POSTS