Choi Jin-shil's death spurs talk of cyber slander laws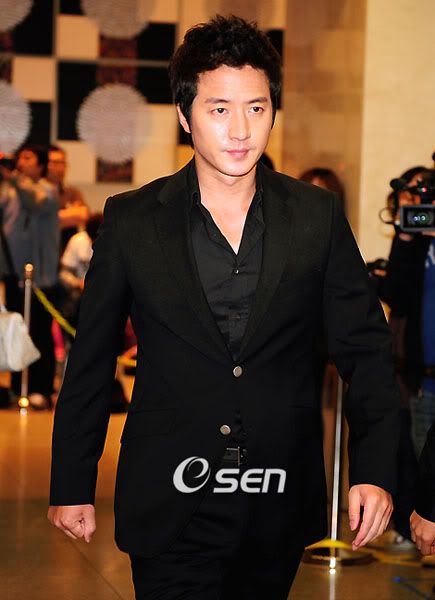 "Last Scandal" co-star Jung Jun-ho, actress Choi Ji-woo
If there's something to take away from the overwhelming attention and the number of entertainers who came to pay their final respects to deceased Choi Jin-shil, it's that she was much-respected and much-loved by many colleagues over the entire length of her 20-year career.
People are also taking her death as a sign of needing to strengthen cyber slander laws, citing examples in the past where Internet slanderers were prosecuted and fined for defamatory postings. An article in the Joongang Daily (English language) states:
[D]efamation by spreading false rumors is subject to up to seven years in prison but most get away with fines.

According to the Supreme Court of Korea, only 2 percent of slanderers are actually prosecuted. However, the number of online slander cases has been on the rise, from 316 in 2005, to 350 in 2006, 403 in 2007 and 213 in the first half of this year….

However, opposition parties including the Democratic Party said this is an attempt to regulate cyberspace to eliminate anti-government postings. The DP said the ruling party is trying to "use the suicide incident politically."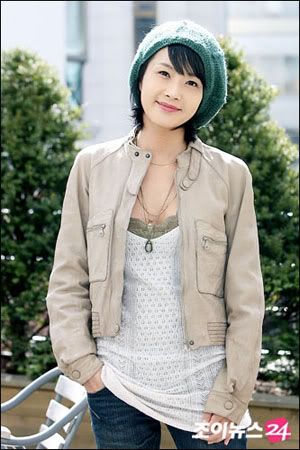 The Korea Times (also English language) also talks about policymakers looking to enforce stricter identification requirements on highly trafficked websites in order to participate in forums and discussion.
This means that users will have to type in their resident registration numbers ― a 13-digit code that indicates birth date, sex and registration site ― or I-PIN numbers, a personal identification code for online use, to leave messages. …

The operators of the Web sites will be required to disclose the identities of bloggers accused of cyber attacks on request of police or victims seeking legal action, government officials said.
On the flip side, this has sparked concerns of censorship and government stifling of free speech. It has vague Patriot Act-like overtones and I'm not sure I would trust the government to "monitor" cyber slander without abusing that power, although I do think Korea's got a particularly pernicious (sub)culture of Internet nastiness that deserves a smackdown.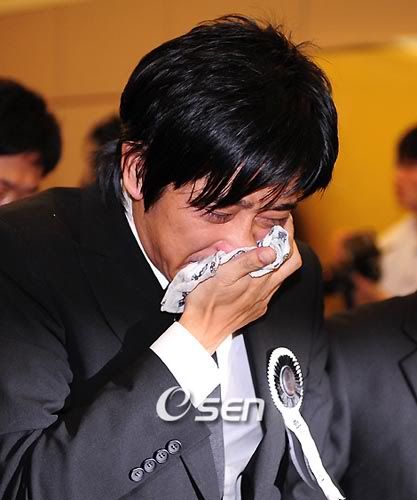 Choi Jin-shil's mother holding hand of her son, Choi Jin-young (also on right)
As for the numerous people who came to pay their respects, I noted that the red carpet was a bit sparser on the second night of the Pusan International Film Festival. You can indeed see that many of the stars who'd been in Pusan on the day Choi was discovered dead had attended the opening night that evening, then returned to Seoul to pay respects to Choi.
(By the way, I still think these memorial visits are vastly exploitative — both on the media and celebrity ends — and the PIFF juxtaposition is almost like unintentional but grimly ironic proof of that, since we can see how the memorial process is almost like a pseudo red carpet event in and of itself. Which is too bad, because I believe that it's unfortunate when the very real grief of some gets conflated with the "show" put on by others. But side rant over.)
Jung Sun-hee:
Shinae, Uhm Jung-hwa, Go Ju-won:
Choi Su-jong with wife Ha Hee-ra, Chae Shira:
Choi Ji-woo:
Kim Jung-eun and Kim Hyun-joo
Ex-husband Jo Sung-min, Kim Hyun-jung, and Kim Ji-sun:
Han Jae-seok, Jang Dong-gun, and Gong Hyung-jin together, then separately:
Han Jae-seok, Go So-young, Oh Ji-ho:
Kim Ah-joong and Go Soo:
Cha Seung-won, alone and with Jang Jin, Shin Aera:
Woo Hee-jin and Lee Bon:
Kim Min-jong with Ryu Shi-won, Solbi:
Yoon Eun-hye, Park Hae-jin, Kim Hyo-jin:
Hosts and comedians Yoo Jae-seok, Park Myung-soo, Kim Jae-dong, Lee Hwi-jae:
Kim Hye-ja, Last Scandal co-star Kim Byung-sae, and Byun Hee-bong:
Kpop singers Hwanhee, Hwayobi, and Kim Jong-kook:
Mickey Jung with wife Harisu, Kim Min-sun, and Lee Min-woo:
Kim Hee-ae, Kim Heung-kook, Jo Hyung-ki, and Jung Sun-kyung:
Kim Yong-gun, Lee Jae-ryong with Yoo Ho-jung, Lee Kyung-shil, and Lee Yoo-jin:
Pop ballad singers Alex, Tim, and Kang Su-ji:
Ahn Hye-kyung , Jo Yeon-woo, Jung Bo-seok, Oh Seung-hyun:
Kim Jung-min, Lee Hyun-ji, Lee Haneul, Kim Jung-min:
Bbaek-ga, Byun Jin-sub, Jung Su-ra, Kim Gu-ra:
Member of Parliament Yoo Jung-hyun, Yoo Hae-young, Tak Jae-hoon:
Via Hankook Ilbo
RELATED POSTS
Tags: Choi Jin-shil, deaths, netizens