Jung Il-woo makes a surprising(ly hot?) Iljimae
O_O
This is a PURELY SUPERFICIAL judgment, but looking at the newly released stills of Jung Il-woo dressed as Iljimae (above), I start to feel hope for MBC's upcoming The Return of Iljimae.
If you'd asked me months ago whether Lee Junki or Jung Il-woo would have looked better as the masked bandit, I would have said, "Lee Junki, hands down," and laughed in your face about Jung Il-woo. But then — and this is my opinion only! — one of my initial blocks against SBS's Iljimae was that Lee Junki came off as unexpectedly silly with his Hannibal Lecter-esque metal mask and penchant for overacting.
(Don't get me wrong, I like Lee Junki but I hated his look. In contrast, Jung Il-woo looks serious but not too hammy and, to my great surprise, actually pretty good. And doesn't he almost look… Jae Hee-ish in that photo?)
Again, I recognize this is totally superficial based on a few still photographs, but yeah, I'm that surprised.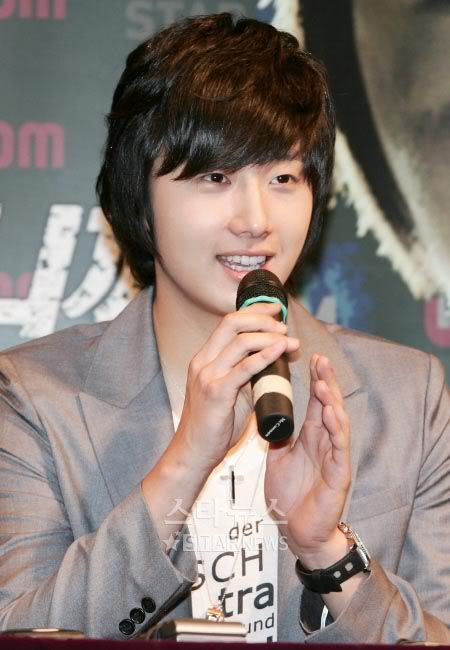 Maybe it's unfair, but I've been keeping my expectations very low for Jung Il-woo.
I liked him in High Kick but didn't really think he was a natural choice for a sageuk hero. Especially since he normally looks like this! (Smooth skin, slightly baby-faced, and good-looking in a feminine sort of way.)
In addition to donning Iljimae's period costuming, Jung reportedly lost weight to sharpen his features and to look more like the part. Sometimes I think actors take the whole "weight loss for a role" bit too far (see: Lee Da-hae dropping weight for East of Eden — like she needed to lose weight to begin with — and getting hospitalized in the process). But In this case I think it really worked to his benefit and added maturity to his look.
To compare the two Iljimaes:
Lee Junki, left. Jung Il-woo, right:

And again:
Via No Cut News
RELATED POSTS
Tags: Iljimae, Jung Il-woo, Return of Iljimae