Premiere's Rising Stars 2008
On October 4, the Premiere Magazine-sponsored "Rising Star" awards ceremony was held at the Pusan International Film Festival to name its, well, rising stars.
Ha Jung-woo and Su Ae won for their performances in their recent films (thriller The Chaser and period war piece You're Far Away, respectively). Ha said, "I'd like to become an actor who can always give his audience an entertaining movie."
Jung Ryeo-won and Jung Kyung-ho, on the other hand, won for best new actors (My Girlfriend Has Two Faces and You're Far Away). Seven Days director Won Shin-yeon took the directing award.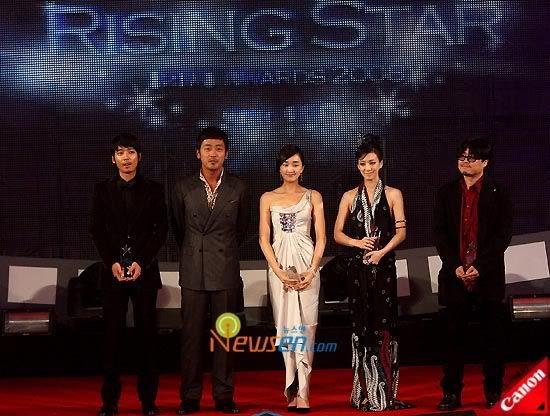 Some celebs in the audience at the ceremony included JPY, Park Jun-hyung, Ahn Sung-ki, Daniel Henney (last year's recipient, along with Kim Ah-joong), Kim Dong-ho, and others, while the Wonder Girls performed their songs "Nobody" and "Tell Me."
Awards were presented by actors Jung Jun-ho and Eugene; winners Su Ae, Jung Ryeo-won, Jung Kyung-ho, and Ha Jung-woo wave at the cameras:
Ha Jung-woo, Jung Kyung-ho, and director Won Shin-yeon:
Jung Ryeo-won, Su Ae:
Via My Daily
RELATED POSTS
Tags: awards, film festivals, Ha Jung-woo, Jung Ryeo-won, Su Ae