Clap for Park Ki-woong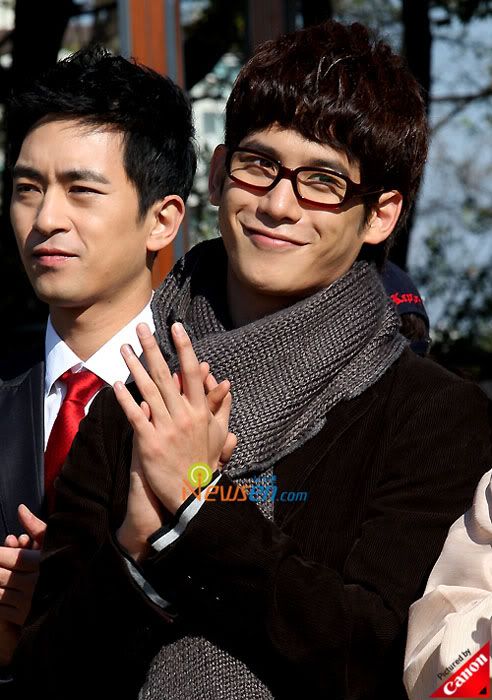 My my, isn't that a lovely picture of Park Ki-woong?
We last saw him in the romantic comedy series Love & Marriage, and now he's got another drama lined up, this time for cable channel MBC Drama Net. On the 10th, the cast assembled at Dalmaji Park in Seoul for a ceremony to pray for good luck.
Not much info is available about the series, titled 서울무림전 (which translates roughly to Seoul Warrior Story), which is described as a martial-arts series. In it, Park Ki-woong and Jang Hee-jin (A Movie Is a Movie, Gangster High) clash and fight villains — she as a tomboyish martial-arts expert, he as a newbie with inherent skill but who must learn quickly as he goes from unemployed college grad to budding martial artist. I can't quite figure out whether this is a fantasy-like action series or a realistic one (it takes place in the modern world).
The drama includes Han Ye-won (of On Air and formerly of girl pop group Sugar), playing someone with no aptitude for combat but lots of book smarts, as well as Moon Se-yoon (Hong Gil Dong ) and Lee Joo-seok (Special of My Life).
Behind the scenes are one of the writers of the popular daily drama Likable or Not (writer Baek Young-sook) and one of the directors of Auction House (which had a stable of rotating writers and directors), Lee Jung-ho. The 16-episode drama follows Chosun Police Season 2 and will premiere in early December.
Via Newsen
RELATED POSTS
Tags: cable programs, Park Ki-woong