Speed Scandal turns Cha Tae-hyun into a young grandpa
There's some new comedy coming out, and it's called Speed Scandal or whatever, and I guess it stars Cha Tae-hyun (My Sassy Girl) and up-and-coming Park Bo-young (King and I), who's starting to be called the New Moon Geun-young, which comes with both good and bad strings attached.
But whatever! Who cares about the movie when there is such adorableness to be had?
I mean, look at little Wang Seok-hyun, still practically a bebbeh!
I love his chubby cheeks. I love how he barely reaches table height to talk into the mic, below. I love how his head is so large it's practically the size of his torso (particularly in the movie stills). I love that it looks like the kid dressed himself in the dark on the way to a Harry Potter reading. I love that his hair is curly but not permed, meaning somebody actually took a curling iron to that head of his. I love that his co-stars can't seem to get enough of how cute he is, even though they've already spent months with him on the film set. I love how Cha Tae-hyun is copying the boy instead of the boy copying the adult for once. And I love how, in one set of photos, the kid's wearing this resigned expression that says, "SIGH. It is such hard work being so cute! When will this end??"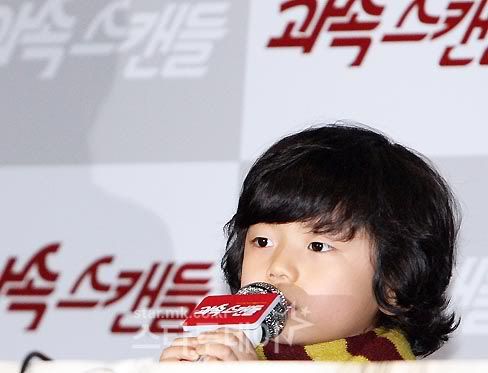 The press preview for Speed Scandal took place in Seoul on November 24. In the "uproarious comedy," Cha Tae-hyun is a radio DJ while Park Bo-young plays a young single mom to the little boy.
Park Bo-young was most recently in the movie Supernatural Couple, which opens November 27, and the comedy film Our School E.T. Cha Tae-hyun is currently in the MBC drama General Hospital 2.
Speed Scandal opens December 4.
Srsly, Cha Tae-hyun (new dad that he is) can't get enough of Wang Seok-hyun. (Then again, neither can Park Bo-young, below.)

When Wang was asked by press, "Who do you like better, your movie grandpa or your movie mom?" the boy answered, "Mom's pretty, so I like her better." (First pic below: "No! You's goin' the wrong way!")

"I IZ NOT AMUSED" (mixed with a dash of "Sigh. And WHO'S the adult here?"):

Oh, right. There was a movie too:
In the film, one day Cha's character is approached by Park Bo-young's character, who claims to be his daughter. As she's arrived with her son in tow, he becomes a father and grandfather overnight. (Park is only 18, and it seems both she and Cha are playing a few years older than their real ages. Wang Seok-hyun is five.)
Cha explains that he found a lot of similarities with his character, who enjoyed a lot of popularity in his first flush of fame, but found his star on the wane as he headed into middle age. (Cha is only 32 years old, but the trajectory is similar nonetheless.) He's humble about his role in the film; although he's the headliner in the cast, he feels that the movie was always about Park and Wang, and that his role was "merely to support them."
Via Hankook Ilbo
RELATED POSTS
Tags: Cha Tae-hyun, Park Bo-young, press conferences, Wang Seok-hyun