Spend Christmas with Romantic Island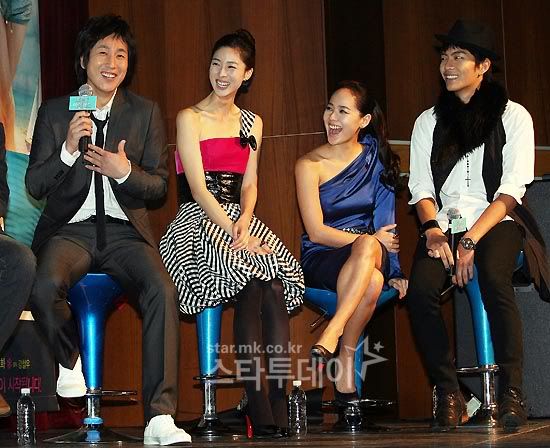 Romantic Island finally makes it to the big screen. It was first announced as I Feel Happy (or I Feel Lucky), and while name changes are common, that was almost a year ago and I was starting to wonder what was up with the movie. All the actors had gone on to work on other projects — multiple projects for some — but now here they are, promoting the movie to be released in time for Christmas season. (The movie opens Christmas Eve.)
The plot of Romantic Island is described a bit whimsically: "To shed the tiresomeness of everyday reality, four strangers head to the island of Borocay, where dreams turn into reality, and experience a romance fluttering with excitement."
The cast features Lee Seon-kyun (Coffee Prince), Lee Soo-kyung (Lawyers of Korea), Eugene (Three Dads, One Mom), and Lee Min-ki (Mixed-up Investigative Agency). The four seemed to have a fun at the production press conference on November 24.

I love when casts seem to genuinely get along, and it seems like these four had an entertaining time talking to the press.
I'd probably hate Lee Soo-kyung's dress on the rack, but she looks happy and adorable (and tall). It's difficult to tell in these pictures, but it also appears that both Lee Soo-kyung and Eugene are sporting Louboutins. (*Is jealous.* Because while I could care less about designer clothes and handbags, shoes are, well, shoes. They belong in the category with chocolate and frolicking puppies and lolcats of things that make you automatically feel better no matter the circumstances.)
Am also digging Lee Seon-kyun's skinny tie and sneaker combo. The strait-laced straight man goes (ever so slightly) hipster-esque! But not so far as to make him douchey. (Which is key.)
Still: Lee Min-ki, I know you're going for the quirky iconoclast slot in your generation of young actors, but what the heck did you kill and put around your neck? Also, skinny jeans are a blight on mankind, I tell you — and while they're bad enough on women, they're worse on men. Especially fedora-wearing men who pair the jeans with furry neck muffs. And three-quarter-sleeve shirts, which may or may not be buttoned properly. Are you a hot rising actor, Min-ki, or Liza Minnelli?
Via OSEN
RELATED POSTS
Tags: Eugene, Lee Min-ki, Lee Seon-kyun, Lee Soo-kyung, press conferences