7th Korea Film Awards
You know how at the prom, everyone goes for uber-glitz and black-tie formal, only it's done through the filter of a 17-year-old fashion sense — or rather, what a 17-year-old would think was formal black-tie fashion sense? So the end result is a really weird mix of over-the-top gaudiness that may have been expensive but looks cheap?
That's kind of the feel I get from looking at pictures from the 7th Annual Korea Film Awards.
Of course there are some standouts — Han Ye-seul glammed it up with the appropriate touch of class and sexiness — but there were also a lot of beautiful women in ugly dresses that looked more off-the-rack Jessica McClintock (hey, it's fake prom!) than red-carpet awards ceremony.
So if we're talking red-carpet wow factor, it was a decided step down from, say, last month's lovely Blue Dragon Awards.
As for the awards themselves, no surprises if you've been watching the accolades accumulate all year long. The Chaser was the overwhelming winner, with The Good, The Bad, The Weird taking up (a distant) second place. A few notable exceptions from the rule were Kang Ji-hwan (A Movie Is a Movie) and Gong Hyo-jin (Crush and Blush), but you can check out the full list (and, of course, the fashions!) below the jump.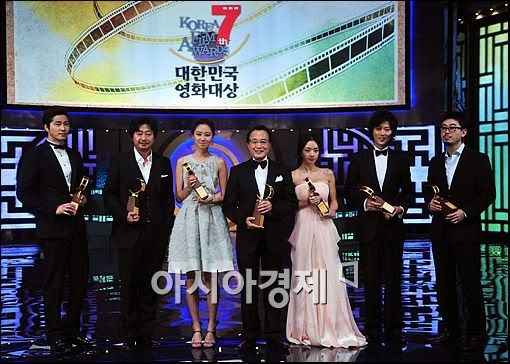 The winners
WINNERS LIST
Best Picture: The Chaser
Best Director: Na Hong-jin (The Chaser)
Best Actor: Kim Yoon-seok (The Chaser)
Best Actress: Gong Hyo-jin (Crush and Blush)
Best Supporting Actor: Park Hee-soon (Seven Days)
Best Supporting Actress: Kim Ji-young (Forever the Moment)
Best New Actor: Kang Ji-hwan (A Movie Is a Movie)
Best New Actress: Seo Woo (Crush and Blush)
Best New Director: Na Hong-jin (The Chaser
Best Screenplay: Na Hong-jin (The Chaser)
Art: Jo Hwa-sung (The Good, The Bad, The Weird)
Cinematography: Lee Mo-gae (The Good, The Bad, The Weird)
Lighting: Lee Chul-ho (The Chaser)
Editing: Kim Sun-min (The Chaser)
Visual Effects: Jung Doo-hong, Ji Joong-hyun, Heo Myung-haeng (The Good, The Bad, The Weird)
Sound: Kim Kyung-tae, Choi Tae-young (The Good, The Bad, The Weird)
Music: Bang Joon-seok (Go Go 70)
Short Film: Kim Gun, The Pig and Shakespeare
Special Achievement: Shin Young-kyun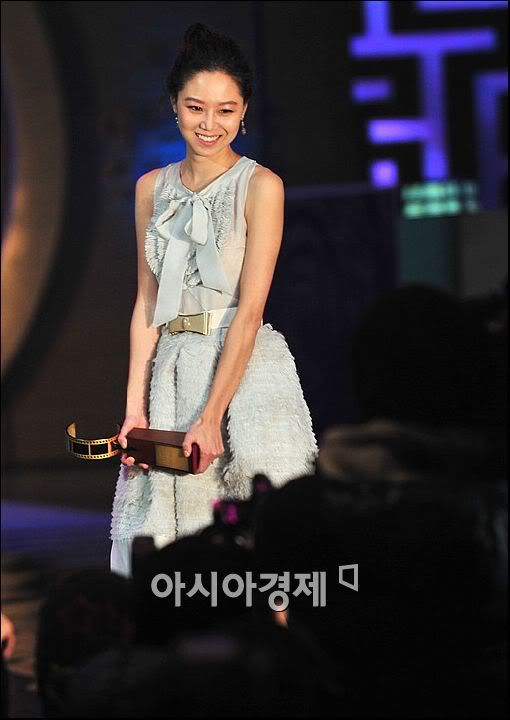 Winners Seo Woo, Kang Ji-hwan, Gong Hyo-jin, Kim Yoon-seok, Park Hee-soon

There were a few slips, both figurative and literal…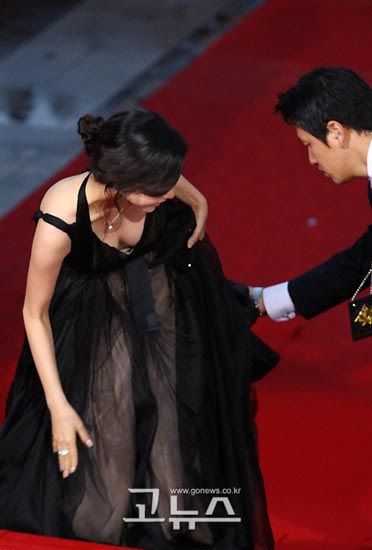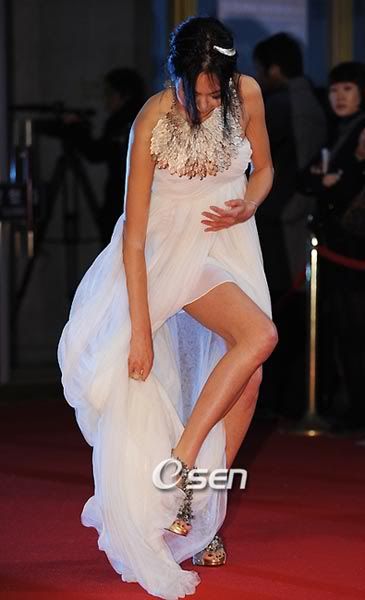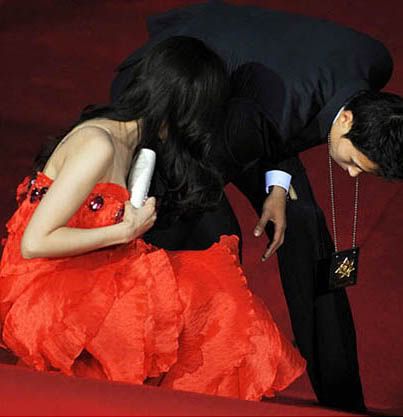 (That's Han Ye-seul, Kim Min-hee, Yoon Se-ah)
…and then there was Kang Ji-hwan (A Movie Is a Movie).
Talk about old-world glamour! Kang Ji-hwan's been on a fairly steady rise over the past several years, but 2008 has been good to him, as he came off Capital Scandal right into Hong Gil Dong, then made his move toward the next tier in A Movie Is a Movie opposite So Ji-sub. I'd say he's graduated to the big time, and we'll be seeing him in more movies. But I hope he never gives up on dramas, because when we're talking Kang Ji-hwan, MOAR MOAR MOAR.
Of course everyone will have their own opinion, but I think Han Ye-seul (Tazza) had the look of the night. Yes, the dress is a plain black, but there's something about the cut and flow (and the interesting back) that gives her a Cinderella aura, ascending the stairs to her ball. She owns the look and carries herself well — tall and proud, but also smiling and happy. Yeah, she stumbled on the stairs, but then again, so did Cinderella.
Sohn Ye-jin (My Wife Got Married) always looks great and I enjoy watching her flash that famous smile of hers. Too bad she ruined the look with purple shoes. (Really, they take the ensemble from classy to tarty.) Still, I give her a pass because I love the red draped number. Sohn (despite always being styled well) sometimes veers safe (read: yawn), and at least this isn't boring.
Song Yoon-ah (On Air) acted as MC for the event. While I think she looks nice, I'm a little ho-hum about the overall effect. I think she got one-upped by Han Ye-seul, frankly. I wonder if she's thinking the same thing.
Trust Gong Hyo-jin (Thank You) to depart from the trend (long, flowy) by going the other way (structured, short). A knee-length dress is a little casual for the event — perfect for a wedding, maybe, or a press conference? — but it's Gong Hyo-jin, and she looks cute. Ha Jung-woo (My Dear Enemy) strikes me as one of those guys who are a leetle uncomfortable at formal affairs (even when he's looking good, as he is here), but that awkwardness makes me like him more.
Oy vey! Joo Ji-hoon (Antique Bakery), what are you thinking? Shiny tux, smirky smirk. (And is his hair… greasy? Did he forget to shower?) It's like he hopped on over after a three-day bender.
This shade of pink/fuschia on Han Ji-hye (East of Eden) looked horrid against the red "photo time" backdrop, but does well against the black night. (And that red backdrop did nobody any favors.) I would like her blue clutch, plz. She's still looking too thin, though.
Speaking of thin… The moment I saw Lee Soo-kyung (Lawyers of Korea), it made me hum, "Here comes the bride…" Lee is beeyootiful, but I don't love that she essentially looks like a bride on wedding day. (By which I mean: Brides always look beautiful. But they are brides and they have special bride aura. Wearing bridal gowns without that bridal aura just makes you look… wedding catalog, not wedding day.)
Kim Min-sun (Portrait of a Beauty) reminds me of a Barbie doll. And also like Kim Ah-joong. Perhaps what a Barbie version of Kim Ah-joong would look like. Nothing on its own is that offensive, but the overall impression is bland, and dress is blah — kind of pageanty, if you ask me, particularly with that helmet hair (see: third photo). If you're going to do black, it had better be something interesting (see: Han Ye-seul). This, not so much. And no, feathered boobs aren't interesting. Not in the way I meant, at least.
Park Eun-hye (Yi San) is what I mean by tacky prom gone wild. She's a gorgeous woman, but that dress is all kinds of 1980s Dynasty, with the rhinestones and the messy front pleating. It also ages her about a decade, which effectively turns her in Tacky Mom Chaperone at an '80s prom. Eek!
Kim Min-hee (Love & Marriage). At first, I was all set to sigh with a resigned tone, "Oh Kim Min-hee, you rule-breaking fashionista," because her shoes are a bit too much (glittery-gaudy) and she's a little disheveled looking. But the more I look at it (and see it in motion), I totally get it. Yeah, it kinda looks like she's wearing a lion's mane for a necklace, but the concept is (deconstructed?) Greek goddess done a little literally — i.e., "Persephone goes to the ball" — and I LOVE IT.
Yoon Se-ah (Love & Marriage) is a lovely woman with a fantastic figure. This dress does not flatter her. In fact, if you tilt your head 90 degrees to the left, it totally looks like a fish is swallowing her from the feet up. (I do not think that is what people mean by "mermaid dress.") Also, if you take a closer look, you will see just how awkward it is to have purple (rhine)stones stuck onto a red chiffon bodice. Huh?
Shin Mina (Go Go 70). Again with this fish-eating silhouette. But at least Shin's dress fits perfectly, unlike Yoon Se-ah's, and there is some interesting detailwork at the bodice and the ruffled hem. It's pretty despite the drab navy color.
Uhm Tae-woong (Devil), yum! He's here with Park Yong-woo (Once Upon a Time). I know they're a little matchy-matchy, but they both look so sleek. I love it when men's tuxes actually fit right, since so many tend to wear ill-tailored suits that hang wrong, giving off a sloppy image. It's not a perfect fit, but better than most. (Although if it were Shin Hyun-joon, that jacket would be plastered to his torso.)
Go Jun-hee (General Hospital 2) wears a dress that would not look good on anyone but one with her figure. I think the dress is clean, sophisticated, and a little boring — but then I saw it from the side and I could see why Go Jun-hee chose it. The draping is really quite elegant. (But doesn't picture 3 make her seem a total Stepford Bot? Deer.. in.. head… lights…)
Jo Eun-ji (Forever the Moment) always looks way older than her age — can you believe she's only 27? She's showing yet more 1980s Dynasty glitz — and yet, a secret, shameful part of me kind of thinks Jo is rocking it. Maybe it's because Park Eun-hye looks like a soccer mom reluctantly dragged to the prom, whereas Jo is all like, "PEOPLE. I AM HERE. I AM GAUDY AND IT IS AWESOME."
Kim Mi-sook (Seven Days) proves that what looks nice through one camera lens (and with strategic backlighting) looks hideous in most others. (When I saw the middle picture, I immediately thought, "Mr. DeMille, I'm ready for my close-up." You've gotta add the husky tone that comes with delusions of grandeur, though.) All she needs is a feathered headdress and she's ready to Viva Las Vegas.
Kim Yoon-seok (The Chaser) was a big winner of the night, but chooses to go a bit casual for the red carpet without a tie. Can't really criticize the serious actor for opting out of the fashion hubbub, though. Meanwhile, New Actress winner Seo Woo (Crush and Blush) kinda freaks me out in face close-ups (she's bordering on Uhm Jung-hwa-level fish lips); she arrives with Lee Young-hoon (GP506).
I just love that Moon Sori (Forever the Moment) is checkin' out her own cleavage. Yes, Moon Sori, you have pretty boobs. The dress looks so much better in full-length shots — the dots look kind of strange in the upper-torso shots, like those dustballs in Totoro. But she's styled well with the glam hair and clean, understated makeup.
Best Supporting Actor Park Hee-soon arrives with his Seven Days co-star Kim Yun-jin. They look good, but fall into the "not much to comment on" category. Nice belt?
Oh Man-seok (King and I) and Eom Ki-joon (The World They Live In) look remarkably similar when dressed alike and put next to one another, don't they?
Seo Young-hee (The Chaser) wears a pretty midnight blue, but I don't think she really makes a statement. On the other hand, Chu Ja-hyun (Portrait of a Beauty) does, and it says, "More cheap prom." I can't decide if the gold Y front makes her dress look like a shriveled-up moth (from a distance) or if it looks like amoebas splitting on her torso.
Im Sung-min (Catch a Kangnam Mother) also wears a black mermaidy dress, but it's neither interestingly detailed like Shin Mina's nor horribly fitted like Yoon Se-ah's, so I have no further comment. Jang Hee-jin (A Movie Is a Movie) wears more boring black, though hers is cut in the "five-year-old li'l princess" mold.
Park Ha-sun (Rivals) isn't so bad. Maybe a step up from cheap prom to cheap bridesmaid? I just think the stones on the bodices look cheap and the washed-out color doesn't do much for her.
Ahn Sung-ki (May 18); Gong Hyung-jin (Dal Ja's Spring); Song Kang-ho (The Good, The Bad, The Weird) comes with "Korea's Mom" and his co-star in the vampire-priest movie Bat aka Thirst, Kim Hae-sook (White Lies).
Via Hankyung.com
RELATED POSTS
Tags: awards, Eom Ki-joon, Gong Hyo-jin, Ha Jung-woo, Han Ji-hye, Han Ye-seul, Joo Ji-hoon, Kang Ji-hwan, Kim Min-hee, Kim Min-sun, Lee Mi-sook, Lee Soo-kyung, Oh Man-seok, Park Hee-soon, Shin Mina, Sohn Ye-jin, Song Kang-ho, Song Yoon-ah, Uhm Tae-woong