A Star's Lover: Episode 4
Episode 3 was a bit of a question mark for me — a slight dip but not a big enough one to make a definitive statement. It's always appealing watching a cute romance develop, but plot-wise we were kind of treading water. I'm waiting for the drama to take a bigger step up or down, and in Episode 4, it took a step up. The plot kicked into gear and made a few decisions that bumped up my level of interest.
SONG OF THE DAY
Kim Shin-ill – "Higher" [ Download ]
Audio clip: Adobe Flash Player (version 9 or above) is required to play this audio clip. Download the latest version here. You also need to have JavaScript enabled in your browser.

EPISODE 4 RECAP
Since the end of the past episode, Chul-soo has been avoiding Mari, perhaps spooked by his feelings for her and backing away to overcompensate. Mari is curious about his behavior, then miffed as he keeps at a (literal and emotional) distance. (A man dares ignore me, the Great Mari? Hmph!)
Although Mari has shown no interest in reuniting with Ha-young, he has other ideas. He asks for Mari's cooperation in a press conference to clarify their relationship status. As this process is familiar to Mari, she consents, assuming she will merely need to show up and say they're "just friends." Ha-young asks her to confirm whether she really meant it when she said she wants someone to marry. Mari says yes, and Ha-young hangs up, satisfied.
Chul-soo shows more of his work in progress to Mari, trying to reconcile her prior comments that his writing is too literary for her. However, he can't alter the way he writes, even if she finds it boring and self-important. He'll write the book his way, and she can choose what she likes.
Mari asks Chul-soo point-blank why he's avoiding her. He doesn't answer, but says that he's heading back to Korea soon. He's done with the research portion, and would prefer to complete the writing back in Seoul. He mentions his sickly younger sister as his reason, but we can infer that he's eager to get away from Mari.
Mari seems to accept this, but in the meantime has a suggestion of her own. She's reading a script and has forgotten what it's like to go to an amusement park. Visiting one in Japan ought to be less of a hassle than trying to go to one in Korea, so they end up at Universal Studios, riding rides and enjoying the various sights.
During one scene transition, the viewer is given the (intentional) misconception that Mari and Chul-soo are flirting when she suggests riding a Ferris wheel, because "then maybe I could kiss you."
It turns out to be a line from the script they're rehearsing, but Chul-soo eyes Mari anxiously all the same. When Mari leans in for the stage kiss, Chul-soo gulps and returns to the script, breaking the tension.
Mari seems disappointed that Chul-soo chickened out — she'd given him the perfect excuse to move in for a kiss — but suggests riding the Ferris wheel anyway. They continue reading through the script, and Chul-soo points out a part that he doesn't get — the girl wants to say something, the guy doesn't want to hear it, and later she resents him for it.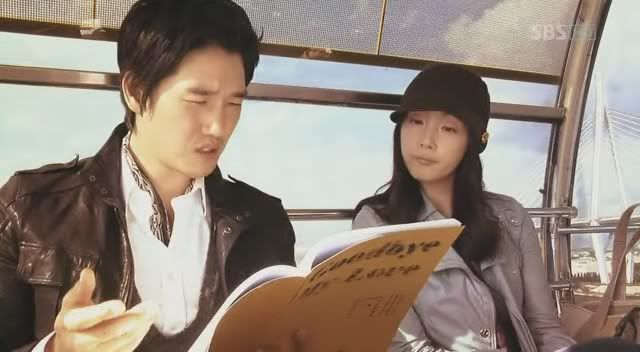 Chul-soo: "Even if you're told not to say something, if she wants to she could just say it anyway."
Mari: "But she can't, because the person she likes doesn't want to hear it."
Chul-soo: "It's not that the guy doesn't want to hear it, but even if he listened, it probably wouldn't have been any use."
Mari: "But still, she wanted to say the words."
Chul-soo: "What can't be can't be. Nothing would change."
Mari: "People's feelings change. So do memories. That's why… I have to tell you something."
Mari turns to Chul-soo and starts to tell him her reason for staying in Japan. Her tone is cheery, but Chul-soo interrupts, his tone grave, because he has something to say first: "There's someone I have feelings for." That stops Mari short.
Ruefully, he says he felt the need to tell her the truth. Just then, the Ferris wheel jerks to a stop, broken somehow. When Team Mari gets word of this, they scramble to mitigate the gossip, because if Mari and Chul-soo are seen together, a scandal would erupt.
Stuck in their enclosed cage, Chul-soo explains, "I'm a man who disappeared… I did the same thing to the person I liked." He convinced himself it was for her benefit, that he didn't deserve her, deciding on his own without telling her why. It was through meeting Mari that he realized how much he'd hurt her, "because I saw how hurt you were."
He thanks Mari, with some bittersweetness, for leading him to the realization that perhaps it's okay for him to love someone who's "like a dream." I think the phrase applies equally to Mari (as the grand star) as it does to Eun-young (whom Chul-soo sees as far above his station). Thus, he might have a chance with Eun-young after all, and has decided he should make it up to her for hurting her, and try to make her happy.
Understanding that she's been rebuffed, Mari allows Ha-young (whom her managers have called for damage control) to escort her from the Ferris wheel. On the way to the awaiting car, surrounded by shouting reporters, Mari stumbles. Instinctively, Chul-soo reaches out and helps her up. Acting the furious territorial male, Ha-young shoves him aside, ushers Mari inside the car, then turns on Chul-soo and punches him in the mouth. Ha-young glares for a long moment before leaving with Mari.
Chul-soo watches Mari leave with a conflicted stare, but he's made his decision: he calls Eun-young and asks to meet.
Mari appears at her next event, the press conference for her new movie, lacking any energy or interest. To everyone's surprise, Ha-young strolls in during the Q & A and makes his presence known — and I say, there's no quicker way to show you're a douchebag than liberal use of finger-guns (without irony). He indicates that he'll meet her after the conference is over, at an adjacent party.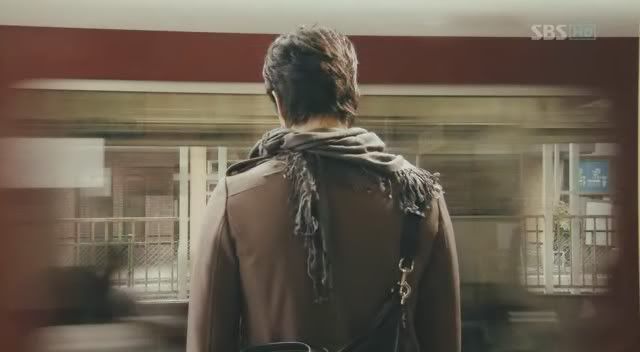 Chul-soo waits for the train that will take him to Eun-young, but he's assailed with memories of the Ferris wheel conversation and how he cut off Mari to prevent her from admitting her feelings. He remembers Mari saying (about the script) that people sometimes want to express themselves even if it doesn't make a difference.
He contemplates this, and the above photo with the train whizzing by just may be my favorite from this drama so far. It totally works on an aesthetic level as well as a symbolic one — because Chul-soo makes a decision at the last moment to let the train zoom off without him. He needs to let Mari finish what she was going to say, and rushes back to the city.
On his way to the press conference, Chul-soo stops to buy vanilla ice cream, then races to the event location only to find it empty. A staff member tells him that everyone has moved to the party outside, but there's a strict dress code — so Chul-soo hurriedly borrows a spare suit from the staffer and rushes out to try to find Mari, still clutching his sad little bag of ice creams.
Unfortunately, the crowd is loud and Mari is unreachable on the red carpet. She doesn't see Chul-soo maneuvering through the spectators, trying to catch her eye. Just when it looks like Chul-soo's chances are shot, a frazzled band conductor grabs him and ushers him past security, assuming from his borrowed suit that he's part of the hired band. The conductor prods him in irritation to take his position, so Chul-soo sits at the piano, trying to get a glimpse of Mari.
According to the plan, it's also time for the press conference where Mari and Ha-young will deny their relationship rumors. They've agreed to keep this news from Mari's management, so she slips away to join Ha-young on his boat, expecting to get this over with quickly. All throughout, her mood is tired and tense.
Once aboard the boat, Mari looks around and wonders where all the reporters are, realizing belatedly that Ha-young has lied to her. He thinks this is a grand romantic gesture, but Mari is irritated and wants off the boat. A cake is brought out bearing a bridal couple on the top, and Ha-young presents Mari with a glittering, diamond-encrusted ring, and tells her, "Marry me."
The crowd oohs, but Mari does not. Who knows if she would have rebuffed his proposal right then and there, but she doesn't get the chance because she is distracted by the strains of the piano, which has just begun playing a familiar tune.
Ignoring Ha-young entirely, Mari wanders past him and looks around, hopeful, for the source of the music. When she sees that it's Chul-soo, she smiles for the first time, her mood easing, relaxed now. Mari calls out, "What's the name of that song?" Chul-soo answers that it's Chopin's Nocturne, and she thanks him.
Although their exchange is brief and not that informative to the others watching in curious silence, it's as if Chul-soo's mere presence is enough to convey an underlying message. They smile at each other in relief.
With an enigmatic smile, Mari purposefully walks to the edge of the boat, again ignoring Ha-young — and jumps right off the side, into the water.
Partygoers on the boat and on the dock gasp in shock, murmuring worriedly as she remains submerged…
…all the while Mari's thoughts turn back to a memory of her first love (actor Phillip Choi). He had shown her the photos we have already seen, and told her of his intention to mail them to her years later.
Above water, Chul-soo is the first to react: he dives into the water after her.
Chul-soo doesn't "save" Mari — she was never in danger — but perhaps it's symbolic that he reaches for her, but remains just out of reach. Still, they surface together safely, to everyone's relief. Ha-young watches in an uncomprehending rage, while Woo-jin (Lee Ki-woo, who is not Ha-young's brother as I thought but his cousin) looks dismayed — he was ready to remove his jacket and dive in, but was beaten to the punch by Chul-soo.
Mari gives Ha-young a dismissive wave, effectively rejecting his proposal. Once out of the water, she heads indoors and instructs Chul-soo to be let through to follow.
However, Tae-seok is not pleased, and challenges Chul-soo — does this mean he's fully prepared to have a relationship with Mari? Does he even realize what it means to like someone of her status? Chul-soo admits that he hasn't really thought it out completely, and Tae-seok tells him to think it over: "To like someone means you sacrifice other small things."
Tae-seok points out that there are things in this world that are useless to try for. The words seem to hit home and deliver Chul-soo a reality check.
Inside, Mari dries off, and her initially happy mood turns tearful as she thinks again to her first love promising to send her those photos: "I'll be hoping you're as happy then as you are now. If I'm not by your side, I hope you'll remember me. And that you'll have a good person by your side." Mari (I think) has finally remembered this conversation, and realizes that he had given her hints in advance.
Someone passes by the doorway, and for a moment it seems that it's her first love — but it turns out to be Jung Woo-jin, who introduces himself as Ha-young's cousin. Woo-jin has been watching Mari all day, and happens to be holding vanilla ice cream. She notices, and he offers it to her.
When Chul-soo decided earlier to head back to Mari, he had told Eun-young not to wait for him. Now he arrives, albeit late, to see her. This time he doesn't shy away, and even takes her hand as he leads her to the auditorium where the piano resides.
He sits her down and tells her that he should have played this for her a long time ago — and starts playing Chopin's Nocturne. Eun-young listens in silence, but tears drip from her eyes as she lays her head on his shoulder.
And, well, life goes on. Chul-soo returns to Korea, time passes, Mari's newest movie is released to great success.
When Mari's book, titled Lovers in Asuka, comes out, it meets with raves — not merely popular acclaim but critical praise as well. In fact, the response is so overwhelmingly positive that people who have hitherto criticized Mari for being a shallow actress are coming around at this proof that she is literate and intelligent.
Chul-soo makes an announcement to his family that meets with mixed reactions — he's going to give up school and writing to look for a salaried job. He concedes to his eldest (grumpiest) aunt that this is what she'd wanted him to do all along, but she yells at him angrily for his sudden change of heart — is it because of his girlfriend? Or did he just now realize he can't make it as a writer? She calls him foolish and selfish.
Chul-soo's sister Yuri insists he shouldn't do this if it's because of her health issues, which are expensive (Yuri, feeling the burden of her illness on the family, hides her growing signs of relapse). Everyone thinks he should keep his dream of writing, but Chul-soo answers grimly that he's quitting for his own sake — he has no talent.
He explains to Byung-joon: "In Japan, it was like I dreamt a dream. But afterward, I could see reality more clearly. I think the time for dreaming is over." Meanwhile, Byung-joon continues to be dense about Chul-soo's association with Mari. When he sees the familiar outfit of the Popcorn Box Man hanging in Chul-soo's room, he makes the connection — but then assumes that Chul-soo was wearing the outfit in imitation. No, he is not quick on the uptake.
(In one particular interview, Mari echoes that same sentiment Chul-soo had just uttered when she thanks her fans, saying, "The time I spent in Japan was truly like a dream. I hope that while you read the book, you may dream the same dream with me.")
One night, Chul-soo receives a phone call from Mari, but as he's half-asleep, he thinks it's a joke and ignores the call. He shoves the phone under his pillow, then goes back to sleep.
Mari's success is double-edged, because she's finding her interviews increasingly problematic — aside from her guilty conscience at passing off the book as her own, she has to field questions that she doesn't know how to answer. Thus far she has managed to evade specific questions, but it's starting to become noticeable. Furthermore, there are even whispers that Mari didn't write the book, which grow every time she falters to answer a question she should know.
Finally, Tae-seok tells her to stay away from giving interviews. Mari balks, but Tae-seok has a Greater Plan for her, and he has named himself puppetmaster to her dancing marionette. He asks whether she just wants to end her star career with a mundane marriage, because he envisions greater things: "I'm asking you to go with me to a place nobody's been before." (A bit creepy, no?)
He tells her to ride it out, and if people keep talking about the book, then she can let loose a scandal to divert attention. To him, it doesn't matter who actually wrote the book — this is all about her brand. "Noise gets forgotten. What remains with the public is the image you've put out there with your book."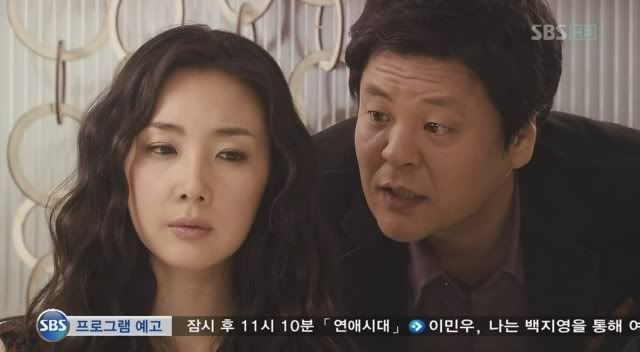 Mari doesn't roll over, though, and enrages Tae-seok by going over his head and agreeing to another broadcast interview. She tells him, "There's no need for you to make the decisions. From now on, I'll take care of my business." Throwing his words back in his face, she says, "I've decided I should just get married and end things here."
She departs with an interesting last line: "It's enough that I was fooled once by Woo-jin. I won't be fooled again." Tae-seok clenches his jaw, furious.
(At first, I thought she was speaking of Jung Woo-jin, aka Lee Ki-woo's character, and I was excited over the possibility that Tae-seok set up her initial encounter with him. That would explain the vanilla ice cream coincidence and add a shade of intrigue. However, [SPOILERY?] I believe she's referring to her first love instead, whose name is listed on the website as Seo Woo-jin. But as the audience has not yet been made aware of his name, I wonder if we are supposed to be suspicious of New Woo-jin instead.)
Following Mari's big announcement, she calls Chul-soo again, but the phone is still where he stuffed it under his pillow. Byung-joon hears the phone and sees the caller ID, but thinks that "Lee Mari" must be a joke, that it's Chul-soo's nickname for someone. Curious, he calls the number and gets Mari, who answers, believing this to be Chul-soo, "It's me, Lee Mari. I just tried calling you."
Byung-joon hurriedly hangs up, stuttering in disbelief. He calls back, and this time Mari's a little suspicious. She asks, "Can you hear me?" and then, "Who is this?" Byung-joon asks excitedly, "Is this the actress Lee Mari?" This time, Mari hangs up. Arriving at her destination, she tells her driver to leave without her, then steps outside.
After wrapping up a class, Chul-soo emerges into the lightly snowing outdoors, and crosses paths with a senior professor, whom he greets warmly.
Salutations are cut short, however, because at that moment everyone's attention is diverted: Mari has just arrived on the scene.

COMMENTS
Timeline-wise, I like what they've done in jumping us forward. I was thinking that the relationship was too straightforward, and wasn't sure how we were going to get sixteen more episodes of relationship turmoil when it's so clear that Chul-soo and Mari like each other.
By the way, I like Choi Ji-woo better in this episode than previously — the boat scene, with its wonderful, eerie music and Mari's mysterious smiles, was my favorite of this episode. But I'm not going to apologize for saying she hasn't been as strong as I hoped for — I never said she sucks, and she doesn't. I merely take the stance that she's a straightforward actress and that it would be nice if she introduced the concept of nuance into her acting. If this were a bad drama, I wouldn't care because it's not worth getting upset over obvious crap, but this is a drama that has potential to be good and stuff like this makes a difference. Better quality engenders higher expectations, and all that.
Also, I'm reminded a bit of Que Sera Sera, in how scenes that may normally be rather standard are elevated by evocative music and interesting photography. I'm sure A Star's Lover paid extra attention to making the drama palatable to Japanese sensibilities, and although I think reaching for that international audience is sometimes misguided (make the drama good first, then work on the international aspects; don't sacrifice one quality for the other), this drama has done a good job. Perhaps Choi Ji-woo's heightened Japanese profile has led them to be extra thoughtful about translating the drama to other markets. In any case, I'm enjoying the artistic ambiance almost as much as the rest of the plot.

RELATED POSTS
Tags: A Star's Lover, Choi Ji-woo, Lee Ki-woo, Yoo Ji-tae