Asia Model Festival Awards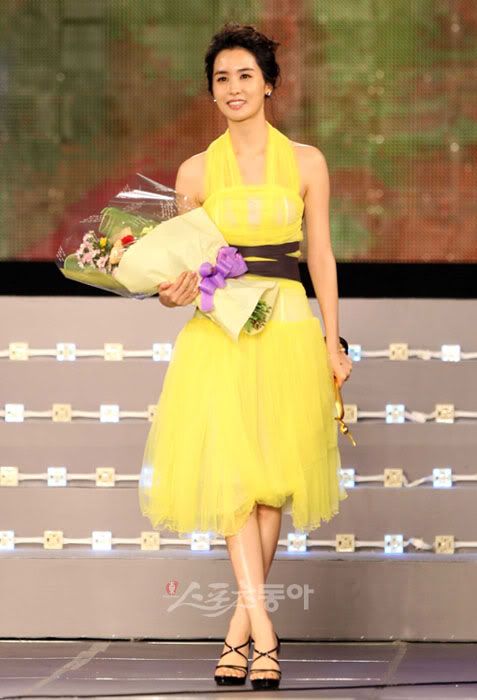 On January 15, the Asia Model Festival Awards were held at Seoul's COEX Convention Hall. The event took "Asia is One" as its slogan, probably to explain a few of the awards handed to (pan-)Asian actors (read: non-Korean) like Joe Cheng and Hayashi Tantan.
I'm not really sure about how they decided on the winners, which include both actors and models, but as with so many of these events, it's not so much about the relevance as it is about the pretty.


Winners List
Asia Star Award (Korea): Song Il-kook, Wonder Girls
Asia Star Award (International): Lin Chi-ling, Hayashi Tantan
Special Asia Star Award: Joe Cheng
Popular Star Award: Park Hae-jin, Lee Da-hae
Popular Singer Award: Kim Jong-kook, Baek Ji-young, Brown Eyed Girls
Model Star Award: Oh Ji-ho, Han Ji-hye
Special Model Award: Kim Jae-wook, Yoon So-yi, Seo In-young
Fashion Model Award: Kim Young-kwang, Kim Daul
CF Model Award: Lee Kwang-soo, Oh Yeon-seo
2009 Racing Model Award: Gu Ji-sung
2009 Racing Model Popularity Award: Lee Su-jin
Rookie Model Award: Ahn Jae-hyun, Im Ji-eun
International Cultural Exchange Award: Andre Kim
Asia Star Award (Korea) winner Song Il-kook (Kingdom of the Wind). I don't see what the point is when a Korean awards show takes particular effort to make an "Asian" (as in, pan-Asian) award, then divide it up between "Korean" and "International" winners. Hello, redundancy?
Asia Star Award (Korea) winners Wonder Girls look a little bored, no?
Taiwanese supermodel Lin Chi-ling was given an Asia Star Award (International):
Young Japanese actress Hayashi Tantan also received an Asia Star Award (International):
Joe Cheng was given a Special Asia Star Award. He is wearing what appears to be a furry vest OVER a formal suit.
Yes, the front view of Lee Da-hae, winning the popularity award with her East of Eden co-star Park Hae-jin, is very pretty:

But it's the back of the summery yellow frock that really makes the look. Love the color, love the crisscrossing ribbons, and she looks beautiful in it.
Three artists won the Popular Singer Award. First, Kim Jong-kook in his suit of armor (seriously, that thing looks suffocating):
Second, Baek Ji-young, who I think looks fantastic and casually elegant with that dress and loosely pulled-back hair.
And third, Brown Eyed Girls. Yikes, those are some short skirts. I didn't think it was possible to take the Fashion Blight That Will Not Die (i.e., leggings) and make them any tackier, but there you go — pleather!
Model Star Award winner Han Ji-hye (East of Eden) has been really rocking the awards and red carpets in the past year, hasn't she? That said, I wonder if MBC paid off the awards committee to hype up its Eden actors…
Oh Ji-ho (Single Papa in Love) took the other Model Star Award. Not sure what makes him a "model star," but he looks good.
Special Model Award recipient (one of three) Kim Jae-wook (Coffee Prince) is dressed almost the same as Oh Ji-ho above, but he wears his suit with panache. I'm digging the casual open neck. Now if only he would straighten up his posture.
Yoon So-yi (City of Glass) took another Special Model Award. I have to say that although it looks like her dress got caught in the doors of a subway car, which then sped off and bunched up the fabric in awkwardly pulled random directions, the draping intrigues me, and the dress looks like it flows well on her tall frame. The color is lovely, too.
I guess you can't hold Jewelry singer Seo In-young's look against her; she's sporting the usual Andre Kim runway look with the Princess Leia braids, so I'm sure it wasn't HER idea to look like an angry alien princess fairy.
No, that fault must rest with International Cultural Exchange Award recipient Andre Kim, overlord of alien fairyland dwellings who descends upon earth every once in a while to pick up baffling awards. Look, I get that dude is old. And has been a "fashion" "designer" for many moons. But I think he is also proof that when were talking professional quality of work, you don't get points JUST FOR BEING STILL ALIVE. Or at least, you shouldn't.
But at least the Fashion Model Award makes sense; its winners are actual working models Kim Daul and Kim Young-kwang :
Actress Oh Yeon-seo (Our High School E.T.) and broadcast performer/model Lee Kwang-soo won a CF Model Award:
And I didn't know there was actually an award to laud the bikini-flashing, scantily-posed-photo-shooting category of racing models, but whaddaya know. Gu Ji-sung is 2009's Racing Model Award winner, while Lee Su-jin wins the (literal) popularity contest.
Via Hankyung
Tags: Andre Kim, awards, Han Ji-hye, Kim Daul, Kim Jae-wook, Lee Da-hae, Oh Ji-ho, Park Hae-jin, Seo In-young