Return of Iljimae meets the press
MBC's Return of Iljimae held its production press conference on January 7, featuring its lead actor, Jung Il-woo, who will attempt to make his hero as much a success as Lee Junki did in SBS's drama last year.
When asked about the burden of following such a successful take on the character, Jung replied that he's preparing himself for the response. Although he didn't watch all of SBS's drama, he praised his predecessor, saying, "Lee Junki sunbae acted extremely well in it. It was very entertaining… However, our Return of Iljimae will be a different drama altogether."

One big difference: the source material.
PD Hwang In-roi said that hearing that SBS would tackle the same subject and broadcast theirs first "troubled me a bit." However, his drama is backed by the strength of the original storytelling, which SBS had to do without; lacking adaptation rights to the well-known manhwa series, SBS made do with their own story. MBC, on the other hand, has the license to adapt the original manhwa, which appeared in serialized form in the 1970s, authored by manhwa-ka Go Woo-young. (Following the manhwa's success, it's even said to have kicked off the "golden era" of the newspaper serial manhwa.)
Furthermore, PD Hwang is differentiating this drama further from other hero sageuks like Hong Gil Dong — there will be no gangs of thieves or mountain fortresses. Iljimae is a hero for the oppressed and weak, but Hwang "tried very hard to find probability in the story, and spent a lot of attention on properly depicting the details of the mid-Joseon era."
Hwang continued, "We had lots of ups and downs, but as the premiere approaches, I'm full of emotion."
Hwang has had some success adapting manhwas before; his profile rose with his extremely successful Goong, and was praised for its beautiful look and gorgeous sets. The launching of Yoon Eun-hye's and Joo Ji-hoon's careers didn't hurt, either. Perhaps that track record is why he was fine casting a young actor who hadn't worked on a proper television drama series yet — Jung Il-woo shot to teen stardom after starring in MBC's family sitcom Unstoppable High Kick.
Speaking of which, Jung was asked about his High Kick days at the press conference, such as his fellow castmates who have also gone on to successful budding careers. Kim Hye-sung followed a queer indie film role with the sageuk series Kingdom of the Wind; meanwhile, Kim Bum earned praise for his performance in East of Eden and now plays a youthful playboy on the new Boys Before Flowers.
Jung said of Kim Bum, "When on set, he seems like he's having fun, but he really studies to immerse himself in his character."
(Jung is looking better after his recent bouts of illness, and his slimmed down features really bring a nice sharpness to the Iljimae character. I am, however, doing my best to ignore that ridiculous poofball he has attached to the back of his head. Who do you think you are, Bae Yong-joon?)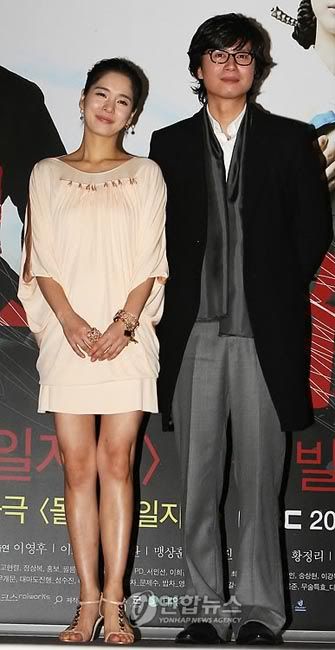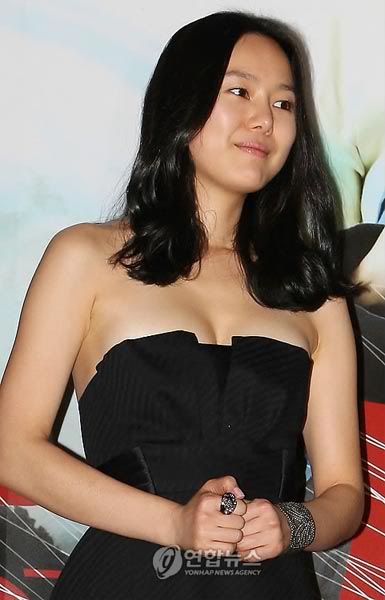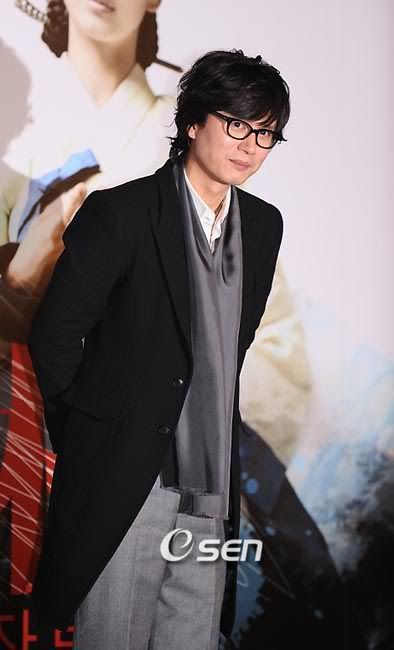 Jung Hye-young with Kim Min-jong; Yoon Jin-seo
At the press conference, actress Jung Hye-young (in the cream dress) also announced the pregnancy of her third child. Devoted husband Sean (and former half of kpop duo Jinusean) was in attendance at the press conference to present his wife with flowers upon the announcement.
Meanwhile, said lead actress Yoon Jin-seo (in black), "It's very different from shooting a film, and there are many difficult aspects, but I'm hard at work filming. I decided upon this drama through complete faith in director Hwang In-roi."
The drama is said to be three-quarters complete with its filming, and premieres on January 21.
Via Now News, Yonhap News
RELATED POSTS
Tags: Jung Hye-young, Jung Il-woo, Kim Min-jong, press conferences, Return of Iljimae, Yoon Jin-seo