The Naked Kitchen press preview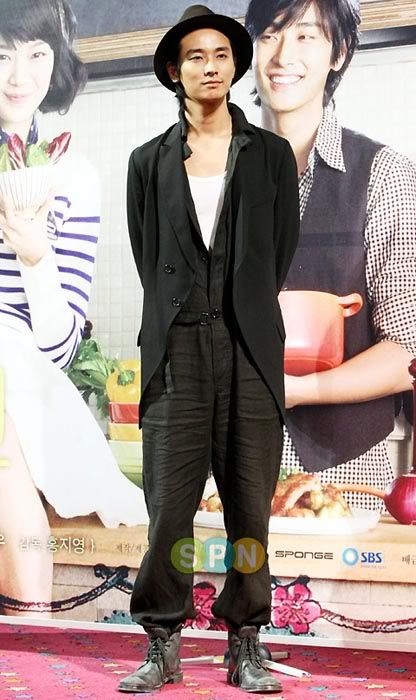 At this point, you have to wonder if Joo Ji-hoon (Antique Bakery, Devil) is purposely messing with us. I mean, sure, fashion models often target that "ugly is fashionable" trend, which I always think is just like their way of flaunting, "Look, I'm dressed like a deranged serial-killer hobo, but I'm still prettier than you!"
On the other hand, sometimes it's just plain ugly. And for some reason, this is becoming something of a pattern for Joo Ji-hoon.
Here he is at the January 19 press conference for his new project, the film The Naked Kitchen co-starring Shin Mina (Go Go 70) and Kim Tae-woo (Tokyo Showers).
I mean, it isn't as though Joo doesn't know how to dress, or can't wear sharp fashions. On the very same day as his Kitchen press conference, the actor showed up at the showcase for his new musical role in the production of Don Juan looking like this:
Did he figure that he'd fulfilled his dapper quota for the day and couldn't risk showing off too much of his good looks for fear of overwhelming us with his pretty? (Chris Kattan voice doing Antonio Banderas: "Too sexy, too sexy!" I'm going to be really sad if nobody is old enough to get that reference.)
In any case, the plot of Kitchen revolves around a woman who is married but falls in love with another man (Kim Tae-woo is the husband, Joo the Other Man). Shin Mina's character doesn't intend to fall in love, but happens upon it naturally.
The film's title comes from the fact that Joo's character is a gifted chef, while Kim's character is a successful fund manager who dreams of being a top chef and gives up his former career to pursue the latter.
Despite the subject of adultery, it seems the film is aiming for a sweet, light feel. Here's the preview:
Kitchen opens on February 5. Meanwhile, Joo's musical Don Juan runs from Feburary 6 through March 8.
Via OSEN
RELATED POSTS
Tags: Joo Ji-hoon, Kim Tae-woo, Shin Mina