Lee Min-ho fever revives Secret Campus
The Lee Min-ho phenomenon continues on. I can't recall the last time we saw something like it, but since it's a result of his talent as much as anything else, I don't begrudge him one bit.
First it was a slew of old pictures, old girlfriends, family anecdotes, etc. Now one of his old projects is drawing particular notice: Secret Campus [비밀의 교정], which he acted in back when he was 19. Because of all the heightened attention being given to Lee's prior work, EBS, the station that originally aired the 2006 youth drama, has announced that they will be rebroadcasting the series.
(I know there's some Boys Before Flowers news fatigue. I feel it too. But this isn't really about BBF, and Lee Min-ho acting projects somehow feel exempt to me…)
Part of the intense curiosity about Lee Min-ho's background and personal life is because he was so unknown before Boys Before Flowers, even despite several film and drama roles.
Not only is Secret Campus Lee Min-ho's debut role, it was also the debut for a fellow rising star — who happens to be this year's It Girl — Park Bo-young. Park (19) has been on the rise with her film and TV work, but really hit it big with one of the biggest movies in recent history, the comedy Speed Scandal (과속 스캔들, aka Scandalmakers) also starring Cha Tae-hyun.
Lee Min-ho and Park Bo-young also worked together in last year's comedy film Our School E.T., and are still friends.
EBS, which stands for Educational Broadcasting System, is a public station airing mostly documentary or educational programming, as well as "youth dramas" like this one. A rep explained that following the massive successes of both Speed Scandal and Boys Before Flowers, the website for Secret Campus has been attracting many visitors and requests for rebroadcasts.
With these two newly minted stars, EBS is sitting on a goldmine, and it's not going to waste it, that's for sure. In fact, I wouldn't be surprised if these reruns of a three-year-old drama happen to bring in the station's highest ratings in a long while, or perhaps ever.
The encore run will be shown on EBS on Saturday evenings beginning February 28, with one episode per week. The drama has 24 episodes in all.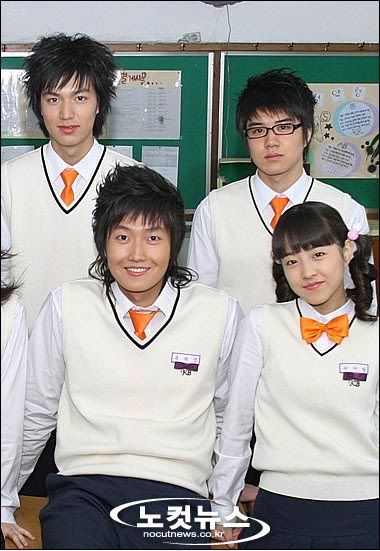 Secret Campus is a school-centered drama depicting the lives and conflicts surrounding six very different main characters, who are all high school students.
Lee isn't the main star of the cast; Park is, and (I think) there are a few other roles more prominent than his. In the story, he plays a soccer team member (perhaps art imitating real life?), although his soccer dreams meet with some trials and tribulations. While he is a good fighter and "he seems like he doesn't have much interest in those around him, he's the kind of person who takes care of his friends silently."
Park's character (Ah-rang) isn't the brightest student, but her cute, talkative personality makes her well-liked. One day, she's walking home from after-school lessons and runs into a gang of roughnecks; Lee's character (Doo-hyun) comes along and saves her, after which Ah-rang starts to like Doo-hyun.
Via No Cut News, screencaps from pbyforever cafe
RELATED POSTS
Tags: Lee Min-ho, Park Bo-young