Return of Iljimae: Episode 3
Return of Iljimae continues to be both lovely on the eyes and the ears — it's almost like watching a carefully balanced film more than a drama series. I'm actually getting used to the narration, which continues to (as a downside) be told in that oddly pretentious voice but (upside) does keep the flow of the story smooth and seamless.
Also, the nickname for this series (drama titles tend to get shortened for ease of reference) is "Dol-ji-mae" (돌지매) which derives from the title 돌아온 일지매, but I think it would be funnier (though a bit pejorative) to call it Dul-ji-mae instead ("dul" meaning second).
SONG OF THE DAY
Return of Iljimae OST – "너의 노래" (Your Song) by B.T. [ Download ]
Audio clip: Adobe Flash Player (version 9 or above) is required to play this audio clip. Download the latest version here. You also need to have JavaScript enabled in your browser.

EPISODE 3: "Iljimae in a fury"
(Episode 1 was titled "The one who defeats Bulgasal" — Bulgasal (or Bulgasari) is the terrorizing giant — while Episode 2 was "Escape from Yodong")
Caught by his pursuers just as he is about to board the boat for Korea, Iljimae looks on as Wang Hweng-bo, his shifty-eyed, twisty-footed companion, leaps into the air to fight off the men. He cuts Iljimae loose and they hurry onboard.
As the boat leaves the dock, Iljimae's former teacher appeals to his sense of compassion, saying that his fiancée is very ill, and now he's done her a wrong by running off. It's unclear whether this is true or merely a trick to get him back on land, but Iljimae responds, "Please tell her to forget me, to marry someone better and live happily."
And so, Iljimae — who we learn is sixteen years old — arrives in Korea.
He speaks some Korean but is unfamiliar with Korean customs, and sees everything through the eyes of a fascinated foreigner.
Wang Hweng-bo leads Iljimae to the home of his birth father, the government official Kim Joong-hwan. However, they arrive just as the household is preparing funeral rites for the matriarch — that is, Iljimae's grandmother. This makes things a little more difficult, because as the narrator tells us, "Could Iljimae have known that the only person who would have rejoiced to see him had died?"
Wang Hweng-bo decides to take a different tack by leaving Iljimae at an inn and saying he will talk with his father first to smooth the way. Iljimae hands over the items his grandmother had sent his adopted parents as proof of his identity.
What Iljimae doesn't know is Wang Hweng-bo's secret identity as a spy. (I can't decide if Hweng-bo is really annoying, or really awesome. Right now I'm thinking a little of both.) While it does seem that he wants to help Iljimae, he has his own agenda as well. He surreptitiously makes contact with his spy colleagues, who are after confidential documents, but they are intercepted by authorities. The other spies are killed or kill themselves to prevent capture, leaving Wang the last one standing.
Thus when Wang crashes the funeral wake and gets into a fight with the attendees, chief officer Gu Ja-myung grows suspicious that he may be one of the foreign spies, and heads off to deal with the situation.
Wang Hweng-bo is chased through the city and cornered by police officers, led by Officer Gu. Wang challenges Gu to a one-on-one, but is pre-empted by the arrival of Gu's right-hand woman, the damo (woman officer) Soo-ryun. He underestimates her skill, and she disarms him swiftly.
The spies' rampage through the city has caused not a small amount of collateral damage, and thus the people's resentment of foreigners is at its peak when Iljimae wanders through the marketplace. He means no harm as he stops to ask a question, but the man gives him the once-over, sees his foreign attire and demeanor, and pushes Iljimae around belligerently.
Bewildered, Iljimae acts in self-defense when a few more men gang up on him. Given his superior fighting skills, he subdues his attackers easily.
It's in the aftermath of this fight that Bae Sun-dal makes his appearance — if you recall, he's the man in the first episode who later takes it upon himself to chronicle Iljimae's exploits. Bae takes the typical ajusshi scolding tone and chastises Iljimae for disrespecting his elders. Iljimae defends himself, but his phrasing ruffles feathers — not having been Korean-raised, he speaks too directly. Bae lectures him on proper etiquette, which he says Iljimae is sorely lacking. Perhaps tired of being scolded by this fussy little man, Iljimae delivers a swift kick to the smug Bae's neck and knocks him down.
This scuffle gets Iljimae locked up. He protests that he's innocent, but to no avail. The thief sharing his cell tells him it's no use trying to argue his innocence — he's been locked up merely because he's a foreigner, which is enough to stir prejudice in the current xenophobic climate.
Later, a third man joins them in their cell — Wang Hweng-bo, who has been beaten and threatened, but has refused to spill any information.
Officer Gu questions Iljimae, who asks to be let out to meet his father. He even has proof of his identity, although currently the items are not in his possession, as he'd given them to Wang. On the other hand, he does have his mother's letter, which he shows the officer — and Gu is startled to hear that Iljimae's mother is/was a gisaeng named Baek-mae.
At this information, we jump backwards sixteen years to resume where we left off when Gu had first met, and fallen for, Baek-mae.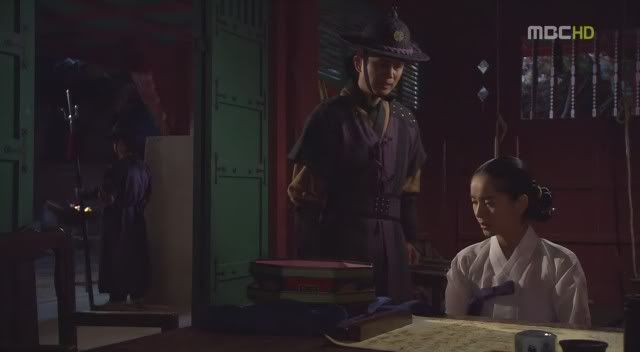 At the time, there had been a thief at large who'd been stealing ornaments and jewelry from rich homes. When Baek-mae is brought in as a possible suspect — there are expensive items in her possession whose origins are unaccounted for — Gu does his best to help clear her from suspicion. He appeals to his superior, but the chief would rather jail someone than no one (with his reputation at stake), and takes a hard line with Baek-mae.
Furthermore, Baek-mae insists her items are not stolen but refuses to identify the source (that would link her to the household that had thrown her out). All the while, she remains fixated on her child, murmuring to herself, "If you just grow up well in that household, if only you stay safe, it's okay if your mother dies."
But Gu, determined to save the woman he loves, finds out as much as he can in order to clear her name. There are rumors that she had given birth to a baby and been kicked out of her home, which means the jewelry was given by her former master. If she only gives the name of that family, he can confirm the story and release her. If not, her punishment — physical blows — could end up killing her.
Baek-mae, fearing that naming the father would somehow endanger her child, refuses to say anything. She scoffs, "Die? I may as well."
Shortly thereafter, two men are caught and suspected of thievery — one of them being the beggar who first rescued Iljimae. But he cries that he's innocent, and there is no proof.
Thus Baek-mae is punished. As she stumbles out of jail weakly, Officer Gu asks her once more for the truth, having guessed most of it anyway: "Did your master force himself on you and get you pregnant, after which you went to the gisaeng house? Who is he?"
Baek-mae replies that there's nothing he could do even if he knew the truth, because a slave is so low "that even if what you say were true, if a nobleman and owner violated his slave, took her child, and kicked her out, it would still not be a crime. It's not as though you can return my child to my arms or punish that man."
Now in the present day, Officer Gu remembers how he could do nothing to help Baek-mae in the past and therefore offers to help her son. Having never found out which nobleman had misused Baek-mae in the past, now he's as eager as Iljimae to visit Lord Kim and confirm whether he is Iljimae's father.
They're shown in by Kim's son — Iljimae's half-brother, above — Kim Joon-seo, who senses a strange kind of connection with Iljimae at first sight.
Kim sternly denies the claim, acting offended at the suggestion that this foreigner is his son. Gu suggests that they bring in the boy's mother to confirm the truth, and at the mention of Baek-mae, Kim immediately bristles and orders them to leave.
Iljimae speaks up, telling the man that he cannot leave like this, after all he's gone through to get here — does Kim mean to abandon his son not once, but twice? "Look me straight in the face, and tell me I am not your son. If you are truly not my father, I will leave."
Kim gulps a bit, looks toward him, then says quickly, "You are not my son."
As Iljimae reacts to this, his brother looks over at him quizzically, having witnessed the exchange from a distance.
Reeling from the betrayal, Iljimae wonders bitterly why he came. Gu suggests that there's a possibility that Kim is not his father, but Iljimae was not fooled by the denial. He was looking at Kim's eyes, which were looking at him until the last moment: "That man is my father." He adds, "But no longer."
Gu tries to track down Baek-mae's current whereabouts; the last anyone heard (years ago), she had been heading to her hometown. He remembers the day she had left the gisaeng house, when he'd watched quietly from a distance. Burdened with uncertainty, he had been unable to talk to her or ask where she was headed, which he has regretted for years.
Iljimae is returned to his cell, where he gives in to angry tears. His fury growing, Iljimae vows — to his cellmates' surprise — "I will not remain here."
To that end, the next morning when the guard delivers their breakfast, all three prisoners lie unmoving, prompting the guard to enter, wondering if they'd all died in the night. Iljimae moves swiftly, knocking out the guard, and escapes with Wang Hweng-bo and the thief. He doesn't know that at that very moment, Officer Gu has decided to let him go and has asked for Iljimae to be sent to him.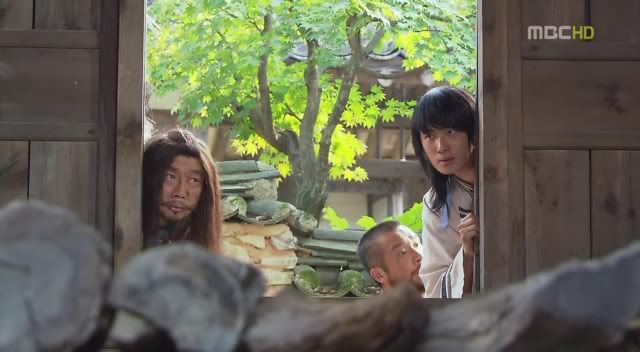 A hunt ensues. The three fugitives hide, and when Wang Hweng-bo asks what he plans to do next, Iljimae replies that he's realized there's nobody in the world to depend on: "Now I'll live on my own."
With that, they split up. Wang decides to head back to China. The thief gives Iljimae one last clue before leaving — because he'd once known a beggar who may know where Baek-mae is. A flashback shows us that this thief is the same man who'd once been accused of stealing jewelry, along with the beggar. The man names the beggar's hometown and points Iljimae in the general direction.
Of the three escaped prisoners, the thief is apprehended first. Gu sends men to capture Wang Hweng-bo, and prepares to find Iljimae.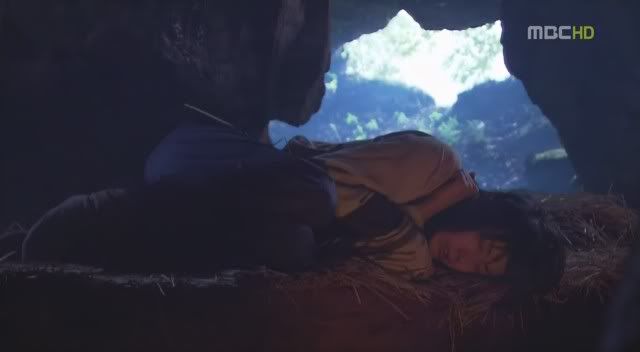 Meanwhile, Iljimae makes his way to the beggar's hometown, sleeping in caves and stealing food to survive.
One day, Iljimae is washing under trickling water from a waterfall, watched unseen for several long moments by a curious village girl. As he looks up and spots her, the girl hides, then dashes off along a mountain path. He chases.
He catches up to the girl at a waterfall, grabs her arm, and demands to know why she ran away like a guilty person. The girl takes advantage of a moment of distraction and pushes Iljimae into the shallow water, laughing at his surprise.

COMMENTS
Isn't it pretty?
I think what Return of Iljimae does well, and the reason it draws me in, is its ability to evoke a sense of pathos. Handled even a teensy bit more clumsily, a lot of these moments could end up ridiculous, overdone, or silly. But tone is such a key component in this drama, and it is delicately balanced.
Part of that is the gorgeous background music — seriously, I am in love with the score. Not necessarily the pop-song-fueled soundtrack, but the background instrumental music, which is not only well-applied but also — important! — not overused. Most dramas use music as a mood-setter, but here, the score is beautiful on its own.
As for the characters, I don't really think it's the acting that is impressing me — some is good, some is okay — but in the way that the characters are established and developed. So many dramas tell me I'm supposed to feel bad for characters when I actually don't. Here, somehow, I do — like the lovelorn Officer Gu who's in love with a woman far out of his reach. It's not so much the societal barrier that keeps him from her, but his own indecision and hesitance. His constant inner struggle is well expressed and the longing comes across palpably.
Similarly, I feel for Iljimae, who's capable of inner strength, but at this point is much more a lost little boy. Jung Il-woo's acting isn't necessarily the highlight — he's serviceable — but again, his adolescent turmoil is very relatable. The PD is doing a skilled job at putting together this story, imo. Some dramas are actors' dramas, others are writers' dramas, and yet others — like this one — are directors' dramas.
RELATED POSTS
Tags: Jung Hye-young, Jung Il-woo, Kim Min-jong, Return of Iljimae, Yoon Jin-seo