Book releases for Tango and Goodbye, Hill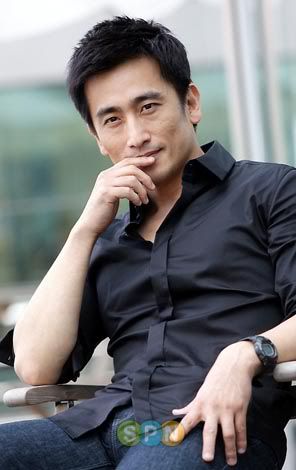 Gu Hye-sun's "Tango"; Cha In-pyo
More book news.
First, we have the new cover art (above) and a bit more description about the book being published by Gu Hye-sun (Boys Before Flowers), titled Tango.
Gu's book is based on memories of her own bittersweet first love, though the fictionalized story first rose in her mind upon hearing Ryuichi Sakamoto's song "Tango." (I posted that song in the previous post; below is a second version.)
It's explained that the tango motif is linked to the story because in the dance, if the feet do not step together in time, they only hurt each other. The book will come with approximately 40 of Gu Hye-sun's own illustrations.
But the more interesting book news, in my opinion, is that of veteran Hallyu actor Cha In-pyo (Crossing, Hanbando, Star In My Heart). Because while this is his debut novel, don't write this off as a vanity project or mere ego-fluffery — his book deals with the issue of comfort women, which is a topic I find deeply compelling (the sexual slavery of hundreds of thousands of women, mostly Korean but also including Chinese, Filipina, Vietnamese, and those of other Southeast Asian nationalities, by the Japanese military in its imperial expansion years leading up to and during WWII).
SONG OF THE DAY
Ryuichi Sakamoto – "Tango." I mentioned there was another version of this song in the last post and someone asked for it. This is the Japanese-language version of the same song. [ Download ] Incidentally, there's also a slower Portuguese version: [ Download ] (Personally I like the Spanish one best.)
Audio clip: Adobe Flash Player (version 9 or above) is required to play this audio clip. Download the latest version here. You also need to have JavaScript enabled in your browser.
Cha In-pyo's book is titled Goodbye, Hill [잘가요, 언덕], and takes place in the 1930s.
Cha's involvement in the project started in 1997, when he heard the story of "Grandmother Hoon," who had been dragged off to be a comfort woman in Cambodia during the war. She continued living in that country until she visited her native Korea in 1997, and Cha's interest was piqued upon hearing the news reports. For the past decade, he has been working on the idea, researching, writing, and editing his manuscript.
The description for Cha's Goodbye, Hill:
"This book is set in the 1930s, in a Tiger Village at the foot of Baekdusan [Mount Baekdu]. One youthful hunter, Yong-yi, comes to the village to capture a tiger to exact revenge for injuring his mother, and encounters Soon-yi, the daughter of the village chief. Along with Japanese officer Kazuo, these three draw a story of forgiveness and reconciliation."
Cha explains, "I wrote this book because I wanted to tell the story of our grandmothers and grandfathers who endured hardship in the time when our country was at its weakest."
The issue of comfort women is something I have a strong academic interest in. The historic bad blood between the Koreans and Japanese is famous, but the matter isn't a nationalistic one so much as it is a travesty of basic human rights, that these women's sufferings have been swept under the table for more than a half-century without reparation or public apology. It's also a hotbed for controversy (there are those who deny it happened, which is seen by others as akin to Holocaust denials).
It's a hard topic to write about, and I hope Cha In-pyo does it justice, but in any case it's clear he's put a lot of care into it. You've also got to respect the man for taking it on with the stated themes of "forgiveness and peace."
Cha In-pyo's Goodbye, Hill will be published on March 25. Gu Hye-sun's Tango releases April 1.
RELATED POSTS
Tags: books, Cha In-pyo, Gu Hye-sun, star extracurricular activities