Boys Before Flowers actress commits suicide
Oh, this is sad.
Jang Ja-yeon, one of the Boys Before Flowers' Jin-Sun-Mi trio of Mean Girls, was found dead in her home on March 7. Her death has been deemed suicide.
The police are still are still looking into the matter, but police have stated that after a first examination of the deceased's body, there do not appear to be signs of foul play or struggle. Jang's family does not want an autopsy, so out of respect for their wishes, none will be performed.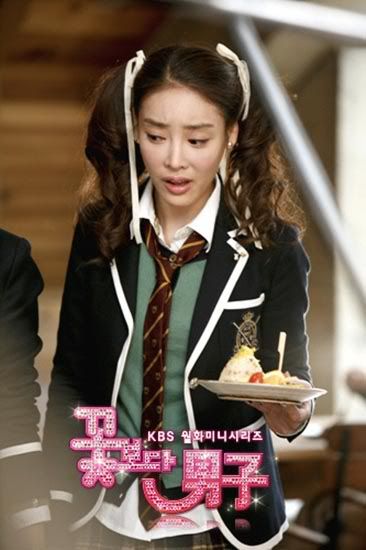 Jang had hanged herself at her apartment; her older sister found the body on the evening of the 7th. She explains that Jang Ja-yeon had suffered from depression, and prior to her suicide had been staying inside her room for long periods of time more frequently, signaling perhaps that she was falling into deeper depression. About 10 years ago, Jang lost both parents in a car accident when she was in high school, and has lived with her sister ever since.
But to staff from Boys Before Flowers, the 27-year-old actress who played the dimwitted "Sunny" character was "always bright and positive, with a lot of passion for acting. I cannot believe that she would commit suicide."
Another source from the drama, however, said, "She was lively and passionate, but as a rookie actress, I think she felt a lot of anxiety about her future."
Jang Ja-yeon debuted in the entertainment industry with a CF in 2006, and acted in the drama My Lovely Fool and a Drama City production called Love Hunt, Thirty minus three (with Sohn Tae-young and Park Ki-woong).
Jang Ja-yeon is not a famous actress, but it's particularly shocking (and worrisome) given the drama's far reach into the youth population. As we saw with the untimely deaths of Choi Jin-shil and Ahn Jae-hwan last year, a spate of suicides followed, and while I don't want to diminish each passing by calling them copycat acts, it's unfortunately true that they got tremendous press coverage and seemed for a while to spawn a "trend." Best wishes to Jang's family.
Via My Daily
RELATED POSTS
Tags: Boys Before Flowers, deaths, Jang Ja-yeon