Jung Il-woo is happiest with script in hand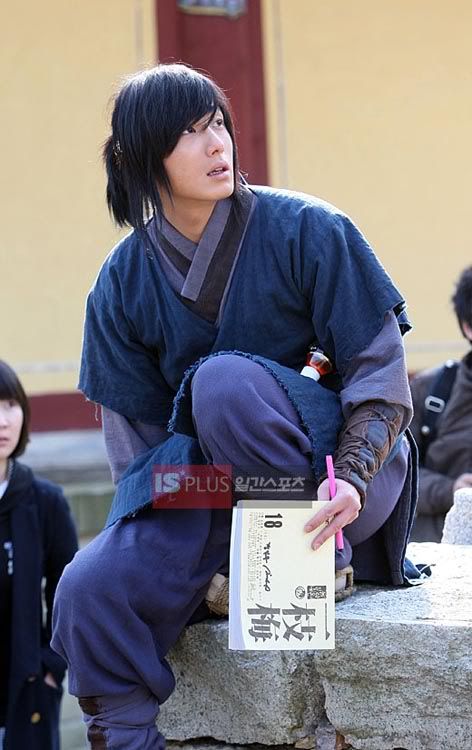 With all the other buzz dramas making a splash these days — Boys Before Flowers with its pretty youngsters, Cain & Abel for its anticipated comebacks, East of Eden at its dramatic finish — Return of Iljimae is steadily continuing along.
Quiet and unsensational, Return of Iljimae isn't making huge headlines, but its quality remains constant and the drama's gorgeous, delicate sensibility really set it apart from the pack. (So I'm spreading the love a little with these behind-the-scenes shots.)
As we well know, lead star Jung Il-woo has been committing himself fully to the role, and has earned recognition from the drama's staff for his dedication to the role. In fact, he's so immersed in the character (and, from watching the drama, I can tell you it's paying off), Jung finds himself practically inseparable from the script: from the moment he receives it, he's busy reading, studying, marking notes.
A staff member says, "Normally when the director yells 'Cut,' actors put on their overcoats or reach for a mirror, but Jung Il-woo always asks for his script." Apparently, among all the staff's scripts, his is always the most tattered.
Jung explains that even when he's not on set, he feels uneasy whenever he is without his script in hand and carries it around with him, not just for memorization purposes but because he's constantly trying to figure out how to act a certain scene: "It isn't for one particular reason, but reading the script allows me to focus on the work, and eases my mind."
Currently in its seventh week (Episode 14 airs this Thursday), the drama has won praise for its high production quality and storytelling, despite trailing the popular I Hate You, But Let's Try Again and the newly premiered Cain & Abel.
We're only in early March so perhaps it won't mean much to say it's my favorite drama of this year, but maybe it'll make more of an impact to say that I feel confident that Return of Iljimae will make my end-of-the-year "Best" list. How I end up scoring the drama in my personal rankings is still up in the air, but suffice to say that it's the first drama in a long time that warrants no complaints. (Yet. Knock on wood.)
Via My Daily, Asia Economy
RELATED POSTS
Tags: Jung Il-woo, Return of Iljimae, Yoon Jin-seo