Kang Hye-jung's Why Did You Come To My Home?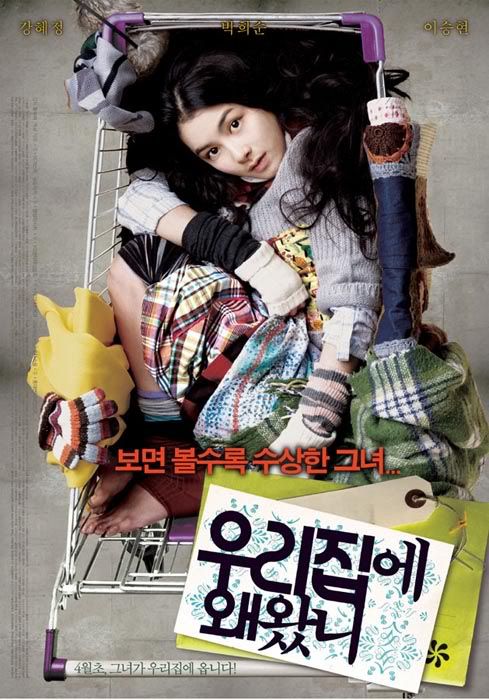 Kang Hye-jung (Herb), Park Hee-soon (Seven Days), and Big Bang's Seung-ri are out with a new movie, Why Did You Come To My Home? [우리 집에 왜 왔니], which opens on April 9. (Watch the trailer below.)
At first glance, the movie looks as quirky and wacky as you might expect from the casting (Kang's got a history of playing oddball characters and is known for being rather offbeat herself): Kang plays a homeless woman, Park's the hapless man into whose home she barges in, and Seung-ri's the neighbor she kidnaps.
The plot:
Kang's homeless "Soo-kang" character steps in and announces herself "at home," tying up the resident, Park's "Byung-hee." He's a sad sack who's tried to kill himself numerous times but failed, and now finds himself prisoner in his own house. But for some odd reason, she spends all day looking out the window with binoculars, and he seizes a moment of her inattention to reverse the tables — tying her up with the ropes that used to bind him. But he doesn't call the police, or run away — he ends up staying out of curiosity, and even helps her. So what's her suspicious secret?
Trailer:
(I'm not sure how useful this is without subtitles, but to sum it up: In the first half, Kang Hye-jung ties Park Hee-soon up and cheerfully refuses to leave. In the latter half, she tells him she's found "the most important person in my life" (Seung-ri) and plans to kidnap him.)
Below, Kang Hye-jung talks about her character in an interview with Cine 21. I find Kang interesting because she often speaks with a refreshing frankness that you don't always get from top actresses. (For instance, asked about her upcoming Hollywood film, she says: "Hallyu wave, Hollywood debut, those are tiring words that make no sense and have nothing to do with me. Honestly speaking, if you look at the screenplay, it's not something I'd pick to do, but I'm doing it because I think it'll be fun to work on a foreign project.")
Kang Hye-jung's return in Why Did You Come To My Home?

This is Kang Hye-jung. She's returned to the big screen two years after Herb [허브]. With projects like the drama Flowers For My Life [꽃 찾으러 왔단다] and the film Kill Me [킬미], it's not like she hasn't worked, but for some reason she's been quiet for the past two years, and it's not just because she hasn't released a movie. Starting around the time Herb released in 2007, Kang Hye-jung has gradually become quieter. The words she used to blurt out cheerfully have diminished, and her silences have grown. She's also gotten caught up in noise not related to her work. After correcting her teeth, her altered appearance caused people to accuse her of plastic surgery, followed by breakup rumors with her then-boyfriend.

And now. She has a new project, Why Did You Come To My Home? [우리집에 왜왔니]. Her character Lee Soo-kang isn't just a stalker but also homeless, who harbors inner pain.

When did you receive the screenplay?

It started with a screenplay called "Laundry" [세탁소]. That was three years ago, and it changed its name to "Why Did You Come To My Home" about a year and a half ago. I already knew director Hwang Su-ah and had told her before that I'd like to work together on a movie. I think it was when I was twenty. When she asked if I'd like to read her script, I said okay, and that was "Laundry." It was based on the same original material that the Japanese film Laundry, starring Kubozuka Yosuke, was based on. It was so interesting. However, because of investment issues and other difficulties, the director said that she would rewrite the film to fit the budget she had, so she said she would write it first, then we'd talk again.

In that case, was Why Did You Come To My Home as good as before?

Um… Well, I'd agreed to do it. [Laughs] I felt the promise strongly. It wasn't that they're obvious characters with an obvious story, but they'd changed a little and seemed eccentric. Also, in Korea there aren't many movies where you can act as a homeless person, so just on that alone I thought it had merit. It's too difficult making me seem pretty, and in this movie I'd be acting naturally, without making myself up.

How did you handle the character of Lee Soo-kang?

I think of it as an extreme case. Anybody can go crazy liking someone. Even if the other person is completely wrong, I can't control how I feel. And so, I might annoy the other person, or sometimes even torment him. Lee Soo-kang has started down that road, but she doesn't know where to end it. She's really been horribly alone and finally opened her heart, and she can't control it. But I don't think the reason for that is because she loves the guy so much (Park Ji-min, played by Seung-ri). It's just that they share a similar destiny? Maybe you could say it's like they've promised to be together for the rest of their lives. I think she realizes after meeting Byung-hee (Park Hee-soon) that in relationships you have to moderate your desires and your feelings.
Via Cine 21, Nanum News, Kuki News
RELATED POSTS
Tags: interviews, Kang Hye-jung, Park Hee-soon, Seung-ri