Kang Ji-hwan and Kim Haneul play Spy vs. Spy
Ooh, after hearing about this movie for months, now we're finally getting lots more information as Level 7 Civil Servant [7급 공무원 or "7th grade government agent"] heads into bona fide promotional mode. On the 27th, the film held its production press conference at Seoul's Jayangdong Lotte Cinema.
In attendance were the movie's stars, Kang Ji-hwan (Hong Gil Dong) and Kim Haneul (On Air). Filmed by director Shin Tae-ra, the plot centers around two government spies who must prevent the release of a chemical weapon that's in the hands of a foreign crime syndicate. Kang plays a rookie agent; he and Kim hide their identities from each other in a plot that sounds equal parts Mr. and Mrs. Smith and Get Smart.
While the action-spy romantic comedy might not rake in the arts awards, let's just say it looks hella fun. (Check out the trailer below.)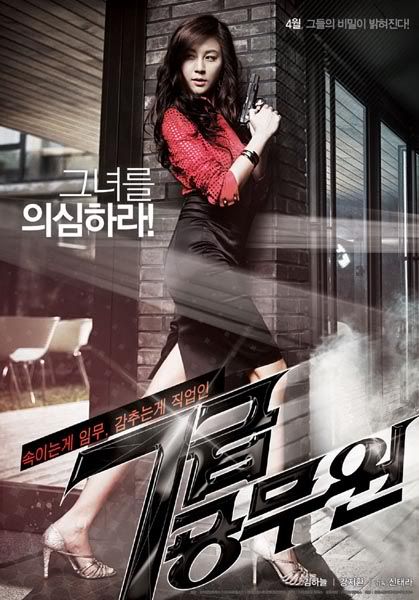 The description:
Disguised as a travel agent, "Su-ji" is a government spy with six years' experience who can't reveal her career to her boyfriend "Jae-joon." After she lies again, her boyfriend breaks up with her and leaves without notice, leaving her struggling alone with her sadness. Three years later, while chasing an industrial spy in disguise as a cleaning lady, she happens to run into Jae-joon. He's become an international certified accountant, and seeing him throws her feelings into doubt.
Jae-joon has become tired of his girlfriend's constant and suspicious lies. In one phone call, he tells her he's leaving Korea to study in Russia. Three years later, disguised as a distinguished international accountant, he enters the NIS (National Intelligence Service) as an agent in its overseas branch. He's a newbie who got a late start, but he's highly motivated and takes off on his first field mission, chasing a Russian crime organization, when he runs into Su-ji. It's shocking to see her now as a hotel cleaning lady, but his affections for her are as strong as ever…
Lying is part of the job, secrecy is the name of the game in Level 7 Civil Servant.
Teaser trailer:
The following videos aren't trailers, more like behind-the-scenes clips, but they make the movie look pretty fun (and you don't need translations to understand most of it).
Here's the clip called "ACTION" (I love Kang Ji-hwan's maniacal laugh at around the 1:00 mark):

There's more talking In this one called "SECRET," but the gist is that Jae-joon and Su-ji keep hiding their real identities from each other, both in the "past" as a couple and in the present as spies:

And this one's titled "BEST COUPLE" (ooh, kissing!):

I think they've got great chemistry together, and Kim's casting seems to fit her to a tee. (Kang Ji-hwan's always great at throwing himself into character, no matter the "type.") In fact, great chemistry leads to dating gossip — you'll always get romance rumors when actors are coupled onscreen, and this time is no different. But both Kang and Kim seem to find it funny, not problematic.
After the rumors came out, Kim Haneul recalls, "I laughed, actually. That day, I was working out and Ji-hwan-sshi was in Busan, but my manager kept sending me text messages asking if it was true. Seeing the messages, I burst out laughing. In the past, when things like this happened, I thought things would become awkward on the set, but now I don't think of it like that. It's fun, and it's fine. It's not a big deal."
Kang likewise laughed off the rumors, saying that he was flattered to have been the subject of his first romance gossip incident. He figures that this is their third time working together, so their friendly vibe was what started the rumors. "If we're acting together, it would be weirder if there wasn't any talk. Thanks for giving me my first experience with dating rumors."
Kang Ji-hwan has had a very busy last year, most notably with his intense action film Rough Cut (aka A Movie Is A Movie), co-starring So Ji-sub. Kim Haneul said of her co-star, "I was really moved when I saw Kang Ji-hwan's acting in Rough Cut. It was such a different feeling from 90 Days' Time to Love and left a strong impression. It was great to show a whole new lovable side in this film, too, and he was personally a great help to me."
Kang explains, "When I was a rookie actor in dramas, I didn't receive a lot of attention, so I'm so thankful to receive so much interest now. I think this movie will be turn out to be one I won't regret."
Level 7 Civil Servant opens on April 23.
RELATED POSTS
Tags: Kang Ji-hwan, Kim Haneul