Lee Min-ho to release a digital single
Huh. Boys Before Flowers star Lee Min-ho is pairing with well-known songwriter Park Geun-tae to release a digital single. A "famous female rapper" is also reportedly featured on the track.
Guess he's not about to let his co-star Gu Hye-sun have all the fun packing her resumé with other activities. Not only will a single be sold, an accompanying music video will be shot (it's still being cast, but the director has been selected).
Although Lee will be singing the track, don't consider it a foray into a kpop career; it's more like a fancy CF. This comes as part of an ad campaign for Cass beer, for which Lee is brand model.
As we know, Korea's got a pretty good track record in the branded entertainment field. The people behind this project express hope of creating another sensation like the uber-popular series of Anymotion/Anyclub cell phone adverts a few years ago that starred Lee Hyori and Eric. Those were more like mini-movies than commercials in scope, and also released digital singles.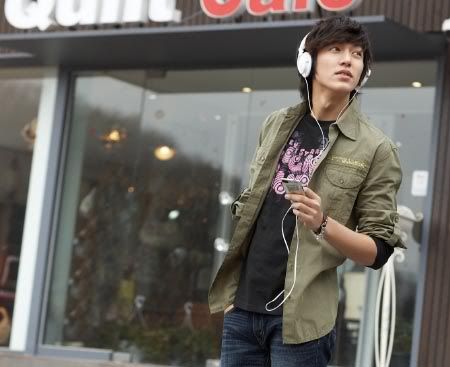 Counter to Lee's arrogant onscreen image from BBF — or even his shy offscreen one — the song is being described as "exuberant club dance music." The gist of the song lyrics paints Lee as an innocent guy who gets seduced by a woman (they're currently casting for his female partner). The director, Cha Eun-taek, was also the man behind Hyori's "Anymotion" and "U Go Girl" videos.
Um. Lee Min-ho, love ya dude, and I think you're a great budding actor, but I may just have to draw the line at exuberant club dance music. Don't let them Jang Geun-seok you into a career of funny-but-meaningless glorified commercials!
(Okay, if it's catchy I will probably dance around to it. In shame. But dance nonetheless.)
Via Star News, Yonhap News
RELATED POSTS
Tags: branded entertainment, CFs, Lee Min-ho