Production press conference for Insadong Scandal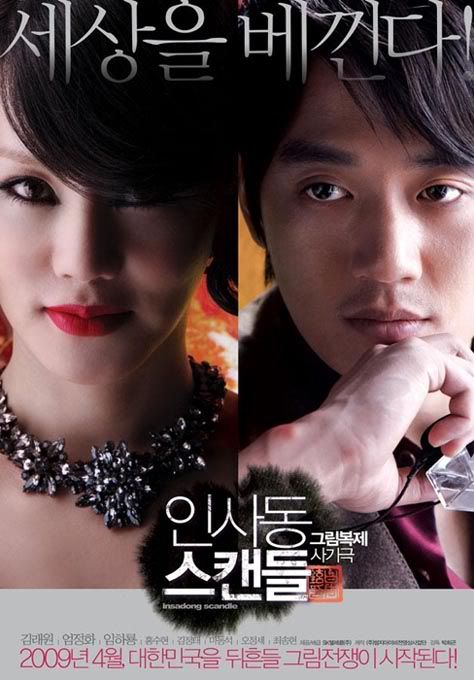 Actor Kim Rae-won described his latest project, art-themed Insadong Scandal, as a "bold choice" to cap off his twenties at the March 30 production press conference.
With his army enlistment approaching, this will be the last project of his twenties for the 28-year-old Kim, which he'd chosen carefully for that reason. He describes the role of a cool-headed genius art restorer as "a new challenge, as it's very different from the characters I'd played before." (This, he explains, contrasts with the rather boisterous characters he's played previously.)
I have to say that I've always found Kim Rae-won immensely appealing, but in the preview (watch below) he comes off smexy as all get-out. After his prior roles, it's nice to see him playing a mature, confident guy (dare I say sexy bastard?).
Based on the trailer, the film feels lighter and flashier than the description made it seem, and possibly funnier as well:
Kim stars opposite pop queen/actress Uhm Jung-hwa in her first villainous role. (I had assumed she'd played villains before — she has the perfect femme fatale image — but apparently this is her first.)
In the film, Kim Rae-won deals with an art con involving a famous lost painting by a Joseon-era painter. As the top art restorer in the country, he gets drawn into a con game, while Uhm Jung-hwa plays a sexy, manipulative art gallerist who needs Kim's skills for her latest scheme. What follows is a "game of reversals" between the two.
Meanwhile, Uhm countered claims that her role was reminiscent of Kim Hye-soo's in the movie Tazza by saying that while both are femme fatales, the stories are completely different.
Insadong Scandal opens on April 30.
The film is directed by Park Hee-gon (next to Kim Rae-won, below) and features a supporting cast including, from left to right:
Oh Jung-sae (Breathless, Tazza), announcer-turned-actress Choi Song-hyun (in the metallic dress), Im Ha-ryong (Venus and Mars, Strongest Chil Woo, wearing the shades), Hong Soo-hyun (Fate, wearing blue), and Kim Jung-tae (Open City).
Via Mk.co.kr
RELATED POSTS
Tags: Kim Rae-won, press conferences, Uhm Jung-hwa