Currently airing dramas: A roundup
So, what's airing these days?
After a popular phenomenon of a drama ends, people tend to wonder, What next? Even if you haven't been watching Boys Before Flowers, maybe you're wondering what else is out there.
So here's a rundown of all the dramas currently airing, and a list of those to keep an eye on as they beginning premiering soon. I can't speak for every single drama out there, but I've tried to provide most of them with a short description and/or personal impression.
SONG OF THE DAY
Fly to the Sky – "Song For You" from their latest (and last) album, "Decennium." [ Download ]
Audio clip: Adobe Flash Player (version 9 or above) is required to play this audio clip. Download the latest version here. You also need to have JavaScript enabled in your browser.
MONDAYS & TUESDAYS
QUEEN OF HOUSEWIVES [내조의 여왕], MBC
Stars: Kim Nam-joo, Oh Ji-ho, Lee Hye-young, Choi Chul-ho
It's about: On the surface, it sounds a bit standard — three married couples living in three different states of marital non-bliss. But it's really more like a study in wifely politicking, dressed up in hilarious encounters and jockeying for position.
You might like it because: It's cute, it's funny, it's lighthearted. Acting is solid and so far there's no huge, overwrought source of melodrama; it's the little catastrophes that make up this series.
You might dislike it because: I'll probably be writing up this drama next, and I'll reserve a section for discussing my qualms.
Queen of Housewives will be followed by Queen Seon-deok in May.
JA MYUNG GO [자명고], SBS
Stars: Jung Ryeo-won, Park Min-young
It's about: In the folk legend, "jamyunggo" is a war drum; in this drama she is personified as a woman, Princess Ja-myung, played by Jung Ryeo-won. She's also sister to Princess Nak-rang of the famous love story with Prince Ho-dong.
You might like it because: You like historical dramas with action, and/or you like the actors. It's also very pretty.
You might dislike it because: I watched Episode 1, and oh my god I was so bored. I zoned out of every conversation and started to rewind to get the point, but figured it wasn't worth it. I know it was only one episode out of 50, but then I thought, "Oh god this is only Episode 1 out of 50??"
STORY OF A MAN [남자이야기], KBS
Stars: Park Yong-ha, Park Shi-yeon, Kim Kang-woo, Philip Lee, Park Ki-woong
It's about: A thriller-esque drama that combines corporate corruption with one man's revenge mission. Money looks to be a key theme here.
You might like it because: Scriptwriter Song Ji-nah wrote two of the greatest kdramas of all time (Sandglass, Eyes of Dawn) as well as Legend, and this drama comes highly anticipated. Come May when Queen Seon-deok airs, it'll also be the only contemporary drama on Mondays and Tuesdays. Park Yong-ha also gets the chance to break out of his softer, gentler side and play a tough guy, particularly after his character is released from prison.
You might dislike it because: Song Ji-nah's respected but not infallible. Legend may have been popular, but the writing wasn't its highlight (that would have to be its sprawling production, and, oh yeah, Yonsama). Also, can this drama sustain the tension and suspense of what might make a great 2-hour movie into a full season of episodes?
WEDNESDAYS & THURSDAYS
THE RETURN OF ILJIMAE [돌아온 일지매], MBC
Stars: Jung Il-woo, Yoon Jin-seo, Kim Min-jong, Jung Hye-young
It's about: Based on the famous manhwa, this adaptation (which is completely separate from Lee Junki's Iljimae last year) takes a look at the man's gradual evolution from abandoned baby through his turbulent adolescence and, finally, as he becomes the legendary hero.
You might like it because: It's beautiful, it's moving, it's well-acted, well-directed, well-scored. Everything about it is balanced just right, paced with skill, demonstrated with lush care. It's a fantastic series that may be one of the best of the year.
You might dislike it because: I don't know. If you hate this drama I may have to disavow all knowledge of you. (I kid. It may not be your taste, but really, it's good.)
Since Return of Iljimae is set to finish this week, it will soon be replaced by the upcoming Kwon Sang-woo vehicle, Cinderella Man:
CINDERELLA MAN [신데렐라맨], MBC
Premieres: April 15
Stars: Kwon Sang-woo, Yoon-ah, Han Eun-jung, Song Chang-eui
It's about: Poor Kwon Sang-woo runs a clothing stall in a lower-end shopping district. He happens to look exactly like Rich Kwon Sang-woo, who runs a high-end fashion apparel brand. OMG coincidence! They switch places.
You might like it because: It's got a comic angle, and it'll be nice seeing Kwon do something not so weepy or angsty for once. I'm looking forward to seeing how he pulls off the dual identity roles, and plan to bust a gut laughing because he's either really good at the wacky antics, or really bad. I suppose this drama could actually be decent (pffft!), but this has the potential to be a fabulous trainwreck.
You might dislike it because: This also has the potential to be a horrible trainwreck. It'll be great if it's an entertaining mess (a la Boys Before Flowers), but not so much if it's a boring nonsensical mess (a la Bad Love).
HATE YOU BUT LET'S TRY AGAIN [미워도 다시 한번], KBS
Stars: Choi Myung-gil, Park Sang-won, Jeon In-hwa, Park Ye-jin
It's about: I haven't followed this, so here's what I've pulled together from reading the synopsis: This deals with "love, family, and marriage" in the lives of middle-aged women. The main character is a female CEO of a department store, married with one son who is actually the child of her former lover and not her husband. Married because of parental pressure, she has lived without feeling much marital affection, but her relationship with her husband starts to improve — but he has another lover and even a daughter that she doesn't know about, whom he'd wanted to marry even before marrying his wife.
You might like it because: This drama has done decently in the ratings and sounds like one of the better "makjang" dramas.
You might dislike it because: Honestly, even after reading several synopses, I don't have a good handle on what makes this drama good. It sounds fairly typical.
When this drama ends, it'll be replaced by the following romantic comedy, Six Months:
SIX MONTHS [식스 먼스], KBS
Premieres: April 29
Stars: Kim Ah-joong, Hwang Jung-min
It's about: Because of a compromising circumstance, a movie star is forced into a six-month-long contract marriage with an ordinary postal worker.
You might like it because: It's a clichéd plot (Notting Hill redux? Or a cheerier Star's Lover?), but the contract love relationship is one cliché I never tire of. This features two famous movie stars (Hwang Jung-min?! In a romance drama??) and it looks like this may be cute and sweet.
You might dislike it because: The clichéd plot.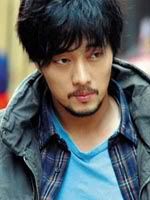 CAIN & ABEL [카인과 아벨], SBS
Stars: So Ji-sub, Shin Hyun-joon, Han Ji-min, Chae Jung-ahn
It's about: Brotherly strife. Hospital politics. Tangled love relationships. Angry people trying to kill other people. Angst. Melodrama.
You might like it because: So Ji-sub. Also, if the above traits appeal to you.
You might dislike it because: None of the above traits appeal to you. From what I've heard and read, the writing in this drama is confusing and a little bit insane, and So Ji-sub is the only thing keeping it afloat. Is your SJS love strong enough to endure?
When Cain & Abel ends, it will be replaced by City Hall:
CITY HALL [시티 홀], SBS
Premieres: April 29
Stars: Kim Sun-ah, Cha Seung-woo
It's about: A woman mayor (Kim Sun-ah) has climbed her way to the top after starting in a lowly municipal position. She clashes with a high-ranking bureaucrat (Cha Seung-won), a cold, efficient man who's obviously in need of a good woman to melt his icy exterior, right?
You might like it because: Kim Sun-ah and Cha Seung-won just might make a really sexy pair. This is supposedly aiming for a bright, pleasant rom-com feel.
You might dislike it because: Humdrum plot.
WEEKENDS

EMPRESS CHEON-CHU [천추태후] (aka Iron Empress), KBS
Stars: Chae Shi-ra
It's about: Female hero sageuk featuring an ass-kicking woman leader (the Iron Empress herself), who defends her nation against invaders.
You might like it because: You like action sageuks and female leads.
You might dislike it because: If you're like me, you may not have the patience for long-running sageuk series, no matter how badass Chae Shi-ra is.
JOB WELL DONE [잘했군 잘했어] (aka Good Job), MBC
Stars: Chae Rim, Eom Ki-joon
It's about: Eom Ki-joon's character has harbored a crush on the slightly older Chae Rim for ever. He persists in trying to win her heart, even now when she's a single mom raising an adorably precocious little girl.
You might like it because: Eom Ki-joon is adorable, the acting is good, and the drama looks overall like a sweet, fun watch.
You might dislike it because: Again, you don't have the patience to put up with a long-running drama.

CAN ANYONE LOVE? [사랑은 아무나 하나], SBS
Stars: Ji Su-won, Yoo Ho-jung, Han Go-eun, Sohn Hwa-ryung
It's about: Four sisters in a comedic family drama.

Replacing KBS's My Precious You is the new drama:
SONS OF SOL PHARMACY HOUSE [솔약국집 아들들], KBS
Premieres: April 4
Stars: Han Sang-jin, Sohn Hyun-joo, Park Sun-young
It's about: A family drama that features four sons, the oldest of whom is a smart and good guy (Han Sang-jin) whose love life has been stymied by his average looks.

With Family Honor ending on SBS, taking its place is the upcoming:
GLORIOUS INHERITANCE [찬란한 유산] (formerly Life is Beautiful), SBS
Premieres: April 25
Stars: Lee Seung-ki, Han Hyo-joo, Moon Chae-won
ALSO CURRENTLY AIRING
I focus on prime-time dramas, because that's where my interest lies, but there are always a number of others that do air at different times. For instance, "daily dramas" show in the evenings, but before the prime-time series that go on in the 10pm hour. "Morning dramas" are also daily, but they air, obviously, in the mornings.
Daily Dramas
Temptation of Wife, 아내의 유혹, SBS
I Love You, Don't Cry, 사랑해, 울지마, MBC
The Way Home, 집으로 가는 길, KBS
Morning Dramas
White Lie, 하얀 거짓말, MBC
Glory of Youth, 청춘예찬, KBS
Wife and Woman, 아내와 여자, KBS
Pure You, 순결한 당신, SBS
Sitcom
Tae-hee, Hye-gyo, Ji-hyun, 태희혜교지현이, MBC
AIRING LATER IN 2009
Triple [트리플]
Projected airdate: June 10
Stars: Yoon Kye-sang, Lee Jung-jae, Lee Seon-kyun, Lee Hana, Min Hyo-rin
About: Coming to you from the writer and director of Coffee Prince, Triple is the one I'm most looking forward to. Figure skating ladies (Min Hyo-rin, Lee Hana) meet ad agency exec men (Yoon Kye-sang, Lee Jung-jae, Lee Seon-kyun). Awesomeness ensues.
Swallow the Sun [태양을 삼켜라]
Projected airdate: June 17
Stars: Ji Sung, Sung Yuri
About: Called the "All In 2" because it pairs the writer and director team from All In.
Friend, the Unending Story [친구, 그 못다한 이야기], MBC
Projected airdate: June
Stars: Hyun Bin, Kim Min-joon
About: Drama adapation of the hit film Friend starring Jang Dong-gun.
IRIS [아이리스], KBS
Projected airdate: September
Stars: Lee Byung-heon, Kim Tae-hee, TOP, Kim So-yeon
About: Spy action drama supposedly based on blockbuster film Shiri (SIRI = IRIS, get it?) with huge cast and high production budget
2009 Alien Baseball Team ['2009외인구단], MBC
Projected airdate: 2009
Stars: Yoon Tae-young, Park Sung-min
About: Sports drama based on popular manhwa.
Invisible War [보이지않는 전쟁], SBS
Projected airdate: 2009
Stars: Lee Junki
About: Lee Junki is a modern-day hero.
RELATED POSTS
Tags: 1 show to rule them all, Cain and Abel, Cinderella Man, City Hall, Friend, IRIS, Iron Empress, Ja Myung Go, Queen of Housewives, Return of Iljimae, Six Months, Sons of Sol Pharmacy House, Story of a Man, Swallow the Sun, Triple