Joon and Nara: Andre Kim's newest runway couple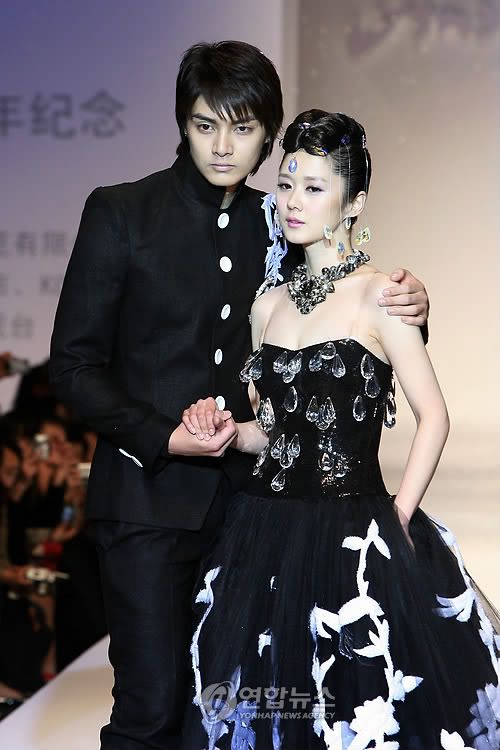 Normally I wouldn't be terribly interested in yet another repetitive, recycled Andre Kim "fashion" show — and I use that term loosely — but hot dayum, this couple is stunning together.
Usually, Andre Kim's chosen celebs just trot down the runway with blank expressions, wearing billowing curtains of material to perform the obligatory kiss-on-forehead maneuver. But this time, the couple is Kim Joon (Boys Before Flowers) and Jang Nara (Wedding), and they look mighty fine as a couple.
The event was for the designer's "Preview in Shanghai 2009" and took place in Shanghai (duh) on April 22.
And, well, see for yourself. I dig how Kim Joon ups the intensity compared to other actor-models in Andre Kim shows:

But the pretty cuts both ways:
And it's shots like these that make me think that Andre Kim's entire career has just been one big exercise in wish fulfillment. I mean, the guy deliberately only casts hot rising stars, dresses the guy like himself and the girl as his celestial bride and "marries" the couple on the runway, all of which he presides over like some creepy mastermind-cum-narcissistic specter.

Still, despite the repetitiveness of these shows (which aren't even "shocking" for their wackiness anymore because they're so old-hat), the clothes ARE made in vibrant and lovely colors. Even if they are the same colors every time. No comment on the designs themselves.
RELATED POSTS