Jung Hye-young donates her paycheck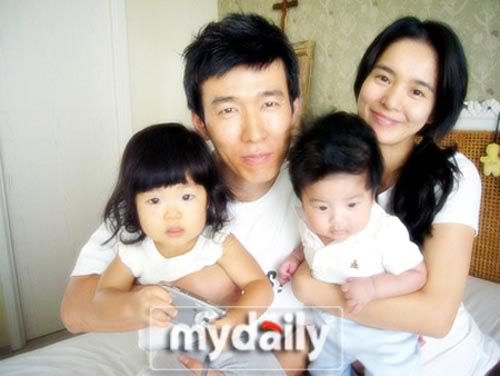 Jung Hye-young, who played Iljimae's mother in the just-ended Return of Iljimae, is blessed with a ridiculously adorable family and a doting husband (Sean of old-school kpop duo Jinusean). She was also pregnant while filming the drama with their third child.
The couple has revealed (through a mini-homepage posting — who needs publicists when you have the internet?) that she will be donating part of her Return of Iljimae paycheck to charity in the name of her unborn baby, Ha-yul (Jung is due in June).
Sean wrote, "Hye-young said that she wanted to share her proceeds from the work she did filming with our unborn Ha-yul. She felt particularly sympathetic with children in difficult situations because, as a result of filming for Return of Iljimae, she had to spend time apart from the children." He added, "As my wife and baby Ha-yul wrap up with Return of Iljimae, we also wanted to show our love in a small way. We give part of her paycheck in Ha-yul's name to the Social Welfare Society along with our love."
Via My Daily
RELATED POSTS
Tags: good deeds, Jung Hye-young, Return of Iljimae, Sean