Kwon Sang-woo would like more viewers, please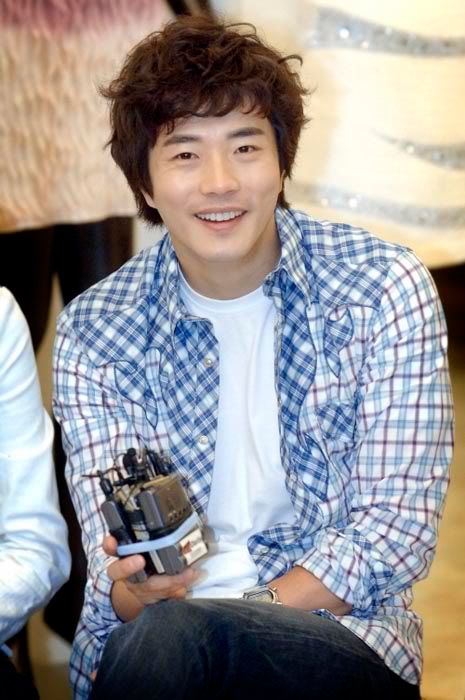 And wouldn't we all?
Oh, Kwon Sang-woo. I understand that you're in something of a career slump after being one of the hottiest hotties of the early 2000s, and yeah, both your best buds Song Seung-heon and So Ji-sub came off pretty strong series in the past two months… but is bargaining for more viewers really the way to go about it?
Ratings for his new trendy drama Cinderella Man have been low, and Kwon offered that if they rose above 20% (ha!), he'd personally ask co-star Yoon-ah's girl pop group Girls Generation (SoShi) to make a cameo.
He said this at a recent open set day, when reporters were invited to the shooting locale in Yongin, Kyeonggi province. The ratings for the first four Cinderella Man episodes have been a disappointing 9.3%, 6.7%, 7.6%, and 7.0%, and he added that along with the Girls' Generation cameo, he'd buy all the crew members MP3 players if ratings passed 20%.
I'm sure he was joking, but somebody tell me if this is actually very cute and for some strange reason I'm odd for not thinking so. (Psst! Crew presents are something you just DO without patting yourself on the back for it, and you really oughtn't withhold them with a condition.) But still, you know things are pretty bad when a Hallyu poster boy like Kwon looks to the drama's relatively good re-run numbers to soften the blow of his first-run broadcast numbers.
Kwon said, "Now that the competitor dramas are done, I'm hopeful," speaking of the recently ended I Hate You But Let's Try Again and Cain and Abel — but I don't know about that, since today premieres two very buzzed-about rom-coms, City Hall and That Fool (aka the alternate titles The Accidental Couple aka "Just Looking" aka the former "Six Months." Seriously, KBS? JUST PICK ONE ALREADY).
I'll give the guy credit for being honest — he explained that he had a hard time with his last failed drama, Bad Love, because of the writing: "Actually, the script went in a different direction than the director or actors thought, which gave me some trouble." It wasn't just a problem with last-minute script pages (which happens when the script is delivered a few pages at a time, usually because of time pressure), and Kwon acknowledged that the characters and storytelling were also intrinsically problematic. He feels better about Cinderella Man, whose scripts aren't late.
Kwon did, however, express a hint of dissatisfaction with his competitor drama City Hall, because at their production press conference, the writer Kim Eun-sook (On Air, Lovers) said of Cinderella Man and That Fool/Accidental Couple to reporters, "You probably know this since you've seen the highlight clips, but I think we've already emerged from the rivalry. I feel sorry to the other two. I think, 'Why did you have to be up against our drama? If not, I would have watched yours.' Now all we have to worry about is doing even better ourselves." Kwon told reporters, "We're all working hard to prepare and staying up nights to work, so how can she belittle other dramas like that in one phrase? Realistically speaking we can't all do well, but I hope ours is a drama that will be loved."
(Honestly, I've never liked Kim Eun-sook — and I thought her arrogance really came through in On Air — and now I just have another reason to feel iffy about City Hall.)
Kwon also admits to reading the drama's online message boards, and had to deal with some negative comments: "I thought that if the drama isn't entertaining, you wouldn't be interested, or have a reason to deliberately go to the message boards, but strangely there are people who leave negative comments. Ah, those people are viewers too."
On the other hand, when asked about wifey Sohn Tae-young's new daily drama Two Wives, he declined to comment. She was, coincidentally, at her own drama's production press conference at the same time, where she said she's following her husband's drama closely.
Today features Episode 5 of Cinderella Man (MBC) and Episode 1 for both City Hall (SBS) and That Fool/Accidental Couple (KBS).
RELATED POSTS
Tags: Bad Love, Cinderella Man, drama ratings, Han Eun-jung, interviews, Kwon Sang-woo, Sohn Tae-young, Song Chang-eui, Yoon-ah