Queen of Housewives (MBC)
I found MBC's Monday-Tuesday drama Queen of Housewives [내조의 여왕] to be a pleasant surprise, as I hadn't had any expectations for it. At first glance, it's possible to dismiss this show from its unexciting synopsis and a cast that may be solid but not quite buzzworthy.
But no, Queen of Housewives is light and funny, and easy to watch. I breezed through the first four episodes in no time, and find myself wanting to keep going. I do have a few issues with it, which I talk about below, but on the whole find this series pretty enjoyable.
A couple things: This covers Episodes 1 through 4, but it isn't a proper recap. Also, I don't think I'm going to do individual recaps for this series, but I may decide to weigh in periodically, if I keep liking it.
SONG OF THE DAY
Queen of Housewives OST – "여우랍니다" (I'm a fox) by Lee Soo-young [ Download ]
Audio clip: Adobe Flash Player (version 9 or above) is required to play this audio clip. Download the latest version here. You also need to have JavaScript enabled in your browser.

PREMISE
The high school queen bee who was once at the pinnacle of popularity marries a man with lots of promise who graduated from Seoul National University, but their life doesn't turn out the way she expected. Now in her thirties with a 7-year-old daughter, she is frustrated by her husband's inability to hang on to a job; he's good-natured and simple-hearted, but his insistence on doing the right thing often gets him into trouble. His latest stretch of unemployment prompts her to suggest divorce, but she gives him one last chance when he tells her of a job interview he's secured at a top corporation. The wife goes all-out to smooth her husband's path and help him land the job, which brings her into the corporate wives' inner circle and all the adolescent jockeying for power at its center.
BACKGROUND
Back in high school, Ji-ae (Kim Nam-joo) was the quintessential queen bee — not too bright, incredibly vain, wanted by all the guys, and envied by all the girls (who sucked up to her, then sniped behind her back). Her one staunch defender was ugly duckling Bong-soon (Lee Hye-young), who practically worshipped Ji-ae. True, Ji-ae didn't treat Bong-soon very nicely, but she did look after her in a carelessly backhanded sort of way. Not because she cared, but perhaps because she liked having a groupie.
However, even Bong-soon's unwavering loyalty had its limit, and it came when the schoolgirls invited Ji-ae on a group blind date — they didn't really like Ji-ae, but needed her inclusion to secure the date with boys from another high school. Ji-ae agreed, but on the condition that Bong-soon was included. (An example of one of Ji-ae's backhanded gestures.)
At the date, when the moment came time to partner up, the result was predictable — all the boys wanted Ji-ae. Except for one, who chose Bong-soon instead.
This thrilled Bong-soon, since she'd never been singled out for attention. But petty Ji-ae wasn't used to failing to capture every boy's attention, so she picked Bong-soon's guy (Jun-hyuk, actor Choi Chul-ho) — not beceause she liked him, but just to prove a point. Flattered, Jun-hyuk changed his mind and picked Ji-ae instead, but the damage was already done. Bong-soon had already fallen for him, and the betrayal was enough to sever her blind devotion to Ji-ae.
Ji-ae grew to like Jun-hyuk, but ultimately ended up dumping him (and as these flashback segments are interspersed through the drama, we don't find out immediately why). She married Dal-soo instead (Oh Ji-ho), leaving Jun-hyuk still pining for her at the time of her wedding, just as Bong-soon was pining for him.
And now, for the present state of things:

THE REVERSAL
Years later, Ji-ae isn't as obnoxiously vain as she used to be, perhaps since everyone's grown up and faced that great equalizer, Age. Now that she's married, her energies are poured into trying to figure out how to get her husband Dal-soo back on his feet.
Dal-soo is a decent guy, but perhaps too decent to survive in cutthroat corporate culture (he lacks the savvy necessary to get ahead; hence the constant firings). He's also scared of Ji-ae, because her temper is a thing to behold. He promises to do his best on his upcoming interview with the top company Queens Food, although he faces an uphill climb because his main competition happens to be the nephew of one of the senior directors.
Ji-ae isn't going to let this opportunity slip away, and gets working. First, she finds out through the grapevine that Queens Food is known for its particularly fierce wife culture — at the top of which sits Young-sook (the fab Na Young-hee), who holds special power over her husband, a senior director.
Ji-ae maneuvers her way into Young-sook's acquaintance and makes herself the perfect sycophant. She then turns her attention to the next wife on the power ladder, only… it turns out to be Bong-soon!
Over the years, Bong-soon has grown out of her awkwardness (with a little surgical help), gained poise and confidence, and is nearly unrecognizable. Having been treated so shabbily in high school, she also greatly enjoys this reversal. Not only is Bong-soon living in luxury while Ji-ae ekes out a meager, common living, Ji-ae is here to beg for help, as her husband's future is dependent on Bong-soon's mercy. Thus she gets a kick out of ordering Ji-ae around, holding the upcoming interview over Ji-ae's head gleefully.
Ji-ae grits her teeth and endures. In the end, Dal-soo ends up being hired — but with a condition. He's going to be taken on for a three-month-long internship, and so is his competitor (the director's nephew). At the end of the term, they will both be evaluated, then hired or fired. This increases the competition between Dal-soo and the younger man — and between their wives.
Oh, and there's one more complication: Bong-soon's manager husband happens to be Jun-hyuk. He's now Dal-soo's boss, and he's never quite gotten over losing Ji-ae.

THE QUEENS FOOD FAMILY
At the very top of the chain is Tae-joon (Yoon Sang-hyun) with the Gu Jun-pyo hair, the current president of the company. He's a chaebol, meaning his position is inherited, and he lives in careless luxury. He's stuck in a loveless marriage to So-hyun (Sun Woo-sun), whom he's known since childhood, and is still bitter that he was forced into an arranged marriage with somebody he's never felt anything for.
Actually, their story reminds me quite a lot of Boys Before Flowers, if you imagined that Jun-pyo married Jae-kyung. So-hyun refused to call off the wedding despite Tae-joon's pleas (he had been in love with another woman whom his family opposed). Now they pretend to be happily married to the public, but their home life is cold, and Tae-joon flaunts his affairs in her face to try to get her to divorce him, which she refuses to do.
It's obvious she has feelings for him — while he doesn't care — but she's tired of being miserable and alone, and finally stands up to Tae-joon and tells him defiantly she's going to have an affair. With one of his employees. What's the twist? She happens to be a college acquaintance of his newest employee, Dal-soo (he was her sunbae). Not only that, she'd liked him and confessed her feelings during their university days, although Dal-soo hadn't reciprocated. Now when they meet up again, she's his boss's wife while he's still the same, sweet man she'd once liked.
So-hyun is also the only woman who outranks Young-sook (below), although she's not part of the wives' circle.
Next in rank is Hong-shik (above), Young-sook's husband, who is pretty much the guy in charge since Tae-joon is really just the face of the company.
As I mentioned, Young-sook holds particular influence with her husband, and thus enjoys a great deal of power among the other wives. They all scramble to impress her — and she's a fickle leader, only happy with the latest extravagant gesture that is bestowed upon her. More on that in the section below.
Below Hong-shik is Jun-hyuk, a senior executive and Bong-soon's husband. This is another example of a loveless marriage, and in these first four episodes I'm not quite sure why Jun-hyuk married Bong-soon, because it's clear he still has lingering feelings for Ji-ae. Bong-soon presents the picture of the perfect wife, always attentive, organized, solicitous of her husband's every possible wish, graceful — the quintessential Stepford wife.
On the other hand, Jun-hyuk treats his wife with cool composure, until the day they cross paths with Ji-ae — and suddenly, this awakens his angrier, grumpier side. Now, he's short-tempered with his wife and cranky with Dal-soo, shooting glares at the other couple as though blaming them for his lack of happiness. He also makes it a point to make Dal-soo's new job as intern as difficult and demeaning as possible.

THE POLITICS
The wife culture of the Queens Food family is really what makes this drama enjoyable. It's a little like Desperate Housewives, only funnier and less absurd (but just as desperate).
The wives' power plays are directly correlative to their husbands' positions in the company. That means, the higher-ranking the husband, the higher-ranking the wife. Young-sook rules with deceptive politeness — she issues her "suggestions" in a languid, unassuming way that everyone understands to actually carry the force of a full-on order. (If she says, with a tone of thoughtfulness, "What a nice purse, but I wonder if it's not right for me?" she is saying, "This purse. I want. Get it?") Therefore her words sound light, but the underlying meanings are so clear that she is able to command her troops with military precision.
What's interesting is the obviousness of all the politicking — everyone is aware that all these grand gestures and ass-kissing are mere flattery, but it's the name of the game, and sincerity has no part in it. On the other hand, a wife cannot be TOO honest, either — we may all know that Wife A wants a promotion for her husband, for instance, but she can't say, "I want a promotion for my husband." Instead, she has to hint and curry favor and offer gifts. Innuendo, slyness, and political maneuvering are the name of the game.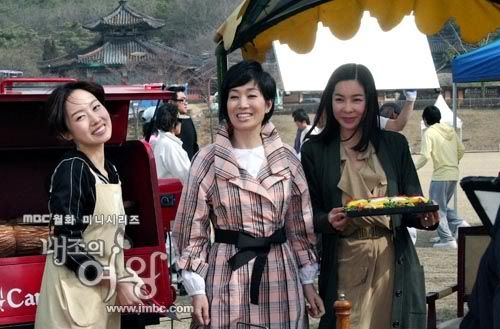 As an example of the jockeying for power, Young-sook invites Ji-ae to a company picnic, saying sweetly that there's no need to prepare much, as it's only a small, simple gathering. This means the wives all scramble to outshine the others — one sets up an elaborate barbecue pit, while another brings in fresh lobster. On another occasion, a wife-minion pleases Young-sook with expensive food, and is almost the "winner" of this particular event — until another wife-minion rushes in, out of breath, bearing a selection of seafood fresh from the ocean. One quickly learns that when Young-sook says, "Please don't go out of your way," this means, "IMPRESS ME, LOWLY CRUMB."
Ji-ae is a great hand at this game, and although she's the newest addition to the circle, she quickly supplants the other women — think of them as courtiers, or ladies in waiting. Ji-ae has a gift for flattery and manipulation — her experience dealing with fawning male admirers has probably helped — and makes things seem effortless. She appeals to Young-sook's vanity, but knows when to pull back and gain the older woman's confidence. The other wife-minions, on the other hand, all struggle to one-up each other, but many of their efforts are labored and obvious.
Ji-ae's path to success would be clear, if not for Bong-soon. (However, Ji-ae has one thing keeping Bong-soon in check, and that is her knowledge that Bong-soon used to be a loser.)

THE PROBLEM?
On the whole, Queen of Housewives is a bubbly, fun drama and I honestly wish I didn't have a problem with it. I do like it — it's just that there are a couple of sticking points that prevent me from embracing it fully.
First off, Ji-ae. I actually do enjoy her character, but every time I start to root for her, this drama reminds us why she was such a horrible person in the past.
She's set up to be this underdog, going up against all these fancy rich ladies and (hopefully) emerging victorious, and who doesn't love a story of a underdog triumphing over the big guys? Yet, this story also incorporates a lot of flashbacks to high school and university days, almost enough so that we're watching two dramas unfold. And in the past, Ji-ae's really hard to like — in fact, Bong-soon is the underdog there. After all, she was picked on in school, abused by Ji-ae repeatedly, had the only boy who ever showed interest in her stolen by Ji-ae purely as a point of pride. Now that she's reinvented herself as the rich and glamorous woman, shouldn't we be rooting for HER now?
I could accept this if the adult storyline took on a "Ji-ae redeems herself" angle, only she doesn't ever face up to having been a horrible bitch in high school. And the story keeps dropping little things just as I'm warming up to her.
For example, I could kind of forgive Ji-ae stealing Jun-hyuk away from Bong-soon. It was a dick move, for sure, but she admits that she came to genuinely like him. We find out that the break-up was not her fault, but the result of manipulation. Finally pushed beyond her limit, Bong-soon took the opportunity to break them apart by faking an injury, appealing to Jun-hyuk's kindness, and making it seem like he stood Ji-ae up to be with Bong-soon. She made sure that Ji-ae got the wrong impression, knowing Ji-ae would dump him.
However, even after Ji-ae broke up with Jun-hyuk, he hadn't gotten over her, so Bong-soon had begged her former friend to tell him there was no hope. If she did that, perhaps Jun-hyuk could open himself up to the possibility of a new relationship — with her. And what did Ji-ae do? She coldly told Bong-soon that she had no hope, prompting Bong-soon to cry, "Why not? Why can't I have a chance with him too?" In response, Ji-ae sent Bong-soon a box full of mirrors with a note that said, "This is why."
I mean, OUCH. Right? I don't know, after that flashback was revealed, I found it really hard to support Ji-ae at all.
Adult Bong-soon is snotty to Ji-ae, but hasn't she earned it? Why does this reversal scenario paint Bong-soon as the bitch instead of showing that Ji-ae is just being paid back by karma? After everything, Bong-soon is still stuck in the loveless marriage, while Ji-ae has a warm family. Isn't that unfair?
The problem isn't that Ji-ae is unlikable — on the contrary, Kim Nam-joo makes her very engaging. She plays Ji-ae with a hilarious mix of steely determination and bubbly exterior. It's a hoot seeing her confront every obstacle head-on and come up with creative solutions.
(Example: Ji-ae has a subplot involving Tae-joon, although she doesn't know he's the Queens Food president. He hits her car, so she demands compensation. However, he's such an arrogant dick about it that she gets angry and decides to go for the insurance route, faking injury and taking up residence at a hospital, hoping to collect a big payday. Tae-joon suspects she's faking, but she does her best to keep up the ruse, running around and juggling her schemes while trying to keep all her balls in the air.)
Instead, the problem is that it feels like Ji-ae shouldn't be likable. It feels like this dynamic is all upside-down and backward, and I'm unable to get fully onboard with it.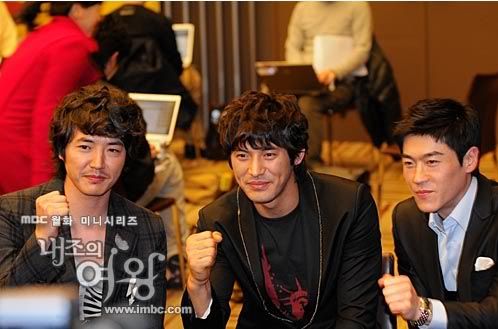 My next problem with this drama is easier to overlook, but I still can't help but bristle at this depiction of wives as secondary to their husbands' successes. Why are all the executives men and all the minions women? I know that realistically speaking, most corporations are run by men, but this drama approaches this in a fairly stereotypical way that feels dated by about twenty years. It's like an affirmation of the adage "Behind every great man there is a great woman" — which is one of those things that is misguidedly sexist. Sure, it means to be chivalrous, but really it just reinforces some very backwards ideals of gender roles.
I mean, I get it, and the story is genuinely funny, and it wouldn't work as well if the Husbands Circle and Wives Circle were both mixed-gender in an effort to be politically correct. In fact, I hate when things are politically correct just to be politically correct. And yes, how can I complain about sexist tropes in Korean dramas when I'm so entertained by offenders like Boys Before Flowers and practically every Cinderella drama out there?
The difference, I think, is that other dramas often fail by making their women weak, but it's never the intent to make the women weak — they just happen to be poorly written. Queen of Housewives, on the other hand, actually necessitates this sexist construct for its story, and I find that problematic. There are several instances where it's pointed out that a woman's most important duty as a wife is to support her husband, which just feels… off.
There are things I do like, such as Ji-ae's marriage with Dal-soo. Despite her annoyance with his unemployed status, they do seem to love each other, and Ji-ae is a kind of an amusingly offbeat mom to their daughter, Jung-won. Contrast that with Bong-soon, who sends her 7-year-old son Hyuk-chan to fancy English classes and dresses him in designer duds, in another example of the commoner being held up as the ideal, instead of the rich elite. (Ordinary is in these days, and the commoner is cool again!) There's even a cute little storyline (romance?) between the kids.
The wife-politics are as hilarious as they are an interesting sociological study — these characters may have outgrown the petty high school fixation on physical beauty, but it's not like they're any more mature. They're just as jealous and insecure as ever — it's just that the social currency has changed. Now, a husband's job and prestige are the barometer for success and power, rather than mere popularity.
Like I said, I'm somewhat able to push the problems to the back of my mind when watching Queen of Housewives, because I find the show entertaining. But I can't get them out of my head entirely, and that sorta sours the experience.

RELATED POSTS
Tags: first episodes, Kim Nam-joo, Lee Hye-young (2), Oh Ji-ho, Queen of Housewives, Sunwoo Sun, Yoon Sang-hyun