Stars caught lying about their ages

Sunwoo Sun ("Queen of Housewives"), Lee Shi-young ("Boys Before Flowers")
For anyone who reads a famous star's profile online and then feels bad about yourself — psst! They're usually fake. Or, let's say, "altered" from strict reality.
For instance, not every Korean actress weighs less than 50kg. (Gasp, I know!) I'm sure a large majority of them do, but it is not a universal truth that all actresses stop gaining weight (or eating) when they hit 50kg. Hyori may be the only one who admits to weighing more than 50kg, but she's not the only one who actually does.
Oh yeah, and as we know from looking at profiles of ladies who are famously petite (Song Hye-gyo, Kim Tae-hee), those heights are often exaggerated as well. Think of it like a driver's license. Or penis size. Everyone (or most people) takes a little off the number here, and adds a little there.
So it's no surprise that a little fudging goes on about age, as the following article points out. The trend has been highlighted by the public admissions of a couple new actresses that their initial ages were shaved to make them more marketable, like Queen of Housewives's Sunwoo Sun and We Got Married's Lee Shi-young.

Note: Fun fact! I'd originally thought Sunwoo Sun's name was Sun Woo-sun. Apparently it's neither — she was born "Yu-jin," but as there are a plethora of Yu-jins in showbiz, her management decided her stage name should be Sun Woo-sun. (Last name "Sun.") Then, when someone confused it as Sunwoo Sun (last name "Sunwoo" — one of a few two-syllable Korean surnames), they thought that was better so they changed it. But it didn't help, since people confused it either way, and now she gets called alternately (as a first name) "Sun" and "Woo-sun." It doesn't seem to bother her since it's not her name anyway.
"Baby-faced Stars": They're actually noonas!…
Celebrities and their ever-changing ages

"Yesterday a younger sister, today a noona?"

Celebrities' "elastic ages" are once again an issue. Recently, people got talking when actress Sunwoo Sun of MBC's Queen of Housewives revealed that she's not 29, but 34.

Sun Woo-sun's management said, "It was a mistake that her profile listed her birth year as 1980. Actually, she was born in 1975." Regarding the erroneous entry, they explained, "We believe her age was entered wrongly by her previous management. We thought it was best to reveal the truth." That makes her a noona to her co-star, Oh Ji-ho (born in 1976), as she is one year older.

Celebrities' ages go back and forth like this. One anonymous mid-level manager said, "Age is a particularly sensitive issue with entertainers, who survive off their popularity with the public. There are times when ages are adjusted to fit the image they're aiming for when someone debuts very late, or sometimes very early."

Actress Lee Shi-young rose to popularity through the drama Boys Before Flowers, and recently admitted that her profile age (born 1984) was wrong and that she'd actually been born in 1982. She explained, "1984 is my broadcast age. It was used because I'd gotten a late start compared to other actors."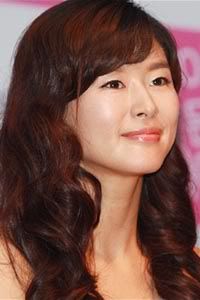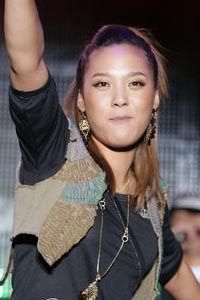 Hyun Young, Yeh Ji-won, Yoon Mi-rae
Aside from these instances, other "elastic-age" entertainers have been exposed, such as Hyun Young (born 1976, listed age 1980), actress Yeh Ji-won (born 1973, listed 1976), and singers Mina (born 1972, listed 1978), Kim Hyun-jung (born 1976, listed 1978), and Lexy (born 1977, listed 1979).

There are even some celebrities who claim to be as much as 10 years younger than their true ages. Baby Vox's [the girl group where Yoon Eun-hye got her start] Lee Ga-yi was actually born in 1968, but she claimed to be born in 1978.

On the other hand, there are some stars who add years to their age. The profile for hip-hop singer Yoon Mi-rae [aka Tasha or T] now records her birth year as 1981, but when she debuted in 1997 as part of Uptown, her birth year was listed as 1977. Yoon Mi-rae said, "The management worried that if I used my real age, my image would be emphasized as an idol star and not a talented artist, so they made it older." Singer Kim Wan-sun debuted as a 17-year-old high school student, but her agency raised her age when she debuted.

However, there are many voices expressing concern over this issue of faked ages. When entertainers are caught lying about their ages, people may lose faith in them, and it may cause entertainers as a whole to be considered a group of liars.
So, okay, not the best-written article, but the point is valid. Still, unlike something like weight (which should really be omitted from standard profiles anyway — they make nobody feel good and they're never true anyway), age is less fake-able. One would think that in the internet age, there's no point in lying about something that's so easily disproven.
Via Sports Chosun
RELATED POSTS
Tags: controversies, Hyun Young, Lee Shi-young, Sunwoo Sun, Yeh Ji-won, Yoon Mi-rae