Story of a Man: Episode 7
This above image is kind of the perfect shot for this drama, isn't it?
As I said, I love the caper tone of the drama, particularly as the past several episodes have each featured a con of some kind by the Dream Team. Yet what this drama is doing well is imbuing their ingenious, entertaining con games with an undercurrent of uneasiness — a sense that this fun Ocean's Eleven spree can't last forever for our guys, and that sooner or later Do-woo the Evil Hotness will step in and strike.
SONG OF THE DAY
Kim Shin Ill – "To Be With You" (Acoustic version). There's a regular version of this song, too, but for whatever reason I tend to prefer acoustic versions of songs. I suppose they feel more stripped and "real."
[ Download ]
Audio clip: Adobe Flash Player (version 9 or above) is required to play this audio clip. Download the latest version here. You also need to have JavaScript enabled in your browser.

EPISODE 7 RECAP
This opening scene shows how far the partnership has come between Kyung-ah and Do-woo, because she effectively works over his rich buddies, who have gathered to wonder what Do-woo's up to these days. They have a feeling he's scheming something big and are eager to get in on the deal and make some major money. Hence they press Kyung-ah for information, plying her with promises of a cut of their returns.
Kyung-ah feigns ignorance, and pretends to search her memory for names Do-woo may have mentioned. She muses that it was an acronym in English, and the others all jump to ask, "KP?" "UPU?" "MK?"
She's good — she plays the ditz and acts like she's letting them in on a big secret, so they snatch the bait when she confirms the name. Kyung-ah doesn't give them info about the deal, and tells them to talk to Do-woo about it. But instead, the mere company name is enough to tip them off, and they all get on the phone — presumably to start buying up stocks.
Kyung-ah reports back to Do-woo that the rumors have started floating around the bar, and it looks like everyone will start buying tomorrow.
She wonders what he'll do next with the profits, but her cheerful attitude dampens immediately when Do-woo asks about her ex-boyfriend Kim Shin. He wants to know more about the man. Her good humor gone, Kyung-ah says warningly, "Don't mess with him. He's a person that people like you shouldn't mess with. So leave him alone."
The Dream Team con enters the next phase, and Director Oh seeks out Jae-myung (posing as "Jamie") in the hopes of getting to Fujin Pei. The man's name is actually Hu Jinpay (curses to Korean pronunciation!) but the name mistake was intentional, as Chairman Chae still believes that the man's name is Fujin/Hujin, and must be corrected later in the episode.
Director Oh is having a tough time wooing Jamie, who remains aloof. Director Oh suggests that Mr. Hujin have lunch with Chairman Chae, but Jamie declines the offer, as he has another business meeting to attend. (He's really making Director Oh work hard for this, and one gets the sense that Chairman Chae is used to the weight of the company name opening doors. Now, however, they find themselves scrambling to please these Chinese bigwigs.)
Of course, they can't know that the Dream Team is busy laying out their trap. Shin disguises himself as an old, frail-looking man who greets Fake Hu Jinpay (aka Mun-ho) warmly in the lobby area.
Director Oh immediately feels threatened that Old Man Shin is horning in on their territory, and tries to shove him aside to greet Hu.
Jamie/Jae-myung takes issue with this and pulls Director Oh aside, asking, "Do you even know who that man is?" Old Man Shin has come from Shanghai, and is an important politician and a member of the National People's Congress. After the three con artists leave together, Director Oh hurries to confirm Old Man Shin's identity and instructs his secretary to find out all she can.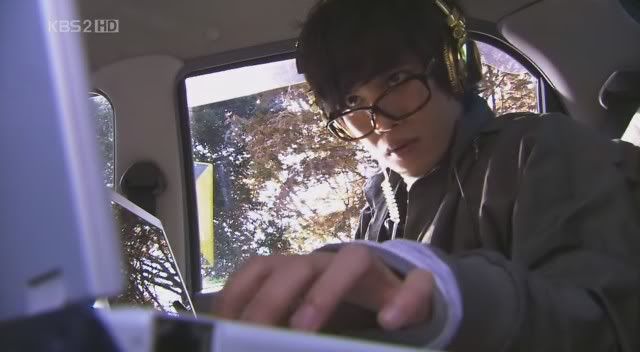 Thanks to Kyung-tae's spyware, he can monitor the internet usage in the chairman's office, and he therefore moves quickly to swap in a Photoshopped picture showing Old Man Shin in place of the real politician. So when the secretary pulls up the site, it displays the doctored photo.
Furthermore, Kyung-tae also tracks the webpages that the secretary browses when booking a lunch reservation. Although Mr. Hu has denied a lunch meeting with Chae, the Dream Team arrives at that restaurant first, so that it seems a mere coincidence that they all end up there anyway. Tricky tricky!
Chae has felt himself losing control of this deal, so he frets about what to offer as a bribe. Expensive artwork? Pottery? Finally, he settles on dragging along his pretty daughter to soften the mood, despite her reluctance to comply.
Do-woo watches his father leaving for his important lunch, but scowls to see that his sister has been dragged into this. He gets on the phone and inquires into Hu's activities, as well as the Zhuhai project.
When the Chae Dong party arrives at the restaurant, the chairman decides to barge in and invite himself to the lunch. Although this is precisely what the Dream Team intended, they did NOT anticipate that Eun-soo would be here (and the look on Jae-myung's face is particularly funny, because he's always so exasperated, as if to say, "Are you effing kidding me?")
This is not a great way to continue their con, so Jae-myung surprises Chairman Chae by speaking up (in Korean, no less — he's been speaking English all this while, to keep them on the defensive). He asks everyone to leave the room so he can have a one-on-one conversation — not with the chairman, but with his daughter.
Left with no other options, the guys take Eun-soo back to the Muse Café headquarters, where they sit in silence, trying to figure out what to do.
Shin tells her bluntly, "We're in the middle of scamming your father." But Eun-soo is a big complication in their plans, leaving them with two options. He can (1) kidnap her until they're finished, or (2) Wait, does anyone have a number 2? (LOL.)
Eun-soo's pretty much figured out the plan, and asks, "So you want revenge, right? By taking away my father's money." Shin expects her to fight with him, so he presses her to make good on her offer to help. He tells her how her father ruined his brother and killed him, and also killed Jae-myung's devoted father, as though he's gearing up to make a big convincing argument.
But Eun-soo surprises him because she requires no convincing at all, and tells him, "Take my father's money. I'll help you with your con."
That's a shocker. Eun-soo continues, "My father didn't do all that. But since everything is because of money — because of my father's money — take it. If he has no money, my father and I may be able to be happy."
This suggests that Eun-soo knows her brother is behind everything, and her response shields him, which is interesting. Her rationale does make sense even if she isn't protecting Do-woo, because it WAS her father's money that enabled him to do everything. But I also wonder if she's purposely volunteering to help as a way of protecting Do-woo, too…
At the hostess bar, Do-woo waits for Kyung-ah while playing piano in the performance hall.
Once again, the charged air between them suggests that they've been gradually building up a rapport — I wouldn't say they've been growing closer, but rather that their attraction/interest has been simmering, kept on low, but with the possibility of cranking up the heat.
Do-woo needs her help, to which Kyung-ah banters, "Help? Not a partner?" He returns, "If you'll be my partner, I'd be honored."
He wants Kyung-ah to buy some stocks — they're for his father's company, and he doesn't want to use his name and raise any red flags. He will manage the timing and let her know when to carry out his plan.
They've got some potent chemistry working for them, which gets turned up a notch when Do-woo leans in, slowly, to whisper into her ear: "I've thought a few times that if I get my own kingdom, I might want a person like you as my consort."
Kyung-ah's reply comes in a slow, cool manner to match Do-woo's:
Kyung-ah: "I don't want to be a consort."
Do-woo: "Why? Do you not like the king?"
Kyung-ah: "I prefer to be the queen."
Do-woo: "See? You do suit me."
Sexy!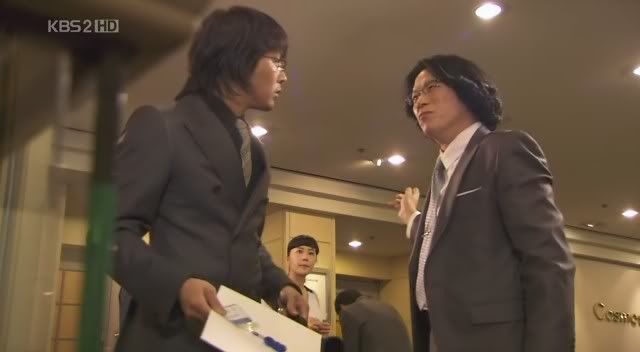 The next step of the con first requires Shin to drop by prison to see his gangster boss Bum-hwan, whom he asks for a favor. He needs Bum-hwan's contacts in the construction world.
These contacts are used to stage a large conference made to look like an event for industry VIPs. Director Oh's curiosity is piqued because Chae Dong Construction wasn't invited, and he's out of the loop. This drives him crazy because Hu Jinpay is interested in this meeting and therefore he needs to know what it is.
Therefore he's relieved to recognize Shin, who's back in his previous role as the construction company manager (the guy who met Jamie at the Lion's Club). Director Oh tries to weasel some information out of Shin, who hands him his business card and tells him to drop by later to talk about it.
When Shin enters the conference, we see that all the attendees are actually uncouth gangsters, dressed in suits to look like important executives. Mun-ho thanks them for coming, and we find that this is not a meeting at all — he's gathered them there to treat them to a nice lunch, courtesy of their old boss. It was all for show. Lol!
Director Oh reports his findings to the chairman, who is frustrated that Oh knows so little about the actual conference. Doesn't he have any way into this group of VIPs?
Director Oh knows ONE person (Shin), and the chairman orders him to bring him in, no matter what.
Eun-soo, as usual, eavesdrops through a crack in the ceiling of her private attic, and hears her father ordering Oh to go to Shin's workplace to check up on his identity. Chae is still suspicious enough to need confirmation before acting.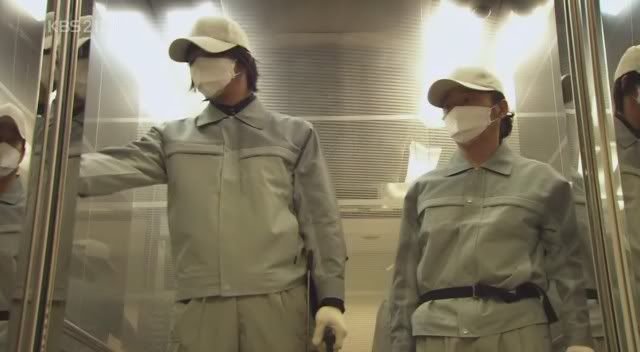 Eun-soo calls in a warning to the guys, telling them of Director Oh's plan to check up on Fake Shin at work. They were smart enough to have used a real employee's name and a real employee's business card, so now all they have to do is to get Shin inside the office to pose as said real employee.
They gain access to the building by posing as maintenance workers, arriving just as Director Oh asks the receptionist for Fake Shin (name: Kim Dong-sun). To get the real Kim Dong-sun away from his desk, Joong-ho calls him to gripe that his car is badly parked and he needs to move it.
Then, Shin and Mun-ho clear out the workers in the office area for a maintenance issue, and when the employees vacate the room, Shin peels off his work clothes — revealing a sharp black business suit underneath.
He takes his place behind Kim Dong-sun's desk, and pretends to be working, which is how Director Oh finds him.
Phew! The plan certainly requires lots of steps, but there's also a certain low-technology simplicity about it, isn't there?
Director Oh takes Shin aside to talk, and ushers him home to meet the chairman. I have to think that Shin is still feeling mighty uncomfortable about Eun-soo's role in this revenge scheme, even if he does trust her not to betray them. She did tip them off about Director Oh checking up on Shin, but Shin seems uneasy to see her when he arrives with Director Oh. (On the upside, Eun-soo's presence at least ensures that Do-woo won't be around to accidentally see him.)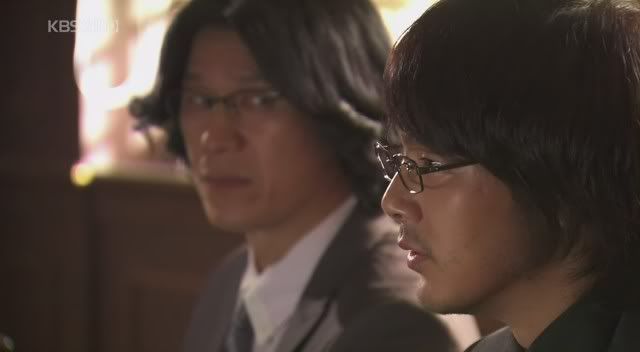 It's funny, because you can actually see what Do-woo was talking about when criticized his father's crude methods of bribery. We see it again here, and although it tends to be effective, it's this ugly, clumsy way of coercing your opponent, and you can tell Do-woo embraces techniques requiring more finesse.
Director Oh presents Shin (aka Kim Dong-sun) to Chairman Chae, who asks fairly bluntly about his company's dealings with Mr. Hu (or, as he still calls him, Mr. Hujin).
Chae offers Shin a job with his company — and a promotion — because as his employee, Shin's loyalty will be directed at his new boss. Shin plays his part to the hilt, acting uneasy to talk about his company's plans, prompting Director Oh to hand over an envelope of money.
This gets Shin talking about the Zhuhai development. Hu is contemplating subcontracting out the deal (at least partly) to a Korean company, citing Korea's reputation for fast building. What the Western world takes forty years to complete, the Koreans can do swiftly in seven or eight. (By the way, this may be true in real life, but it's as much a bad thing as good — it's why Korean department stores might, say, collapse and kill dozens because the companies cut corners and swap out inferior building materials to save money! But in this world, these characters aren't dwelling on that, to say the least.)
Anyway, Shin's role was to persuade Hu that they shouldn't merely subcontract the job, but join hands with a company on the Korean side. Naturally Chairman Chae wants that company to be his.
Chae presses for more information — how were they going to make this happen? Again, Shin acts nervous, like he's giving up a big secret, and receives another bribe before he confesses that Hu has connections in Chinese banking circles. We're talking something in the ballpark of 3 billion won. (All the while, Eun-soo eavesdrops.)
Meanwhile, Mazinger Hunter is back!
Kyung-tae announces his return of his internet broadcast, and his former listeners tune in excitedly. After all, before Kyung-tae got sent to prison, he'd built up a reputation for making keen stock market predictions, and probably made them a lot of money with his advice.
He announces that he's got a new plan in the works, and if his followers want to join him, they are forewarned that they'd better adhere strictly to his instructions. He asks, "Can you do that? If you're wondering if you can, leave now."
Do-woo comes back home, and we have another nuanced performance here by Kim Kang-woo as Do-woo takes on a humbled, sorrowful tone, asking for his father to forgive him and take him back. He's tired of living outside in hotels and wants to return home. All this he says with seeming sincerity — and yet, we know that he can't possibly mean what he's saying. Chairman Chae is also suspicious, but Do-woo performs this speech with such skill that even Chae can't argue.
Eun-soo welcomes her brother back warmly, but she must sense something's up because her mood turns uneasy. When he receives a computer alert, he laughs — his laugh is so creepy — and says, "They're not such clueless con artists after all."
Eun-soo's smile fades — does she think Do-woo has caught on to the Dream Team? — and her brother even tells her directly, "They're pretty good." Uncomfortable, she leaves.
And then, Do-woo sets his own plan in motion. He orders his people to start buying quietly, using funds from Jenny.
The Dream Team moves in for the kill. They call a meeting with Chairman Chae, who is eager to meet and solidify the partnership. With Kyung-tae waiting on standby, "Hu" and "Jamie" agree to make the deal. Chae believes he is sneaking in to steal this deal away from under the other construction company, and has amassed 30 million Hong Kong dollars (5 billion won, or almost US $4 million) from overseas slush funds. He uses this money to buy the Zhuhai development contract.
Director Oh logs on to their bank account and transfers the funds into Hu's bank account, and then they sign the contract. Deal complete.
Do-woo is aware of what this means — he knows his father's being scammed and instead of helping to save him, he's going to use this to his own advantage — and tells Jenny that they have two or three days to buy up as much stock as they can. They've got to then dump them all before "the news" breaks.
He tells her, referring to the Dream Team, "I had no idea people would help me out like this. Aren't you curious who they are?"
I'm pretty sure he would have enjoyed telling her, but Kyung-ah declines, using his own words: "Didn't you say before that you don't see people, you only see charts?" Well, she wants to do that, too.
But Do-woo's movements — although stealthy — don't escape Kyung-tae's notice, because he's monitoring the situation closely. Alarmed that someone else is moving behind the scenes besides them, Kyung-tae frantically warns Shin that something is very wrong:
Kyung-tae: "Something is completely strange, really suspicious. I think someone else is interfering. Something is very strange with Chae Dong's business. There's somebody else other than me. I don't know who that person is. There's no way it can go up this fast. It's too different from my calculations. Who could that be?"
This worry gets pushed aside for the moment when the bank transaction goes through, and Shin sees the new number in their bank account.
Do-woo orders his people to do as much as possible today, and be ready to act on his signal tomorrow. The news about Chae Dong will come out tomorrow — so it's crucial that they move one step ahead of them.
The thing is, Shin is thinking the same thing. First Chae Dong will proudly announce its deal with Hu Jinpay. Soon thereafter, they will break the news that Chae Dong was scammed, thus ruining that company. Kyung-tae is in charge of figuring out the timing for when to act — which means, by the way, that Kyung-tae's genius is pitted squarely versus Do-woo's. Innnnnteresting.
Not aware of any of Do-woo's behind-the-scenes manipulations, Shin is feeling pretty good. He calls his sister-in-law to ask her about moving away — as promised, he can send her abroad now.
Myung-sun is grateful to Shin for all his consideration, but she still feels bad for being rescued, and reminds Shin that Kyung-ah must be repaid first. He should think of Kyung-ah before thinking of her.
After he hangs up, Shin starts talking to an old man waiting at the bus stop. At first, his voice is rather proud, like he's eager to share good news:
Shin: "I made some money today. It wasn't so hard after all. I don't know why my brother worked so hard making money."
The thing is — and why I love this end scene — Shin talks proudly, but for some reason I feel like there's self-loathing mixed in, even as he says, "My brother really was a bit pathetic."
But there's no bite in his condemnation of his brother, because of the irony: When the old man gets up to board the bus, he doesn't acknowledge Shin, and Shin calls out after him. He asks, a little pathetically himself, "Am I … laughable?"
DIRECTING
Can we talk about the directing in this drama?
If you're not watching Story of a Man (and why aren't you??) one huge thing you're missing out on is the visual beauty of the shots.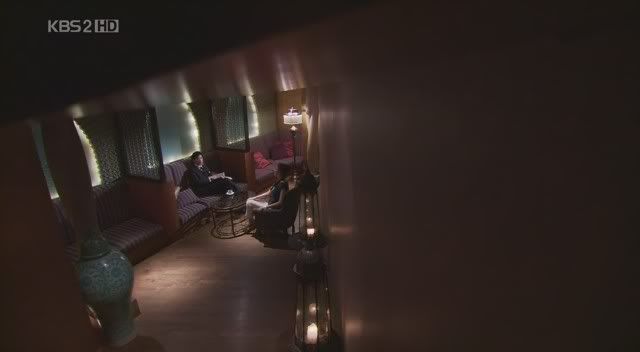 Sometimes I point out interesting shots, but it's not because I have a particularly keen director's eye that I notice them — it's just that when you've been recapping as much as I have (taking screenshots of dramas, deciding which ones best represent a scene), you naturally start noticing the directing. Particularly when it's such a strong component of the overall work. (The last drama I saw that had such a strong visual appeal was the sharp directing of Flowers For My Life. See below.)
And it's not just a cool shot or neato angle that makes the directing good in a drama. Sure, that helps, but I'm always struck when a particular shot is layered with meaning.
For instance, there are some shots in Flowers For My Life that still stick with me, because they have a sense of wit. In the first shot above, the two are not lovers — the guy on the left likes the girl on the right, but they're platonic friends. Aside from the frame just being visually interesting, it also works on a metaphorical level, since the two characters are separated by something even though they're on the same plane. Plus, he's out in the open, and she's shut in her latticework cage. If you've seen the drama, you might extrapolate some further meaning out of that.
Then take the middle shot, which is one of my favorites from the drama. The two have just hit a bump in the relationship, and ride in the car in sad silence — they sit in different planes, looking in opposite directions.
This above shot from this episode is another example of wit, I think. On one hand, it's fine on a purely functional level. But you've also got the chairman framed by his con artists, straining to hear what Jamie and Hu are saying, not knowing he's being trapped.
Am I reading too much into simple shots? In a bad, or sloppily executed drama, I don't think there's a need to get too symbolic with some things that weren't meant to be meaningful. But in dramas produced by obviously insightful and keenly detailed directors, I'm inclined to think all this stuff was intentional, and it's my little fun game to find the wit in the shots.
And, okay, sometimes the shot is just plain cool. Like the computer reflections below.

COMMENTS
Is Do-woo getting scarier and darker, or what?
Somebody mentioned picking up on a weird feeling between Do-woo and his sister, and initially I thought that would be too extreme to even be a possibility. But I don't know, this episode showed us that the only emotions that Do-woo showed were provoked by mention of Eun-soo — and he showed a LOT more intensity when he was following her around and keeping tabs on her. He's normally so cool and collected, that it was a bit startling to see how strongly and angrily he reacted to see Eun-soo dragged into this. You get the sense he wants to protect her, and I'm wondering if it's just fierce protectiveness… After all, he's going to destroy his father, so he must want to keep Eun-soo clear of this. But… what is his deal??
I had thought from reading this detailed Kim Kang-woo interview that I wouldn't be surprised by his evil genius, because I knew to expect it. Usually when you know that the intent is to make a character gradually, incrementally more freaky, it's not so much of a surprise when it actually happens.
But I'm still surprised the more we see of Do-woo, because I still don't have him figured out. What the hell was up with that creepy painting, and why is he fondling it lovingly? Did he draw it? What IS it? What does it MEAN?
Last but not least — his laugh was just about the creepiest thing ever, wasn't it? Good god, does Kim Kang-woo do chilling like nobody's business.

RELATED POSTS
Tags: Kim Kang-woo, Park Ki-woong, Park Shi-yeon, Park Yong-ha, Philip Lee, Story of a Man