Thirst's preview attracts A-list VIPs
Whoaaa. Check out this new still from the vampire film Thirst [박쥐], which recently confirmed that it will be screening at Cannes International Film Festival later this year.
The much-buzzed-about film held its press conference and VIP preview screening on the afternoon of April 24 in Seoul. Given the movie's high profile (and its director and lead actor), the screening attracted some big names, such as Lee Byung-heon, Jeon Do-yeon, Won Bin, Rain, and Song Hye-gyo.
Lead actor Song Kang-ho, playing the vampire priest who falls for his friend's wife (Kim Ok-bin), discussed some of the film's more provocative scenes, one of which serves as the crucial point of the film. He had discussed the scene in some depth with director Park Chan-wook and had no qualms shooting it, as he agreed that it was essential to the story.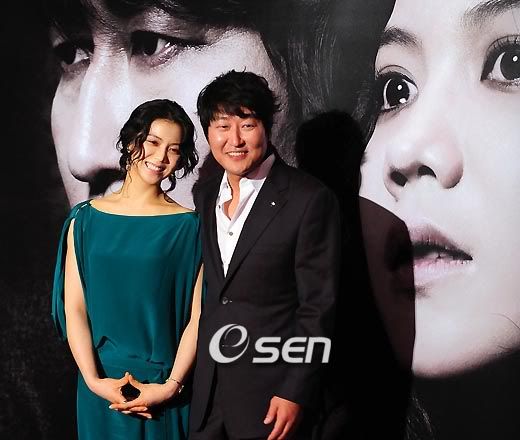 Park Chan-wook said, "I watched the film as just an audience member, and the acting in that scene really came off naturally. Perhaps it was the camera location or the size of the screen, or the composition, but rather than trying to be deliberate, it felt like showing something that couldn't be hidden. I think the audience may feel that nuance too."
Song Kang-ho has previously worked with Park, for 2000's Joint Security Area as well as Sympathy for Mr. Vengeance and its follow-up, Sympathy for Lady Vengeance.
Meanwhile, this project marks a jump in visibility for its female star, Kim Ok-bin, who was one of those early internet uljjangs who parlayed her online fame into an entertainment career (other uljjangs: Gu Hye-sun, Kim Hye-sung, Park Han-byul, Nam Sang-mi). She's since gone from television dramas (Over the Rainbow, Hello God) to a budding film career (Dasepo Naughty Girls, Disturbance in Her Barroom), and said of this experience, "Working with Song Kang-ho was an incredible honor."
Fellow co-star Shin Ha-kyun (who plays Kim's husband), also had similar feelings about working with the respected Song: "It was a huge shock to be told I would be playing a friend to Song Kang-ho sunbae." He recalls being present when director Park Chan-wook initially spoke about this project ten years ago with Song Kang-ho — Shin also acted in Park's Joint Security Area — but says, "At that time, I could never have imagined I would be involved in this project too."
Thirst releases on April 30.
As for the VIPs at the preview…
Song Hye-gyo (The World They Live In) sits a couple of seats over from her former co-star Won Bin (Mother):

Lee Byung-heon comes to support Song, his co-star from The Good, The Bad, The Weird:

"World star" Rain (Ninja Assassin) looks rather bored:

Kim Hye-soo (Tazza), Kim Min-sun (Portrait of a Beauty):

Jeon Do-yeon (Song Kang-ho's Secret Sunshine co-star), Lee Jia (Beethoven Virus), Lee Yoon-ji (Pure 19):
Via Hankook Ilbo, Mk.co.kr
RELATED POSTS
Tags: Jeon Do-yeon, Kim Hye-soo, Kim Min-sun, Kim Ok-bin, Lee Byung-heon, Park Chan-wook, Rain, Song Hye-gyo, Song Kang-ho, Won Bin