Moon Geun-young celebrates 22nd birthday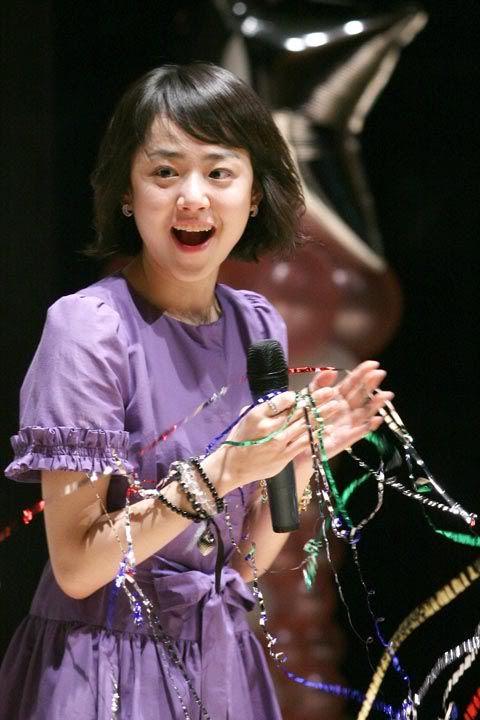 Moon Geun-young (Tale of Two Sisters, Painter of the Wind) celebrated her 22nd birthday with a group of 700 fans, and it sure looked like she had a good time.
The birthday fanmeeting took place on May 2 in Seoul at Moon's current school, Sungkyunkwan University, where she studies Korean literature. Moon Chae-won, with whom Moon Geun-young acted in Painter of the Wind, was also a special guest at the fanmeeting.
The event was divided into two parts: In Part 1, she was presented with gifts and received "Happy Birthday" messages from fellow actors Kim Tae-hee, Kim Joo-hyuk, Kim So-eun, Kim Ji-soo, Ryu Deok-hwan, Ryu Seung-yong, Bae Soo-bin, and others.
Moon Geun-young is known as a "donation angel" for her charity work, such as furnishing rural schools with educational supplies. In the spirit of that, members of her fan café "Angels" prepared a surprise, raising funds for books, bookshelves, toys, and other school materials to give to a schoolroom in Haenam (to whom Moon had previously donated funds). The children recipients of the donation sent along a happy birthday video message, at which Moon teared up to watch.
For Part 2 of the event, the actress prepared a dance, which she performed with a professional dance team "Friends." She also acted as informal DJ in sharing some of her favorite songs with fans.
Via E Daily
RELATED POSTS
Tags: fanmeetings, Moon Geun-young