Open set day at Strike Love
I haven't written (yet?) about the latest episodes of MBC's baseball drama Strike Love [2009 외인구단], but I'm still watching, and I'm still enjoying it. This couple — Yoon Tae-young and Kim Min-jung — is probably the biggest reason I'm sticking with it, because they are so sweet and adorable together, in addition to both being good actors.
The drama isn't really new or incredibly original, but it's kind of like really well-cooked comfort food. The romantic pairing is obvious from the start, but acted with chemistry and sweetness, while the athletic match-up is also a little predictable but still enjoyable to watch. The antagonist tends to be one-dimensional — but he's the kind you love to hate, because our hero will have his day and when that happens, it will be so satisfying to watch.
The production opened up its Kyeonggi province set on May 22 while it filmed "training hell" sequences for the drama.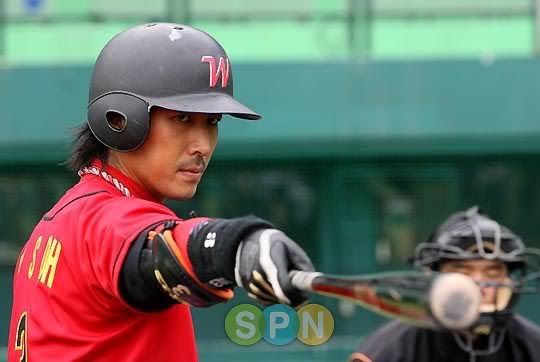 Apparently the term "training hell" isn't just for the drama; the actors were put through intense physical workouts as they filmed those scenes, as Yoon explained to reporters who had come out that day.
His co-star Park Jung-hak, who plays one of the baseball players, added, "We filmed underwater training scenes for three hours, and it was so difficult I thought I'd die. It was even more difficult than when I filmed the movie The Warriors [무사]."
Supporting actor Lee Han-sol said, "At first, we used make-up to make bruises, but later on, I had enough injuries to be able to shoot without adding make-up."
The training session acts as a turning point in the story, which will be shown starting from next weekend's Episode 9.
Strike Love is based on a manhwa [공포의 외인구단] by creator Lee Hyun-sae, which first began running in 1985. The drama airs its seventh and eighth episodes this weekend on MBC.
(Notice in the photos how Yoon is pitching with his left arm; in the drama, he is noted for his incredibly fast (right-handed) pitches, but after he injures his shoulder, he switches to pitching with his left arm. Incidentally, Yoon Tae-young suffered an injury to his left shoulder recently while shooting, but he filmed through the discomfort anyway.)
Via E Daily, No Cut News
RELATED POSTS
Tags: Kim Min-jung, Strike Love, Yoon Tae-young