Shin Mina and Won Bin kiss for coffee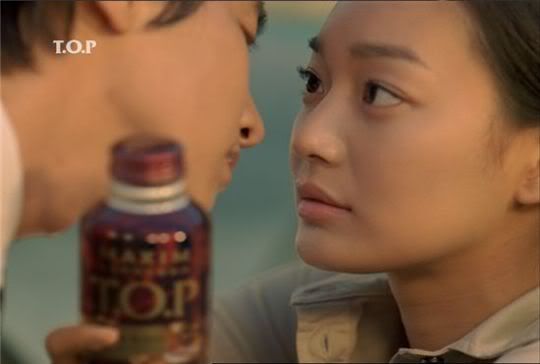 Actors Won Bin (Mother) and Shin Mina (The Naked Kitchen) pair up — and pucker up — for their first kiss in a CF for Maxim T.O.P. brand coffee.
A brand representative explains the target demographic to be 20- and 30-something men and women, and in that spirit, they picked a pretty appropriate couple. I mean, do they make a gorgeous duo or what? (Watch a behind-the-scenes clip of the CF shoot below.)
The ad will begin airing on the major broadcast stations and cable TV on June 1.

Shin Mina's latest project was singing with rock band Loveholics for "Miracle Blue" as well as promoting her film with Gong Hyo-jin, Sisters on the Road. Meanwhile, Won Bin's Mother had a fantastic opening day and opening weekend, drawing in more than 1 million viewers to come in #1 in the box office over this weekend.

Watch the behind the scenes action as Won Bin and Shin Mina film the kiss scene for their CF. It's pretty cute how embarrassed they are after the kiss, as the MC points out:
Via Mk.co.kr
RELATED POSTS