Story of a Man: Episode 11
This was a very good episode for cute Kyung-tae moments. Aw!
Also, with the plot turning to Do-woo's next phase in his master plan, we turn away from matters of the stock market and more into local government. I like that, because we aren't overstaying welcomes in the plot points but moving on when called for. Keeps the story from getting too drawn-out or predictable (I mean, who wants 20 episodes of stock wars, no matter how well done, right?), which I always appreciate.
SONG OF THE DAY
Bobby Kim – "바래다주고 오는길" (On my way back after taking you home) [ Download ]
Audio clip: Adobe Flash Player (version 9 or above) is required to play this audio clip. Download the latest version here. You also need to have JavaScript enabled in your browser.

EPISODE 11 RECAP
The day after his knifing, Jae-myung tells Shin that he knew a guy back in L.A. who would brag about being able to stab someone in just the right way to result in blood and pain, but not death. Shin wonders if K did that to scare Jae-myung, and whether it worked.
Knowing Shin hasn't given up on his revenge, Ja-myung says: "Shin. You were right. Killing quickly with a gun is too nice. So what are you going to do?"
After the reporters' stories are blocked from being published, Do-woo takes a look at their photos; his expression grows grim to recognize Shin as the leader in the resistance. (He'd known Shin had family in Myungdoshi — or Myungdo-shi, rather, but that's a potayto-potahto affair — but hadn't realized the extent of Shin's involvement.)
Director Oh, who has never been the sharpest tool in the shed (and I mean "tool" in more ways than one), thinks that Shin and Joong-ho must be working another scam, and is about to report them to the police. Do-woo stops him — he'll take care of these two on his own.
It's a pretty easy matter for Do-woo to report troublemakers in this community of outcasts. To prove that he's a heartless bastard, he doesn't only report Joong-ho (for being a gangster in a known crime organization), but also a weak old grandpa and a schoolboy. The old man is accused of paying off gangsters to interfere with the demolition, while the boy is pegged for graffiti. Naturally, the charges are trumped up, but they are all dragged off by police and detained at the station.
Mayor Yang is under no illusions about the source of these charges, and confronts the police chief. One of the mayor's strengths is his ability to sound pleasant and yet get his message across — he threatens (nicely!) to call a press conference. The police officer asks, "Are you going to say the police chief was bribed to arrest people wrongfully?" The mayor returns, "Weren't you?"
The officer proclaims his integrity, saying he has no use for money or bribes, and has devoted his whole career to police work. The mayor sees that he's not going to get anywhere and decides the order must have come from a higher power, so he rises to leave.
The police chief asks a parting question, genuinely perplexed: "If you're our mayor, shouldn't you be leading our city to progress more than anyone else?" The confusion comes from a good place, but I think the man is conflating his own greed for pride in the city — the mayor is the one with the people's interests at heart, prestige be damned. The chief adds, "To be honest, I find your stance a little suspicious."
Shin, attempting to help Joong-ho, is kicked out of the building just as the mayor exits. When he hears that the mayor is headed to see the landowner, Chae Do-woo, Shin realizes Do-woo's behind these evictions. He asks to tag along.
At city hall, the mayor has a business proposal for Do-woo. He is onboard with the goal to make the city prosperous, but wants a few small concessions to serve the residents: "Isn't your city being made so people can live within it?"
Do-woo spits out some numbers: Myungdoshi has 50,000 citizens, and the community of displaced residents numbers 263. Do-woo reasons, "Fifty thousand citizens are being hurt because of 263. Mayor, you know this, don't you?"
The mayor reminds Do-woo of the constitution, which states that all people have the right to the pursuit of happiness. And he, as a government official, is held to a responsibility to let his citizens have that. So, he entreats Do-woo, "Let me take responsibility for them."
Shin has entered the room silently, and now Do-woo turns to him: "You always come to see me one step ahead of my expectations." The mayor realizes they must already know each other.
Do-woo: "I remember everyone else as data on a computer, but Kim Shin is the only one I think of as his living self. It's like the other information is in black and white, and he's the only one in color."
Shin: "That's odd, it's the reverse for me. If I just think of Chae Do-woo, the surroundings darken."
The mayor's proposal has three stipulations: He wants an apartment built for the displaced residents, a school (elementary, middle), and a public health center. (Do-woo's plans include an international school and hospital, but the mayor wants his institutions to serve the common people.) He doesn't outright threaten Do-woo, but he suggests that if they don't reach an agreement, it could take an awfully long time granting building permits…
The mayor's stance is the diametrical opposite to Do-woo's; it's the classic plebeian-versus-patrician dynamic. Do-woo sheds some light on his philosophy, to which Shin has some serious objections:
Do-woo: "This country has 50 million citizens. Of those, if you take a select 5 million, it would only take 20 years to turn this country into one of the most prosperous in the world. I could make that happen."
Shin: "What about the other 45 million? Will you bulldoze them into the ocean?"
Do-woo: "That's why you'd fail. Because you have no confidence to be in that 5 million, you're getting angry at my words. Anyone with the confidence to be part of that 5 million would forget about the rest. Isn't that human nature?"
It would appear that his 5 million does not include his father; ex-Chairman Chae is ambushed at home by a team of hospital employees, who restrain him and take him off to a hospital. Immediately, he knows this is his son's work, but the psychiatrist has been convinced (or bought) by Do-woo that Chae is ill, and needs to be hospitalized.
Chae shouts for Eun-soo, who has stepped out briefly to go to the market and returns home to find her father gone. Do-woo is glad to see her name pop up on his cell phone, although his pleasure fades as she says, in tears:
Eun-soo: "You told me that you wouldn't be able to bear it if I opposed you. I didn't go to the other side — you pushed me there. I don't know how I can go over to your side. What do you want? What will satisfy you? How far are you going to go? What do I have to do? What can I do so that the three of us can live as a family?"
Interestingly, somewhere in the middle of Eun-soo's tear-filled questions, Do-woo presses a hand to his chest, as though in pain. So… does he have a heart then? More on that later.
Do-woo answers, "Just… be by my side. You were always by my side. That's all I want. Is that so difficult?" Perhaps realizing that he isn't going to help, Eun-soo decides, "I'll find Father, and I'll bring him home myself. I'm sorry, oppa." After she hangs up, Do-woo mumbles to himself:
Do-woo: "Those are the words I hate most — 'sorry.' All you have to do is stay with me. With you gone, I feel like I've lost the brakes."
After the meeting with Do-woo, Shin's car runs out of gas — symbolism? — and as he and the mayor sit on the curb waiting for car assistance, the mayor asks about his revenge. The mayor wonders if he can provide some advice.
Shin guesses the mayor's going to repeat everything he's heard before (how some things are impossible, that he'll just end up hurt), but on the contrary, the mayor's message is simple: "There are a lot of people like your brother." That's all. At Shin's non-response, he clarifies, adding that other people suffer similar injustices. "But those people keep living."
Oh, Kyung-ate is so cute with the girls. (More on that below.) Mun-ho offers the café to Myung-sun and the girls while the Myungdoshi matter remains unresolved. (The Dream Team will remain at Myung-sun's home, where Jae-myung announces he's staying "until Shin finds the next hunting ground.")
Kyung-tae gives the place a thorough inspection, looking for wiretaps or bugs, and the girls follow him around and mimic his moves.
Eun-soo arrives looking for help, fighting her own indecision: "I hesitated a lot about whether to come, because I know how my brother feels about me coming over. But where could I go to for help? I don't have any friends."
She breaks down in tears, and ever so cautiously, Kyung-tae pats her shoulder in comfort.
Even though we now know that Do-woo's bedroom drawing is a representation of his Neo-Monaco, it's still creepy as hell, particularly as he snips out a photo from a book to add to the collage.
He adds the image of Grace Kelly (princess of Monaco), which I know is meant to refer to Kyung-ah, as the following scene confirms. But I cannot be the only person who immediately wondered whether the picture refers to Kyung-ah or Eun-soo, amirite? I mean, I know it couldn't be Eun-soo… but he doesn't look on Kyung-ah with the same meaningful affection.
After his last Freudian slip, Do-woo wasn't sure Kyung-ah would come to the grand opening event (he's establishing a city planning commission, the Myungdo New Deal Planning Group).
Kyung-ah: "I came knowing that I'm second in your feelings. Do you really need your second-place person here today?"
Do-woo: "My dream city begins here. I need a consort."
Kyung-ah: "I told you I don't want to be a consort."
Do-woo: "Then be the queen, and chase me out."
(Note: He calls her a wang-bi, which is a queen consort, i.e., the king's mate. She wants to be the yeo-wang, which is a queen who has ruling authority.)
This is Do-woo's big day in more than just one way, because in addition to kicking off his new city, he's orchestrated the destruction of his opposition. Namely, he has called the mayor and promised a meeting with the displaced residents to work out a favorable compensation deal. However, he doesn't show up, leaving the mayor and residents to wait and grumble impatiently.
That is exactly his intention, we soon find out. Since the residents are waiting for the fake meeting, their homes are left unguarded. This leaves the path wide open for the demolition crew to come in and tear down the buildings without interference.
Shin and Jae-myung are vastly outnumbered, so they do what they can to grab the remaining people — children, elderly — and escort them out of harm's way.
Therefore, when residents come home that night, everything has been demolished, their belongings carelessly thrown outside and broken. Some sit dully, while others angrily confront the mayor, accusing him of being bribed to get them out of the area so the construction team could come in. The mayor feels horrible for this turn, but doesn't defend himself, and can only bow to his citizens and apologize repeatedly.
Jae-myung asks if Shin has designated this as their next battleground, and adds, "I don't like it here. I can't hunt with these noisy people around." Shin answers that he's still thinking it over.
Mun-ho may feel general sympathy for these people but he's not invested in their crises, and urges Shin to leave. This isn't their business, and they're no good here.
It's somewhat expected that Shin would ignore Mun-ho's suggestion, but not as expected when Jae-myung steps forward to help an elderly grandma gather her scattered belongings.
The mayor's aide is indignant at being manipulated by Do-woo, but the mayor remains calm as he gets to work helping his now-homeless residents. He makes calls to get emergency supplies ready for them.
Shin tells the mayor that he knows Do-woo well; this isn't the end of things, not by a long shot. But he advises the mayor to step aside and focus on taking care of his people, saying, "I'll be the one to take him on." (This gets Jae-myung and Mun-ho's attention, because this an official declaration of his next plan.)
Shin knows someone who won't lend money but will lend might — Bum-hwan — who will be displeased to hear that one of his guys (Joong-ho) was caught up in this. Shin figures, "It looks like Chae Do-woo wants to build something here. I'm thinking of dragging him down, one by one."
Kyung-tae locates Eun-soo's father's whereabouts, and finds her sleeping. Instead of waking her, he whispers to her that he's found her father in a nursing home in the south. It's sort of adorable as he continues, hesitantly (even for him)
Kyung-tae: "If you need me, I can go… with you. If you want to bring him back, it's difficult to do it alone, so… I can go… with you… I can."
I'm rather losing patience with Kyung-ah, because I'd thought she'd be smart when her eyes were opened to the fact that Do-woo is not what he seems. But instead, she has swallowed the bait more completely, and continues to work with him, soliciting more investments on his behalf.
When she asks K why Do-woo has moved back into a hotel, he answers that nobody's at home. She asks where his sister went and gets back no reply, so she wonders, "Should I ask him that myself?" K warns, "You probably shouldn't."
Do-woo comments on Kyung-ah's enthusiasm for extracting money from businessmen. She explains that until several years ago, she'd make less in one month than what those men spend on a scarf. So she spent a month's pay on one scarf and threw it away (as we saw in an early episode), and decided, "One day, I'm going to make these rich directors shopping in this department store greet me before I greet them."
Kyung-ah: "Lately, they do say hello to me first. Am I childish?"
Do-woo: "You're frightening."
Kyung-ah: "It's strange. If I like money more than love, people criticize me. Do they like love more than money?"
Do-woo: "I know that you like the things I have more than me."
Kyung-ah: "But there's something else to my feelings toward you. I think, I'd like to fill the void in this man whose insides are as empty as mine. Then maybe my emptiness would be filled, too."
Do-woo: "Did you think my heart was empty?"
Kyung-ah: "Is it not?"
Do-woo: "I don't know. I don't particularly want to look inside it."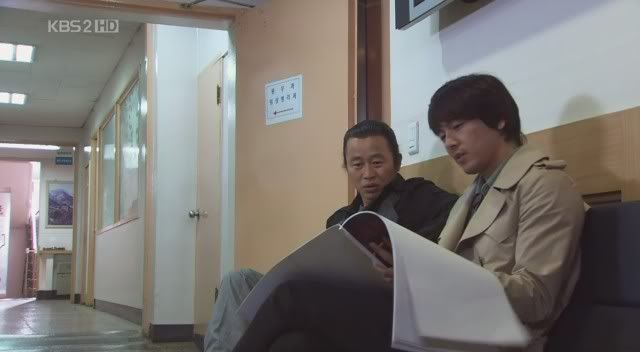 Jae-myung's activities in the cleanup efforts have reopened his wound, sending him back to the doctor. Waiting outside while flipping through the Myungdoshi proposal book, Shin hits upon Do-woo's purpose in building up the city.
Shin explains Do-woo's "5 million" theory for an ideal society, where he'd like to discard the bottom 90 percent because they would just get in his way. Shin understands Do-woo's thought process — people like the tenants are just tumors:
Shin: "They're tumors you have to cut out in surgery, that grow if you leave them alone, that you worry may turn malignant."
Mun-ho: "You're saying they're cancerous."
Shin: "That's how he thinks of them."
When Jae-myung is done being treated, Shin announces that he's picked his next battle: "I've figured out his weakness. I'm going to start with that."
Jae-myung wants Shin to make a promise: "At the last minute, you won't say that you forgive him." Shin agrees, "All right. I'll remember that."
Meanwhile, Kyung-tae isn't part of the group today, having taken it upon himself to take Eun-soo to retrieve her father. She protests that she can go on her own, but Kyung-tae is uncharacteristically insistent and accompanies her on her trip south, which should take a day or two.
Do-woo starts the next phase of his plan by meeting with the mayor to ask a favor. Following their last encounter, Do-woo seems to have realized that money on its own will not be enough; he needs political power, too. He pulls some strings and pressures the deputy mayor into resigning, leaving that spot vacant.
Do-woo presents his proposal: He'd like the mayor to take Director Oh as his new deputy mayor. His reasoning is couched in false concern (he wants to put someone in the position who is already familiar with the city planning project), but we know that he intends to make Oh mayor, meaning his next step will be to unseat the mayor.
Mayor Yang is uneasy about this, but Do-woo assures him that Director Oh should meet with approval by the city officials. To sweeten the deal, Do-woo offers generous compensation for the displaced tenants — 1 billion won. That should tide them over until they can move into the new apartment complex.
The tenants have already heard about the offer — but instead of being pleased, they're angry that they haven't been paid yet. They blame the mayor for hanging on to the money, as though suspicious he'd keep it from them.
It's actually really sad to see the mayor arrive at the temporary camp brimming with excitement, because he's been totally suckered by Do-woo, and until now he's proven to be very shrewd. The mayor tells Shin that Do-woo's not such an evil person after all, because he promised the money without too many restrictions.
Shin, on the other hand, finds this very suspicious and confronts K, demanding to be put through to Do-woo.
Shin: "Chae Do-woo. What game are you playing now?"
Do-woo: "See, you're always a step faster than I think."
Shin: "Just once, can't we battle fair and square? Don't just act out in conspiracy and fraud. Beat me fairly for once. Then I'd clap for you."
Do-woo: "Fair and square? That doesn't sound like something a con artist would say. But Kim Shin, do you know this? If anyone over there gets hurt, it's because of you. Shouldn't you have figured that out by now?"

COMMENTS
So far, Jae-myung has been a fairly straightforward character — cool and sexy, yes, but one of the simpler characters, so I was pleased to see the beginning of some development with him. Like Kyung-tae, he finally starts bridging some of the distance he keeps with others, and engages.
Early in the episode, he stakes out his spot at Myung-sun's home, saying that he'll stay here until Shin figures out his next move. His argument sounds like a defense of laziness — i.e., it's a waste of energy to follow Shin around before he decides on his plan of attack. But it's like he's drawn to these people's plight without wanting to be — he could always return to the more comfortable Muse Café. Shin and Joong-ho have no qualms about feeling a connection to these people and defending them, but Jae-myung may need an excuse to stay.
He's resisted being drawn into anything that doesn't concern him directly, kind of like Mun-ho, but less successfully. After the residents' homes are destroyed, he not only sticks around, but starts helping the cleanup of his own volition. You get the sense he's not comfortable with this — he'd rather be the sexy-bastard ladykiller — but he joins in, even though the efforts reopen his stab wound. Not at all what we'd expect of Jae-myung.
As for Kyung-tae, let's just take out a moment to squeal:
OMG SO CUUUUUUUTE.
I have nothing meaningful to say about them, only that it's adorable to see the girls treating Kyung-tae like any other normal person to follow around. In their eyes, he's not odd or socially awkward, he's just another big toy to giggle about and mimic.
In fact, one thing I appreciate is how nobody really makes a big deal over Kyung-tae's autism. Not that they should, of course, but after the initial meeting, nobody's treated Kyung-tae with any special treatment, even when he shrinks back from them or runs away. They don't speak louder, or slower, or treat him like a child, or anything that one might encounter in real life. This may be a key reason why Kyung-tae is coming out of his shell lately, as he grows more comfortable with being part of a social group.
After the initial meeting between Kyung-tae and Eun-soo, they hadn't shown signs of doing anything further with their relationship — until now. My romance-lovin' heart was gratified to see this thread picked up, and now I'm fairly certain we'll see more of their relationship developing.
In this episode, Kyung-tae spent some time looking at Eun-soo while she sleeps (while in the past he kept his gaze averted and ran away), and also shows signs of concern for her welfare. First he covers her with his jacket, then he insists on being with her while she searches for her father. This is another step in drawing Kyung-tae out of his isolation: Now he doesn't wait for someone to tell him what to do, and takes the initiative.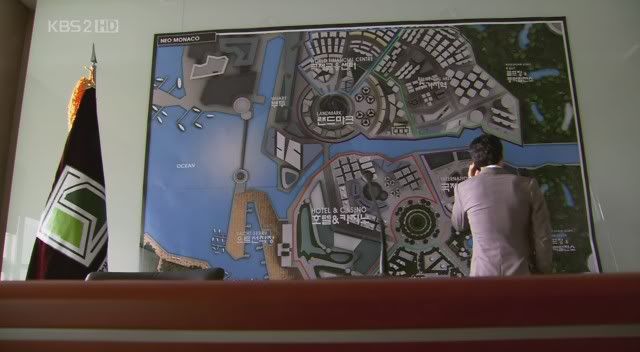 As for Do-woo's "5 million" group of people:
His philosophy is obviously problematic, but he's certainly not the first to have thought it, nor will he be the last. Anyone who espouses institutionalized classism is treading on some seriously demented ground here, not that we were in doubt over the point of Do-woo's moral compass. However, what I find interesting about the conversation in which he tells this to Shin is that he doesn't automatically count Shin as a bottom-feeder. He doesn't say Shin is in the top 5 million, but his statement chiding Shin for automatically siding with the bottom 45 million suggests that he is at least willing to entertain the possibility that Shin could belong in the top. Perhaps he was just speaking hypothetically, but I believe that if Do-woo saw Shin as a bottom-dweller, he would have responded differently.
Instead, he recognizes Shin's potential — hey, dude has smarts, and balls — but also sees his weakness, and that is his "nice" mentality. If only Shin could be more ruthless, if only he could recognize he was in the top 10 percent and leave behind the doomed 90 percent, he might have wealth and success. In Do-woo's view, it's Shin's unwillingness to let go of the others that will do him in. If he refuses to let go of those below him, insisting on trying to pull them up, they'll just drag him under with them.
If Shin could successfully leave them behind, he could be like Kyung-ah, who sold her heart for money and got a big void in addition to it. I was surprised that he challenges Kyung-ah's claim that there's emptiness in his heart, because that suggests that he does have a heart. Maybe he means that in contrast to Kyung-ah's empty heart, his is full… of evil intentions. (Which is why he doesn't care to look inside.)
And within his black heart, perhaps the one spot reserved for Eun-soo was enough of a "brake" to slow down the actions of the rest… which was another curious statement, because it hints that Do-woo wants to be stopped. Does that mean he has a conscience? Or does it mean that his inner thoughts are SO dark, so evil that left unfettered, they scare even him?
Now that's a frightening thought.

RELATED POSTS
Tags: Kim Kang-woo, Park Ki-woong, Park Shi-yeon, Park Yong-ha, Philip Lee, Story of a Man