Story of a Man: Episode 13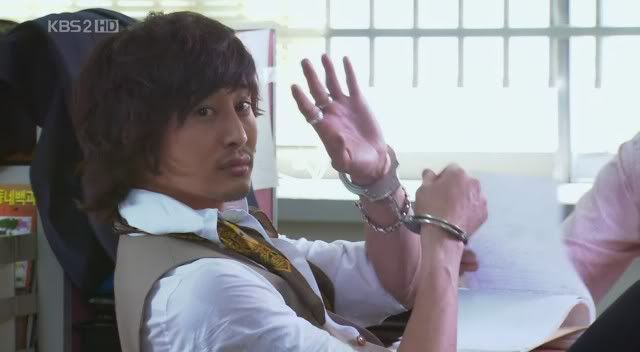 This episode was so good I was sorry I didn't have the time to get to it sooner.
Some of the stuff I saw coming, but it was so well set-up that that doesn't bother me. Also, what this drama does well is mixing in its intense moments with humor — you wouldn't think a drama like this would be funny, but it quite often has me smiling or outright laughing. Then, in the next moment, it'll have me tear up at a poignant beat.
And also, there's a pretty badass fight scene.
SONG OF THE DAY
Noblesse – "내 삶은 너였다고" (My Life Was You) [ Download ]
Audio clip: Adobe Flash Player (version 9 or above) is required to play this audio clip. Download the latest version here. You also need to have JavaScript enabled in your browser.

This week's episode of Story of a Man has finally moved out of the last-place ratings spot into second! Things are heating up toward its end, it seems. The ratings had leveled off around the 8%-9% mark with Ja Myung Go at 9%-10%, but this week things switched around. Episode 16 of Story of a Man pulled in a 9.6% over Ja Myung Go's 9.3% — and Queen Seon-deok held at first place with 16.6%.
EPISODE 13 RECAP
At the end of the previous episode, Shin and Jae-myung had split up — Shin to welcome Bum-hwan's prison release, Jae-myung to stick with the mayor.
Jae-myung watches the mayor from a distance as the latter meets with a group of people in the neighborhood, and is distracted by the sight of an old lady falling in the street. As we've seen, Jae-myung has a soft spot for helpless grandmas, and he crosses the street to help, which happens to be when the mayor wraps up his business and returns to the car.
GAH. You know a drama has *got* you when you see that the man who slides into the driver's seat is the villain, and your reaction is to be MAD at him for doing this because you just know he is going to hurt your main characters.
The mayor is surprised but not especially afraid at first, and inquires in his polite way what's going on. K peels out, and Jae-myung races after the car in alarm, but is unable to keep up.
I'm kind of glad we don't see the violent end to this scene, because it's bad enough to find out the next morning that the mayor has, in fact, been killed. The guys race to the hospital to see the dead body being carried in, but worst of all — if something can top a death in a "worst" list — is the fact that the police have ruled this an accident.
Supposedly the car reeked of liquor, and the police consider the mayor to have fallen victim to his own drunken driving. None of our guys believes this for a second, and the aide (Mr. Kim) insists that the mayor never drinks, and hardly ever drives. Yet the police are firmly in the pocket of Do-woo, and the chief is happy to oblige him by hastily sweeping this under the rug and calling it an accident.
Shin catches up to Jae-myung walking off in a cold fury, to which Jae-myung warns him, "Don't stop me, or I'll kill you too." Shin answers, just as angrily, "I'm not going to stop you."
Shin storms into Do-woo's offices and interrupts Kyung-ah in a meeting, demanding to know where Do-woo is. She can sense that something is particularly wrong, and asks worriedly what's going on. Shin sneers at her, asking where "her man Chae Do-woo" is; Jae-myung interrupts to say that he found out the location, and the two race off. Sensing something bad, Kyung-ah follows.
Do-woo is in the middle of a presentation to foreign investors at the construction site, and it appears the meeting is going well — until the guests look up and panic, scattering as a bulldozer heads straight for them.
The bulldozer tramples over chairs and tables, and at the last minute, Do-woo leaps out of the way to avoid being crushed as the machine knocks down his presentation boards.
Once the bulldozer rolls to a stop, Shin jumps down from the seat and flies at Do-woo in a rather spectacular tackle. The two go at it — punching, kicking, throwing each other to the ground.
Let me just say: Holy shit what a fight scene. I'm sure a lot of it is strategic stuntwork and camera angles, but still, that really IS Park Yong-ha and Kim Kang-woo who are thrown to the ground and knocked into tables, and it looks pretty painful.
The fighting isn't fancy, and there aren't very many (if any) special effects. No wire work, sped-up film, careful splicing of footage to look more impressive. Shin and Do-woo don't even use any single recognizable martial art — well, Do-woo brings in some of his wrestling moves, but Shin goes at him in a messy fury. It's just two guys, pissed off as hell, going at each other for blood.
(I thought this in Return of Iljimae, too — that this low-tech way of showing the fight in simple shots actually makes it more interesting, because although it's not glamorous, it's more down 'n dirty.)
It's a little gratifying to see Jae-myung jumping into the fray, going after K while Shin and Do-woo fight. The thing is, neither Shin nor Jae-myung are superior fighters, and they're fueled by hatred right now, which might give them added power but also makes them sloppy. Also, Do-woo and K both hold their own, particularly K, who's been shown to be a deadly boxer. So we can't quite be satisfied with the match-up, but by golly are they going to do their best to make the bad guys hurt, at least.
The police arrive, called by Do-woo's employee, just as Kyung-ah also races up to the melee.
Everyone is hauled in to the police station, but it's unsurprising that Shin and Jae-myung are detained while Do-woo is immediately let go and met with profuse bowing and scraping by the police.
While Shin is being taken away, he glares at Do-woo who's on his way out, and is chagrined to see Kyung-ah worrying over Do-woo's condition. It's at this point that I really just thought, "Okay, now Kyung-ah can go die with Do-woo at the end, too, thanksverymuch." (I know, she isn't aware that her boyfriend is a killer, but still! Grr. Arg.)
In jail that night, Jae-myung asks Shin if they can count on the Korean police to catch the bad guy. I suppose this may be writer Song's bit of meta-commentary on the state of Korean law enforcement, as Shin sighs, "Thinking of your father, I can't answer that."
At the planning offices, Do-woo sends Kyung-ah home, then finds an empty conference hall with K. There's an ominous tone as Do-woo slowly, methodically takes off his jacket and loosens his tie, and K just stands there waiting.
Do-woo delivers a blow to the gut, and growls, "What the hell did you do? Killing somebody is something I choose, in my way, on my timetable. Why did you do that? How could you do that?"
This scene is chilling not because of Do-woo's anger but more in how K accepts the blows with such creepy, servile acquiescence. Beating someone as though in calm ritual is somehow scarier than hitting him out of anger. The calculation makes it worse.
Do-woo kicks K repeatedly as he snarls, "What I do — is never — wrong! How dare you bugs mess with me? You, and him too — why?!"
Kyung-tae and Eun-soo wait outside the police station while Mun-ho inquires within, but there's very little the Dream Team can do. When Eun-soo asks if there's anything she can do to help, Mun-ho hesitantly mentions one thing that would solve the problem — the victim has to agree to drop the complaint.
Eun-soo understands that this is a hint to her to appeal to her brother, and agrees to try, although she can't guarantee anything. Kyung-tae insists on going with her, and Mun-ho notices his attentiveness, teasing him about his attachment to Eun-soo. For one, Kyung-tae doesn't need to rely on his finger-push gesture when he's talking to her (indicating a level of comfort).
Kyung-ah answers the door, and although she's very friendly, this throws Eun-soo off and makes her uncomfortable. Furthermore, Do-woo tells Kyung-ah to stay (which strikes me as a subtle — petulant? — way of letting his sister know that she's been supplanted by the girlfriend).
Eun-soo sees the injury to Do-woo's face and blurts, "You're hurt, too." The "too" is telling, and Do-woo comments on it (it makes him seem secondary to Shin, which is sort of a poetic reversal given Kyung-ah's switch to the dark side). Eun-soo gets to the point, and says that Shin could be in a lot of trouble over what happened, and asks her brother to be generous. He answers, "Let the law handle legal matters." Eun-soo senses he's not going to budge, but tries one last time: "You owe Kim Shin a debt. You can think of that and let this go."
This makes Kyung-ah frown in confusion — Do-woo owes Shin? She asks what that means, but Do-woo interrupts by announcing the news of their engagement. Kyung-ah notices his interruption, but allows it without further questioning, and this puts an end to the meeting.
Do-woo says he'll think about her suggestion — although it's clear he won't change his mind — and Eun-soo grabs Kyung-ah in a somewhat surprising hug, telling her, "Thank you."
On the way out, she rejoins Kyung-tae (who's playing around cutely with the revolving door). She's worried for Kyung-ah, wanting to tell her about Do-woo killing Shin's brother, but also feels it isn't her place to step in. She wonders, "She doesn't know him as well as I do. I'm not sure if I should tell her. But what could I say? I don't know."
More kiddie bonding with Chairman Chae as Nuri falls asleep in his lap again. (He also has some wise words regarding Shin's fight: "I told that dumb guy to use his brain, but he let his fist fly first and got himself into this mess.")
When Myung-sun retrieves her daughter, the chairman asks about her husband: "Do you know whose fault it is his company was ruined?" He can tell that she does, and wonders how she can feed him and leave her children with him when he's the father of the man who did that to her family. Myung-sun answers simply, but I think the sentiment is rather nice:
Myung-sun: "I'm a mother raising my children. I don't want to show my children how to hate. Doing that won't bring back their father, will it?… The girls don't have a grandfather, because they all passed away early. I think that's why they like bonding with you and calling you grandfather. I'm satisfied with that."
Shin and Jae-myung are released from jail but put into the custody of Detective Kim, a tough, no-nonsense woman who has come from a different office to handle their case. The guys are a little bewildered since she doesn't really explain herself, but obey when she barks at them to follow and orders Shin to drive.
They're even more surprised when they arrive at the mayor's funeral — and the woman cries as she bows in respect to the dead man. It's at this point that I entertain suspicions that the woman is actually the mayor's daughter or some such. It turns out that this isn't the case, which we find out when Do-woo wonders the same thing and is told that the mayor has no family.
Do-woo hears about Det. Kim's actions from Police Chief Lee and is suspicious about her motives, although there's nothing overtly alarming about her presence. Still, he's displeased — one gets the sense that he dislikes when anything happens that he hasn't foreseen.
Meanwhile, Shin is impatient to get back to his goal, and has a hard time tamping down his irritation with the confusing detective. He insists, temper flaring, "I have to find out who killed him. No, I misspoke — I know who killed him, but I have to prove it. … Isn't it your job as a detective to catch murderers? If you come with me, you'll find the killer, so how about following me?"
Like I said, Det. Kim is a tough broad, and she doesn't let Shin get away with mouthing off to her. She restrains him and tells him that she knows better than anybody that the mayor doesn't drink. Clearly she's also working out some of her own hunches.
They get word that the decision has been made to cremate the mayor's body, and the corpse is being removed from the hospital at this very moment. This is alarming, because it's an obvious attempt to destroy evidence and cover up a crime. While Det. Kim confronts the police chief over this breach of procedure, Shin races to the hospital to prevent the removal of the body.
It's pretty hilarious how they manage to do this: Shin gathers a group of the Myungdoshi residents (brought from the funeral), and they present themselves as an official committee (fake, naturally) dealing with funeral rites and such procedures within their community. They must decide as a collective body what to do with their mayor, and therefore they shove the gurney back inside the hospital while the "committee members" discuss the matter.
With so many people protesting, the hospital has to give in, and calls the police to say that the removal of the body won't be possible. Shin and the others kill time by debating all the different ceremonies they could hold for the mayor.
Det. Kim tells Chief Lee that she's investigating the mayor's suspicious death and requests an autopsy. Chief Lee has been bought off by Do-woo to (1) rule the death an accident and (2) cremate the body, and tries to delay her with red tape and paperwork.
When the rest of the team joins Shin and Jae-myung at the hospital, Shin is not pleased to see Eun-soo. He's suspicious of her loyalty to Do-woo and asks cynically, "How much do you know? What do you know about your brother and what are you hiding?"
Eun-soo hangs her head as tears start to fall down her face, and Kyung-tae steps in and covers Shin's mouth, saying, "She's crying. 2924 has made her cry. 2924 should fix this." (2924 is Shin's old prison number.) It's both sweet and hilarious.
So Shin and Eun-soo step outside to talk. Knowing Shin blames her brother for the mayor's death, she asks, "Do you think my brother did it? Even if he didn't do it, you think he ordered somebody to, don't you?" She admits that her father believes Do-woo did it, too.
Still sarcastically, although not as angrily, Shin replies, "Why ask me? He's your brother. Ask him yourself, 'Did you kill him? Or did you tell somebody to do it?'" He can tell that Do-woo adores his sister and would probably answer her. Shin even admits to using that knowledge: "It was really fun for me to pretend to be friends with you in front of him."
Eun-soo had planned to ask Do-woo when she visited the night before, but the news about the wedding threw her off and made her forget everything she'd planned to say. Shin lets the news sink in, and asks Eun-soo disbelievingly how she could have believed her brother to be a killer and then congratulate his fiancée.
Eun-soo answers, "I told her thank you. If it's her, she might be able to hug my brother. You may not understand this, but my brother needs someone who's able to hold him. If he has that kind of person with him, he might… I can't do that for him. She seemed like she could do that."
Now we have two teams trying to beat each other to get to the mayor's body. Det. Kim calls in a coroner (whom K watches arrive) to perform an autopsy, while an angry Chief Lee orders his officers to cremate the body immediately.
Thus Team Shin has limited time to get their job done before they are stopped by police, who are on their way over. Jae-myung is sent to the courthouse to get official approval for the autopsy, and Shin convinces the coroner to get started in the meantime.
Mun-ho rallies the Myungdoshi residents to formulate a diversion to allow the coroner enough time to complete the autopsy.
The public prosecutor isn't inclined to help them — he thinks they're being nuisances — but Det. Kim points out that proper procedure was not followed. There was no inquest in the case, and no witnesses interviewed. How could the police be so hasty to rule it an accident? Furthermore, the one person who WAS with the mayor all day — Jae-myung — wasn't even questioned.
As the prosecutor hears this, he's slowly swayed to their point, enough to grant an autopsy and agree that the case merits further review.
(There's a hilarious beat as the two leave the courthouse, and Jae-myung pauses to unlock the car. Det. Kim stares at him blankly and wonders, "Is it because you're an American lawyer?" Jae-myung wonders what she means, and she says, "I've never seen that kind of butt on a Korean lawyer.")
At the hospital, Shin reflects on the mayor's death, recalling all his wise words, and how he told Shin the way to fight — to prepare oneself properly and get a firm grasp on one's weapon. He remembers how the mayor proclaimed Shin the people's leader and promised that Shin would get their apartment built. It's like an unofficial torch was passed, and now Shin feels the burden to fulfill what the mayor started.
As the coroner is about to begin, Shin tells him: "Our mayor was an outstanding person. He is the first person in my life whom I've seen and thought, 'This man is truly an outstanding person.' So…"
The coroner understands Shin's unspoken statement — it's like a request to take particular care and to know that this is important.
Shin steps outside to let the man work, and gets his plan into motion. The police have arrived, ready to halt the autopsy, as Mun-ho helps some townspeople furtively sneak a gurney out of the hospital doors and rush down the parking lot. The policemen spy this, and give chase. Diversion! (Haha.)
This enables Shin and Joong-ho to hurriedly sneak another gurney out of the hospital while the police are distracted. When they realize that Mun-ho's gurney is a decoy, they see Shin loading a van and peeling out, and chase after them instead.
Of course, when they finally pull over the van, they find that the second gurney holds a mannequin — it's another decoy! HAHA.
With the police sufficiently running amok on the double wild goose chase, the coroner is able to complete the autopsy in peace back at the hospital. When the team reconvenes, they hear the results. They're prepared to hear the worst, but even so, they're shocked.
The mayor's cause of death was drowning, but he wasn't submerged in water. Instead, his lungs were flooded with alcohol, and there were markings in his mouth that indicate force. The injuries on the outside of the body were sustained after the crash, post-mortem.
It's a grisly way to die, as Shin puts the pieces together, horrified — somebody forced the mayor to drink alcohol, but used such force that the liquid was not drunk but instead drowned the man, and then sent the car over a cliff. Furious, Shin kicks in some glass.
Det. Kim speaks up, telling him not to overreact. She fights her own tears and recounts brokenly:
Detective Kim: "How long have you known the mayor? I've known him for 23 years. A factory girl at a textile manufacturer tried to hang herself, and he dragged her down. When I'd failed my qualification exams and given up on life again, he spent five days and nights wandering around looking for me. After I passed the police exam, do you know what I did first? I went to him and asked, 'Can I call you father now? I'm not an embarrassment anymore, so let me call you father.' And he told me no, that I could have a successful future, and he might hold me back. So he said no, that damned old man!"
Detective Kim gets a hold of herself and regains her composure, and announces the official murder case opened. The others are surprised — what have they been doing all this time? Trust this drama to throw in some humor in an emotional moment, because she tells them that she'd merely taken a personal leave to attend the funeral. NOW, she's officially on the job!
This is not good for the police chief, who has to report to Do-woo that the autopsy points to the mayor being murdered. Furthermore, he's going to be investigated by the public prosecutor for misconduct, because he closed the case too easily without properly investigating.
Do-woo tells Chief Lee to find the killer, feigning innocence, essentially telling the man to clean this up.
When Shin talks to Chairman Chae (who has already guessed Do-woo's involvement), Chae warns Shin that Do-woo's moving in powerful circles now.
Chae: "Listen to me, Kim Shin. His weakness is inside him. My daughter will take you to meet the person who knows what it is. Meet secretly, so he doesn't find out."
By this, he means Do-woo's psychiatrist for the past ten years. The man tells Shin that it took a long time to diagnose, because Do-woo was always so alert. Ultimately, he diagnosed him with narcissistic personality disorder — in other words, he's a psychopath. However, the doctor warns, "The majority of psychopaths aren't noticeable."
The first trait of a psychopath is a lack of feelings — he has no conscience. Without a conscience, a person becomes "very skillful" because he can think without emotions getting in the way, and can use and abandon people easily. (Note: this makes Shin the diametric opposite.)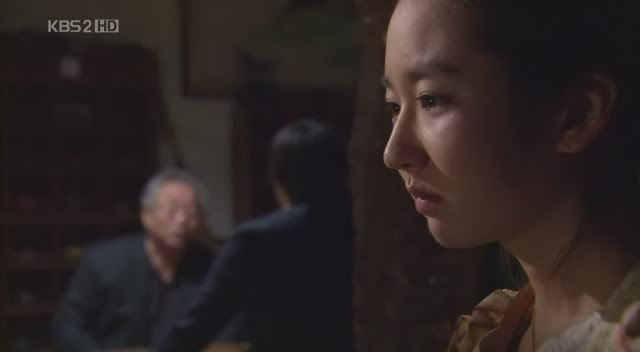 Thus the psychopath can rise quite high in society — and perhaps we get a little more meta-commentary by writer Song as the doctor says, "Personally, I think that these psychopaths are not seen in back alleys as much as in the political and financial world."
Thinking of Kyung-ah, Shin wonders what women mean to Do-woo — can't he have feelings for special people? The doctor laughs, "You don't understand what it means not to have a conscience. To a person like that, other people are things to be used. He uses them when they're needed, and throws them away when they aren't."
Eun-soo has listened silently this whole time, and remains quiet as she leaves with Shin, who admits to her that Kyung-ah was also his girlfriend for seven years. They aren't anything to each other anymore, but he can't let her marry a deranged killer without warning her, so he sends Kyung-ah a text message.
However, Do-woo sees the message first, which reads, "This is Shin. I have something I have to tell you. Let's meet. Call me." He hides Kyung-ah's phone.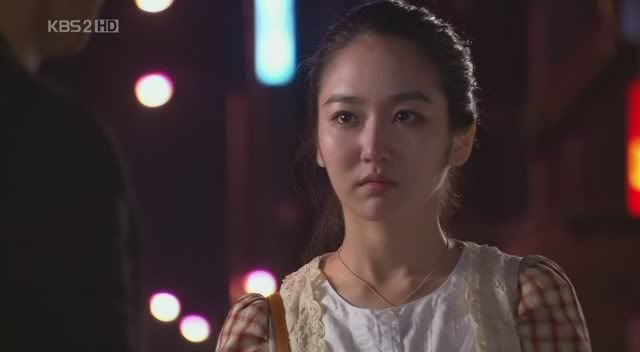 Shin wonders how long Eun-so has known about her brother's mental state. She answers, "I've only guessed." He supposes this is why she went around apologizing for her father's and brother's misdeeds. Whereas before he'd treated her scornfully for being Do-woo's sister, now he understands her better and says, "So you accepted people cursing at you, because there's nothing you could do. Is that how you lived your whole life?"
Eun-soo cries, and Shin sighs sympathetically, "You've had it tough, on your own."

COMMENTS
In the past couple of episodes, I'd been thinking that storywise, the mayor sorta needed to die. He'd fulfilled his narrative purpose and his death would mean more to the story than his continued survival, so I'm not surprised that they killed him. It's really sad that he died, but given that he had to go, man is it gratifying to see how this really pushes Team Shin to the next level. I mean, the whole revenge was personal to begin with (a dead brother, a dead father), but this really rubbed salt in the wound. Also, I'm sure these characters hadn't softened on Do-woo, but perhaps at some point they might have decided to walk away. But with the mayor's death — ironically not even Do-woo's doing, although I'm sure he doesn't mind the loss — it's like Team Shin really, really has to beat Do-woo now.
Also, Do-woo loses control again! This time, it occurs as he hears about the meddling detective, after which he looks down to see that he's been mindlessly crushing a teabag on his saucer. What's particularly enjoyable about this point is that Do-woo snaps back to the present, realizes what he's done, and then wipes up the mess with a napkin. It's like he's forced to confront the fact that he's lost control. I had to admit I found that pretty satisfying — as if to say that here's actual proof that Shin is pissing you off and made you lose your cool. Shin's always losing his cool so that's no big deal, but Do-woo's point of pride is how "above" emotions he is.
I love the Do-woo characterization and Kim Kang-woo's portrayal — but I do NOT like Do-woo as a person. I can't wait to see him crash and burn, and for all I care, he can take Kyung-ah with him.
To be fair to Kyung-ah, she doesn't know the full extent of Do-woo's dark side, so it's difficult to blame her for her actions. In her mind, she's made the right decision leaving a troublemaker like Shin for a successful man who (seemingly) appreciates her. From her reaction to Eun-soo's hint about Do-woo "owing" Shin, I think she'll start to open her eyes to Do-woo's true nature; perhaps she thinks he's only a little troubled, damaged in a manageable way, rather than being the epitome of soulless evil he actually is.
All that said, I still don't like her. I'm firmly situated on Team Shin and I hate that Shin still feels a pull to her, even though he doesn't harbor any illusions about winning her back. (When he burst in on her to demand where Do-woo was, I was very glad he viewed her as one team with Do-woo rather than affording her a soft spot.)
No, Kyung-ah deserves to be with Do-woo, who will outwardly praise and flatter her, and treat her as his trophy wife (trophy in the sense of not feeling emotion for her, not in the sense that she's a bimbo). She'll have to deal with her own empty illusion of happiness, what with the knowledge that she'll never be as important to him as Eun-soo is, and that'll be her own due.
(I just think the fight scenes were, oddly enough, very pretty.)

RELATED POSTS
Tags: Kim Kang-woo, Park Ki-woong, Park Shi-yeon, Park Yong-ha, Philip Lee, Story of a Man