The Blue reunite, reminisce on Sang Sang Plus

Lee Jung-jae, then and now
It's nostalgia day!
Old '90s vocal duo The Blue is back with comeback activities, which means its two actor-singer members (Kim Min-jong and Sohn Ji-chang) are back in action and promoting their reunion.
Thus the two old friends recently appeared on Sang Sang Plus 2 and shared old stories about their earlier days, namely the hit 1994 youth trendy drama Feeling [느낌], which I LOVED.
Kim and Sohn played twin brothers in the drama (Sohn was the "elder" of the two), which was also the launching pad for a then-unknown young actor who would become a top movie star, (my!) Lee Jung-jae (of Typhoon, Air City, and soon to be seen in Triple). But according to Sohn Ji-chang, Lee Jung-jae was only cast at the last minute through a fateful chance encounter.

Drama brothers Sohn Ji-chang, Lee Jung-jae, Kim Min-jong
SONG OF THE DAY
Feeling OST – "너의뒤에서" (Behind You) by JYP. This was one of the main love themes of the series, sung by Park Jin-young — yes, that Park Jin-young — and featured on his first solo album.
[ Download ]
Audio clip: Adobe Flash Player (version 9 or above) is required to play this audio clip. Download the latest version here. You also need to have JavaScript enabled in your browser.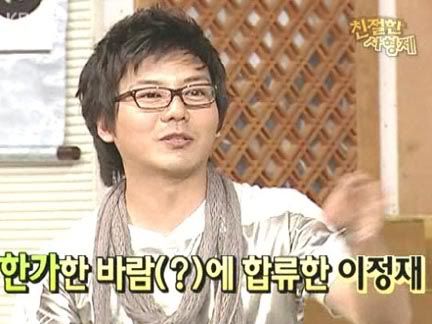 Feeling OST – "그대와 함께" (With You). Here's the theme song, as sung by Sohn Ji-chang and Kim Min-jong. [ Download ]
Audio clip: Adobe Flash Player (version 9 or above) is required to play this audio clip. Download the latest version here. You also need to have JavaScript enabled in your browser.
Feeling OST – "그대 없이는" (Without You). And this is the moodier version of the theme song, also sung by Sohn and Kim. [ Download ]
Audio clip: Adobe Flash Player (version 9 or above) is required to play this audio clip. Download the latest version here. You also need to have JavaScript enabled in your browser.
I can't overstate how much I loved Feeling back in the day. (By the way, folks, this drama is fansubbed! With S2 took it on in 2007, and if you wanna see some fun, floofy old-school romantic-comedy hilarity, you've gotta give it a shot. So cheesy. So awesome.)
While Kim Min-jong and Sohn Ji-chang were already hot stars back when Feeling first broadcast, that drama was the first chance for Lee Jung-jae to make his face known. (Hence: My first actor-crush ever!) If not for Feeling, would Lee not have been cast as the faithful bodyguard in Sandglass the year after, and not had the same trajectory he's enjoyed over the past decade and a half? Who knows.
On the Sang Sang Plus 2 episode, Sohn Ji-chang explained that singer Kim Won-jun had been cast to play the youngest brother to Sohn and Kim. When the drama was first planned, all three singer-actors were to sing the theme song, and they switched the theme to suit that intent. However, at the last minute, Kim Won-jun had said that he didn't feel confident that he was up to the job, and left the project, leaving the production in the lurch for a little bro.
Sohn said, "We had just finished a meeting with the scriptwriter and director, when Lee Jung-jae happened to be passing by in the KBS lobby. The writer called him over and asked, 'What are you up to these days?' and he said, 'Nothing much, really.'" And the rest, as they say, is history.
Meanwhile, The Blue is currently promoting their newest project, a mini-album called "The Blue, The First Memories," which will be released on May 14.

Feeling OST – "느낌" (Feeling) by Hong Jae-sun. This is probably my favorite song from the OST.
[ Download ]
Audio clip: Adobe Flash Player (version 9 or above) is required to play this audio clip. Download the latest version here. You also need to have JavaScript enabled in your browser.

From Feeling:
Via TV Report
RELATED POSTS
Tags: comebacks, Feeling, Kim Min-jong, Lee Jung-jae, old-school, Sohn Ji-chang, variety shows