The men of Queen of Housewives

Choi Chul-ho and Yoon Sang-hyun
The nice thing about a series like Queen of Housewives garnering such popularity is that you get some older actors, who have been in the business for a number of years but haven't perhaps achieved star status, who now get to come into a late fame. Not that the lead actors were obscure before — they've all got a number of projects to their names — but it's not so often you'll see them cast as romantic leads in a series popular enough to give rise to a "syndrome," i.e., a pop-culture craze. Maybe they didn't achieve F4-level ubiquity, but they're enjoying the thirty/fortysomething equivalent.
Ladies like Kim Nam-joo and Lee Hye-young have enjoyed a pretty solid amount of popularity, but the men in particular have really struck it big. Namely, the drama's lead men Oh Ji-ho as well as the two interviewed here, Choi Chul-ho (Big Sister, Dae Jo Young, Immortal Lee Soon-shin) and Yoon Sang-hyun (Winter Bird, Fireworks). Their ages are 33 (Oh), 39 (Choi), and 36 (Yoon). It's particularly nice to see how friendly and joking Choi and Yoon are with each other as they talk about their drama, which just ended last week.
SONG OF THE DAY
Queen of Housewives OST – "사랑이야" (This Is Love). [ Download ]
Audio clip: Adobe Flash Player (version 9 or above) is required to play this audio clip. Download the latest version here. You also need to have JavaScript enabled in your browser.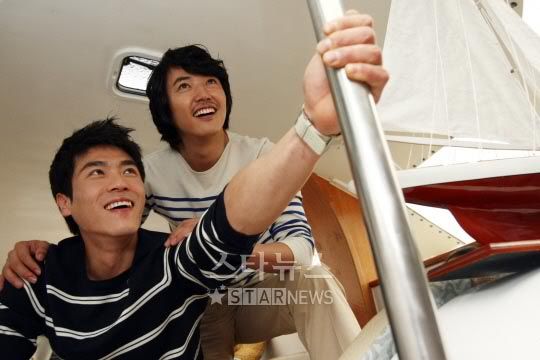 How was the wrap party yesterday?
Yoon Sang-hyun: "It went on till about 5 a.m. I drank a lot for the first time in ages, so I'm still feeling it. I sang a ton of songs, too, about twenty to thirty."
Choi Chul-ho: "I don't drink, but I was there too. I only drink soda, but I joined in like I'd been drinking. [He follows along to Sohn Dam-bi's "Saturday Night" dance] I was like this all night, and my throat is hoarse. Sang-hyun-sshi must be a natural singer. He practically gave a concert last night."
Yoon: "I hadn't known about [Kim] Nam-joo noona's birthday, and it just passed by. I asked her later what she'd like for her birthday present, and she asked me to sing for her. So yesterday I sang all the songs she requested."
Choi: "Even when singers give concerts in arenas, after a while their voices get hoarse, but Sang-hyun's voice is outstanding. He even performs the difficult songs easily."
The drama has finally ended. How do you feel about it?
Choi: "I said this yesterday, that I thank the director and writer. I think I feel more sadness than relief."
Yoon: "I'm really so thankful. The director, crew, actors, everyone was so great. Before we broadcast, I was afraid of Nam-joo noonim, but her personality was actually very pleasant. Oh Ji-ho is very nice, too. I'll be bored starting next week. I plan on going mountain-climbing, and doing a lot of fishing."
Choi: "I hear Sang-hyun takes three hours to travel what it takes other people one hour to do, although I haven't seen it for myself."
Yoon: "Hyungnim, really… haha. At first I found it really difficult, but now I can travel in one hour what it takes other people an hour to do, too."
Choi Chul-ho-sshi, you must be planning to spend time with your family. Your wife was a Miss Korea contestant — I hear she is 12 years younger than you?
[The answer is a pun so it doesn't make sense in English but here it is anyway. –javabeans]
Yoon: "He joked yesterday that she's not from there, just that area."
Choi: "That's right. [Laughs] To be exact, we are 12 years and 10 months apart. I think he [Yoon Sang-hyun] will go for a bigger age difference, say with a woman 16 years younger."
Yoon: "Still, I'd have to be able to converse with her. If I can't, it's frustrating…"
Choi: "I think Sang-hyun is the mental age of a young twentysomething. He's really optimistic and bright and positive. So someone 16 years younger is perfect."
Both of you seem well-suited for comedy.
Yoon: "I've never met someone as funny [as Choi Chul-ho]. All he does is talk and it bursts out. Recently, we recorded a segment on Come and Play and he was the most entertaining. Hyung, what would you have done if you didn't do comedy?"
Choi: "Because I also did sageuks, I think it's funnier when I try comic acting. Maybe I should've tried it from the start."
Yoon: "I wonder how he can make such expressions with his face."
Perhaps it's because Choi Chul-ho has taken on very charismatic roles that this seemed even funnier.
Choi: "I think that's it. Until now, I haven't been an actor who got lots of attention. Also, once you've acted a certain way, you'll get similar parts coming your way. I always got offers for charismatic or crazy guys."
Crazy guys?
Choi: No, well. There's a movie called Summertime. At that time, I was living in a half-underground room worth 26 million won [$20,000] and moved to a place leased for 40 million, and at the time I wasn't working but I agreed to appear in that for a 20 million fee.
"Sometimes I go online and chat on message boards. But lately, there are some bad-tempered fans who mention my role in Summertime. At those times, I answer like this: 'Yeah, I was in a tough spot and I took the job. But I don't have any regrets.' At that, the person usually feels sorry."
Yoon: "Personally, I've had those thoughts, that if I had taken completely different roles from Winter Bird and Secret of Keke Island, there would have been a reaction. I wonder if people see me [in Queen of Housewives] as more appealing because it's a completely different role from those pathetic guys. I'm just thankful for it."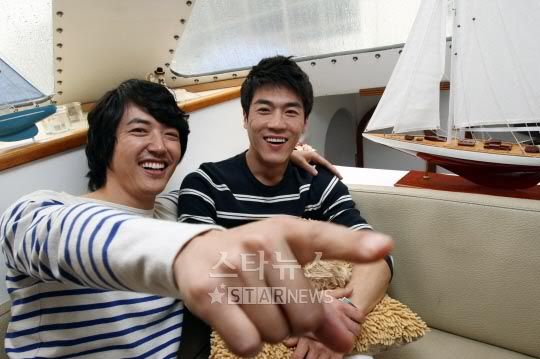 I hear you do pretty good imitations.
Yoon: "In the past, I imitated Lee Hyun-woo hyung [Dal Ja's Spring, Wedding] on Sang Sang Plus. After that aired, I got a text message from Hyun-woo hyung. It said, 'You're more like me than me,' so I replied, 'Hyungnim, I'm sorry.' He replied, 'No, it's okay. I'll just have to order you around when I can.'
"After Hyun-woo hyungnim finished the drama Single Life [or Common Single, which Yoon also appeared in], I drank with him once. All the actresses were supposed to come out too and I called them to join us, but only Kim Yumi said she couldn't come. I told Hyun-woo hyungnim, and he told me, 'You imitate my voice pretty well. Give it a try.' So I called her using Hyun-woo hyung's voice: 'Yumi-ya, I'm in Apgujung right now. Is everyone there?' And she really came out. Haha. Since he was calling, she couldn't refuse."
I hear Choi Chul-ho's imitations are pretty good.
Yoon: "They're really accurate. He doesn't just mimic the voice, he even matches the facial expression."
Choi: "Ah, but I shouldn't be showing you like this. If I just practice for a few days, I can do anybody. I imitated chairman Jung Joo-young on television, should I try President Kim Dae-joong? 'In order for our country to be reunited…' [Everybody bursts into laughter]"
Yoon Sang-hyun-sshi, you've earned the affection of ajummas, and young students like you too. What's your ideal woman?
Yoon: "When I see women, I lower my head and my chest races. I can't look them in the eye, because they make me nervous. But even if I say I like a certain type, I don't always end up liking those kinds of women."
Choi: "Bingo! To say it simply, we like all types. There's no one particular ideal woman. Aren't men generally all like that? If you feel a connection, you like her."
Yoon: "That's right. If you I absolutely had to pick, I'd say I don't really go for tall women, and older women don't really approach me. I tend to feel attracted to elegant, slightly chubby, happy-looking women. Like [comedienne] Kim Shin-young? I was talking about it on another occasion, and mentioned Shin Bong-sun. Haha."
Because of Queen of Housewives, you've gotten CF offers. Have you given your family or parents any presents? [At this question, both raised their right hand at the same time and made a circle with their thumb and forefinger.]
Yoon: "My parents don't like me to buy things for them. They want money. [Laughs] I called them and said, 'Mother, give me your bank account number.' These days, they hear that I'm shooting a CF and ask, 'Are you making some money?' and smile wide. Actually, they take care of operating expenses and such at the agency, so I don't have anything to spend money on."
Choi: "You're a faithful son."
What about you, Choi Chul-ho-sshi? Do you hand over all your income to your wife?
Choi: "No, I give it to my mother. I have two years left until she's thirty… It can be quite burdensome on my wife to handle all that. [At that, Yoon Sang-hyun sighs, 'Ah, still in her twenties!'] I'm predicting you'll meet with someone 16 years younger!"
Yoon: "Is marriage a good thing?"
Choi: "There are strengths and weaknesses, but there are more pluses. But you have to think of marriage with absolute seriousness. More than anything, it should be with someone you suit well with, a really good person. My wife is very kind." [Yoon Sang-hyun nods.]
In the last episode, you acted with the team of Infinity Challenge.
Choi: "It was more that we were edited together than shot together."
Yoon: "Noh Hong-chul almost couldn't make the filming, and asked if we could test for someone with yellow hair and a mustache. So I ad-libbed a little, and touched the mustache while asking, 'What's with him?'"
Who on Infinity Challenge fits in best with the Queens Food family?
Choi & Yoon: "Yoo Jae-seok."
Choi: "Yoo Jae-seok, phew, he's a great actor."
Yoon: "He is. He acts very well. He's a character who makes Oh Ji-ho's Ohn Dal-soo reminisce, and he was wonderful. He has acting talent."
Choi: "There were some parts that were edited well with Park Myung-soo, too. When that was filmed, I thought he would overact. At the question, 'Next is Park Myung-soo,' he would raise his head to be seen, and his expression at that moment was one of the highlights."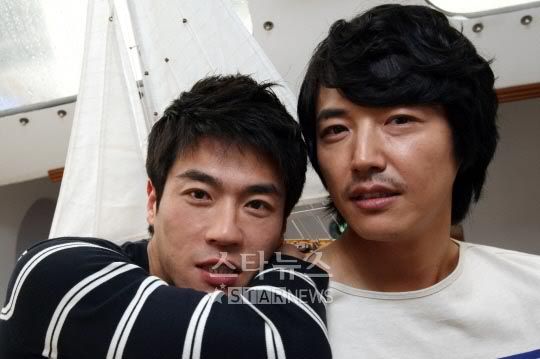 Yoon Sang-hyun started the hot "Tae-bong Sydnrome."
Yoon: "Syndrome, ha. That's for Gu Jun-pyo levels. I'm just grateful that many people liked the character. I can understand why ajummas may like me, but at the film set there would be these students in school uniforms saying, 'Tae-bong-sshi, Tae-bong-sshi!' and asking for autographs. That was a bit bewildering."
You were called a middle-aged Gu Jun-pyo, a kkot-joong-nyun. ["Kkot-minam" is for young pretty "flower boys"; "kkot-joong-nyun" is like saying "flower middle-aged man."]
Yoon: "That's excessive praise. Actually, Chul-ho hyung is more like that."
Choi: "You're the best. I'll let this guy beat me. Sang-hyun has a Japanese feel to him. I think he'll do well in Japan. When you go to Japan, I want to go too. You'd better take me."
Yoon: "Of course you have to come. We have to go together to promote Queen of Housewives."
Choi: "Okay, okay. If I don't call, you call." [Both laugh]
There's a lot of talk about a Season 2. Would you return?
Choi: "They say it looks difficult to produce. The director says they can't do it because of Sang-hyun. His asking price shot up so much, they can't afford him."
Yoon: "What are you talking about? If a Season 2 is produced, I wonder what will happen, if I'll get together with Chun Ji-ae. I think it would be fun to mix up the partners. I think it would be okay if Choi Chul-ho could get together with his first love Chun Ji-ae, and Oh Ji-ho can get together with the president's wife Sunwoo Sun."
Now that Queen of Housewives has ended, what are you next plans?
Choi: "I have my next project planned. I can't reveal it now, but I'll tell you soon."
Yoon: "I thank all the viewers for showing such support throughout the show. I thank you too, hyungnim. I'll show you a new, different character from Tae-bong in my next project."
Via Star News, Part 1, Part 2
RELATED POSTS
Tags: Choi Chul-ho, interviews, Queen of Housewives, Yoon Sang-hyun