A Million has its press conference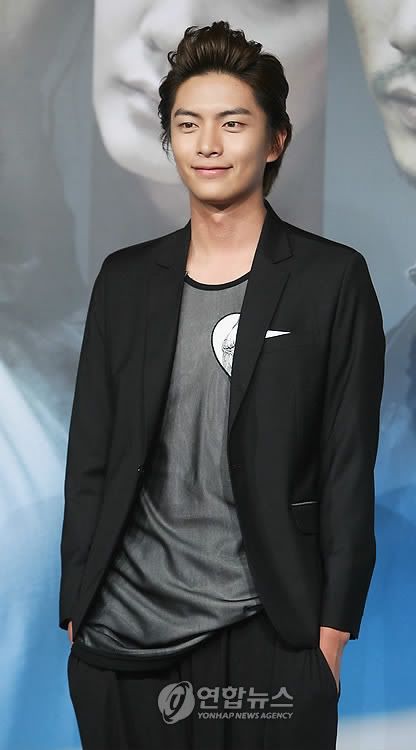 The movie Billion [10억] seems to have adopted the English-language title A Million, which is odd since the title literally means "a billion." I can only surmise that this is a rough conversion of money, since 1 billion won is a little less than 1 million dollars, which is the prize money in the plot of this reality-game-based thriller.
The plot is basically what you would get if you smooshed Survivor with The Most Dangerous Game: A group of contestants is dropped off on an island and made to compete against each other for a large cash prize. But in the hands of a psycho producer, the game takes a macabre turn.
When the film was first announced, the plot seemed okay, but what caught my attention was its star-studded cast, mixing up-and-comers with established Hallyu names: Shin Mina, Park Hae-il, Lee Min-ki, Park Hee-soon, Jung Yumi, Lee Chun-hee, and Go Eun-ah.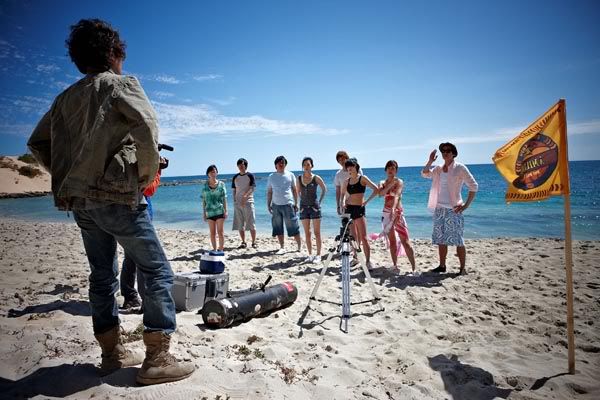 You can see the film's Survivor influence in this above still, can't you? Right down to the printed flag stuck in the sand.
Billion / A Million held its production press conference on June 17, and four of the main cast were in attendance (although I was sorry to see some missing, such as Jung Yumi and Lee Chun-hee).
The film opens on July 16. Here are the main cast members Shin Mina and Lee Min-ki, pictured with Park Hae-il and Park Hee-soon in the third photo:
At the press conference, Shin Mina laughingly recounted how she had been at the beach practicing for a scene involving a raft-making game, when the managers started screaming, "Shark!" She hurriedly made her way to land, where they realized it was merely a dolphin.
She also explained that she had shot a lot of her projects as the sole actress among a group of actors (Go Go 70, The Naked Kitchen), "but this time I had unnis with me. We shared a room together and cooked together, and became good friends."
Here she flashes her trademark smile (and her enviable legs):

Lee Min-ki always has a… unique fashion sense that you also see of trendy model-actors like Kim Jae-wook. I dig the upswept hair, but I cannot get behind those pants, or, as I like to call them, The Front-Butt Pants Of Doom. Sorry, not even for you, Min-ki.

Meanwhile, Park Hae-il was given credit as the reason for Park Hee-soon's involvement in this project. Said Park Hee-soon, "I had had the chance to act with him a few times in the past, but they never worked out. This time, he called to say let's do this together, so that's the biggest reason why."
Park Hae-il said in return that he'd been impressed back when he was in his early theater days and seen Park Hee-soon performing, and thought he'd like to be like him.
There's something about Park Hee-soon that always kinda freaks me out (but in a good way). Good thing he's playing the psychopath game-show director, right? He always makes me think, "sexy, scary bastard":
Via My Daily, Asia Economy
RELATED POSTS
Tags: Lee Min-ki, Park Hae-il, Park Hee-soon, press conferences, Shin Mina